This Fragrance Brand Now Makes Lip Balms And The Scents Are Seriously Amazing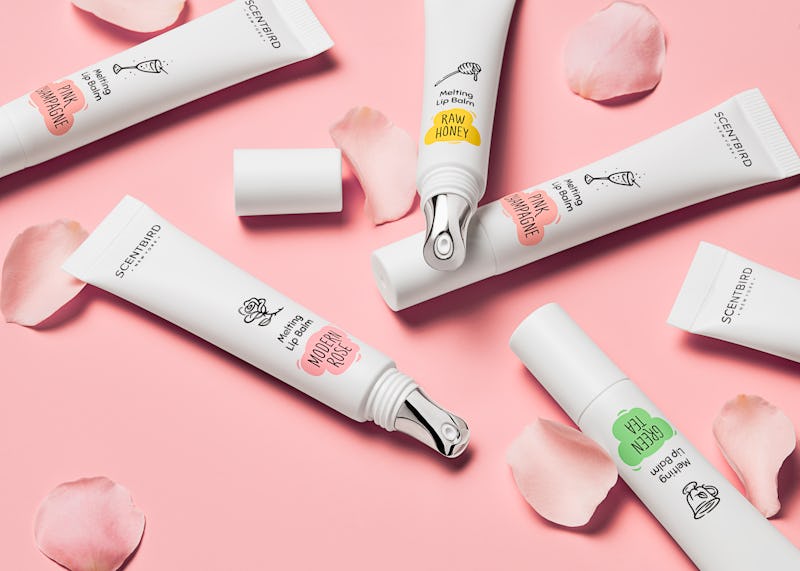 Courtesy of Scentbird
Scentbird — it's not just a perfume discovery platform. The brand is expanding beyond scents. The monthly fragrance subscription service has mastered the art of scenting, namely the personal fragrance, and is ready to conquer lips. Scentbird Melting Lip Balms launch on Wednesday, April 11. These aren't just ordinary lippies, either. They are the coolest thing — literally.
The Scentbird Lip Balms feature a metal applicator. That leads to a cooling effect on your lips during those blistering and brutal summer days. Lip balm isn't strictly designed for the cold weather season. Who hasn't had sun-and-wind-battered and chapped lips in July?
In addition to the chill metal tip, the lippies are made with skin-loving ingredients, like shea and cocoa butters and almond and avocado oils.
In keeping with the company's definitive aesthetic, the melting balms are amazingly scented. The aromas are Pink Champagne, Raw Honey, Green Tea, and Modern Rose. Your pout will be supremely hydrated, comfortably cooled, and boast a delish scent. Yummy! You will definitely want to tote one of these in the back pocket of your jean shorts.
Bustle spoke to Scentbird CEO and founder Mariya Nurislamova, who is also the CEO and co-founder of the Deck of Scarlet palette subscription service, exclusively about Scentbird's latest product innovation. As it turns out, these lip balms were a long time coming.
She revealed the branching out has always been a part of the business plan. It just happened now because the brand has been paying close attention to customer requests.
"Since launching Scentbird, we always knew that the brand would go beyond the traditional fragrance model, and eventually, we would launch our own namesake line of products," Nurislamova says. "And as Scentbird began growing its community, reaching over 200,000 subscribers, we began receiving a lot of consumer feedback asking what we were going to do next."
Since Scentbird is a digitally-based company selling sensory products, Nurislamova and her team knew they had to make sure packaging and formulas were high end so that they could properly impact first-time users. "We decided to curate a line of six hand creams infused with real fruit and plant extract and of course that were also, paraben-free, sulfate-free, and cruelty-free. Cutting corners was not an option," she tells us about previous expansions.
Once the brand cemented its reputation as a true fragrance destination and what Nurislamova calls "a fragrance playground," Scentbird was prime to launch shower washes and scrubs. Soy-based candles were next — a logical move into the home fragrance space after mastering personal aromas.
Constantly innovating and a steady introduction of new products have been essential to Scentbird's success. So is direct communication with customers. Since the community was asking for balms, the brand answered the call.
But that was not the sole impetus. "We wanted to create scented products that can be used as an everyday luxury," Nurislamova told us.
She is excited about the patented applicator, since it also improves circulation. "During the transitional months, our lips get so dry to a point where they actually feel like they're burning," she notes, reminding us that she is all of us! "The metal applicator, paired with our vitamin-rich formula, nourishes and hydrates deeply, revealing pillowy soft lips." Ahh!
Ultimately, she says, "We were able to bring something new and different to an existing category." That is most definitely true. A cooling balm for summer is a total "yes."
The metal applicator and lusciously scented lip balms aren't the only new things on the horizon from Scentbird and Deck of Scarlet. Labeling their new product plans a "spree," Nurislamova says," We are continually working to innovate and test limits with our new products."
She encourages customers to keep telling Scentbird what they want, saying, "And most of all, we are very fortunate to have such a wonderful community to offer feedback and of course support throughout our journey."