Members Of Congress Are Calling To "Abolish ICE" — Here's What That Means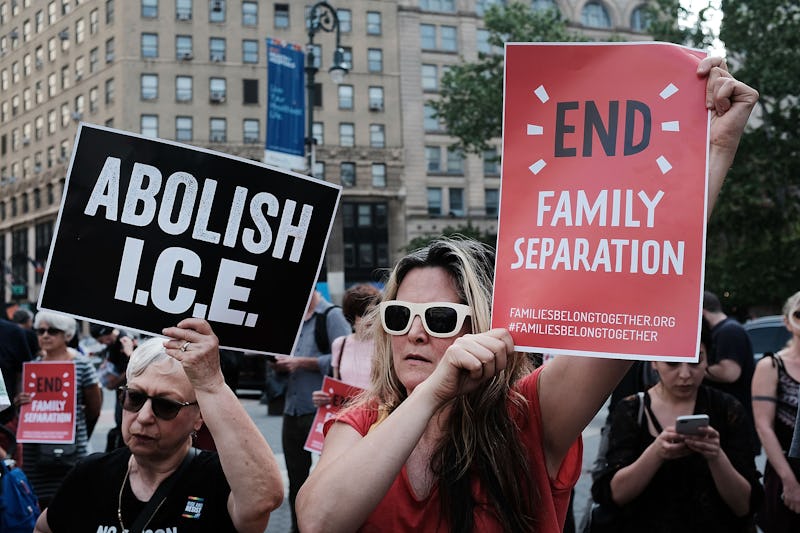 Spencer Platt/Getty Images News/Getty Images
As news about separated families at the border continues to dominate headlines, a fresh rallying cry is entering the political mainstream: "Abolish ICE." What does it mean? The movement is part of a larger pushback against the expansion of immigration enforcement, and it seeks to specifically diminish the power of the agency that's tasked with enforcing immigration laws within the country's borders.
ICE is the acronym for U.S. Immigration and Customs Enforcement, a division of the Department of Homeland Security (DHS). ICE is the agency responsible for determining who's violated immigration statues, and then detaining and/or deporting those individuals. Vox notes that the agency often identifies undocumented immigrants who have been in the country for years, even decades, and starts deportation proceedings for those individuals.
The movement to abolish ICE has gained real steam in the past week. According to The Hill, Democratic Rep. Mark Pocan of Wisconsin plans to introduce a bill to abolish ICE on Monday. That legislation is a direct response to the Trump administration's handling of immigration at the border, Pocan said in a statement on Monday.
"Unfortunately, President Trump and his team of white nationalists, including Stephen Miller, have so misused ICE that the agency can no longer accomplish its goals effectively," Pocan said in a statement, referring to the White House adviser who advocates for the zero-tolerance immigration policy that led to family separations.
Pocan explained that his trip to the border compelled him to act. "During my trip to the southern border, it was clear that ICE, and its actions of hunting down and tearing apart families, has wreaked havoc on far too many people," the congressman said.
"Abolish ICE" is also becoming a litmus test for liberal and progressive candidates seeking office. Last week, New York gubernatorial candidate Cynthia Nixon said she supports the abolition of ICE in an interview with ABC's The View. Nearly two dozen congressional candidates across the country currently say they support abolishing ICE, too.
It's not nearly as popular among sitting politicians, however. As of this story's publication, only three members of Congress have taken up the call to abolish ICE beyond Pocan. Democratic Rep. Pramila Jayapal of Washington State called for the abolition of ICE earlier this month in an interview with Democracy Now!, while Democratic Rep. Jim McGovern of Massachusetts said he supports abolishing ICE at a press conference in his home district on Saturday.
"[ICE] has turned into something that is dedicated to ripping families apart," McGovern said. "The time has come to, as I've said, to re-evaluate what we have in place, to get rid of ICE."
Democratic Rep. Earl Blumenauer of Oregon also supports abolishing ICE. In a Medium post published on Sunday, Blumenauer wrote that he voted against the agency's formation in 2002 and has become only more concerned about the agency's conduct since.
"We should abolish ICE and start over, focusing on our priorities to protect our families and our borders in a humane and thoughtful fashion," Blumenauer wrote.
Vermont Sen. Bernie Sanders, whose presidential campaign was based on a "political revolution", declined to endorse the idea of abolishing ICE, however. In an interview with CNN on Sunday, anchor Jake Tapper asked Sanders if he supported the movement to eliminate the agency.
"I think that what we need is to create policies which deal with immigration in a rational way. And a rational way is not locking children up in detention centers or separating them from their mothers," Sanders said. "What we need is Trump to sit down with members of Congress and work on a rational program which deals with this serious issue."
California Sen. Kamala Harris, whose name has been floated for the 2020 presidential race, went further than Sanders but didn't appear to support outright abolishing ICE in an interview Sunday with NBC's Meet The Press.
"There's no question that we've got to critically re-examine ICE and its role, and the way that it is being administered, and the work it is doing," Harris said. "And we need to probably think about starting from scratch."
Although many liberal politicians have yet to go even as far as Harris, progressive activists are floating the possibility of "Abolish ICE" as a litmus test for political candidates. If that momentum continues, alongside protests like "Occupy ICE," revising the agency's mission or "starting from scratch" entirely doesn't seem totally outside the realm of possibility.