Ariana Grande Just Revealed Her Natural Hair On Twitter & It's NOTHING Like Her Iconic Ponytail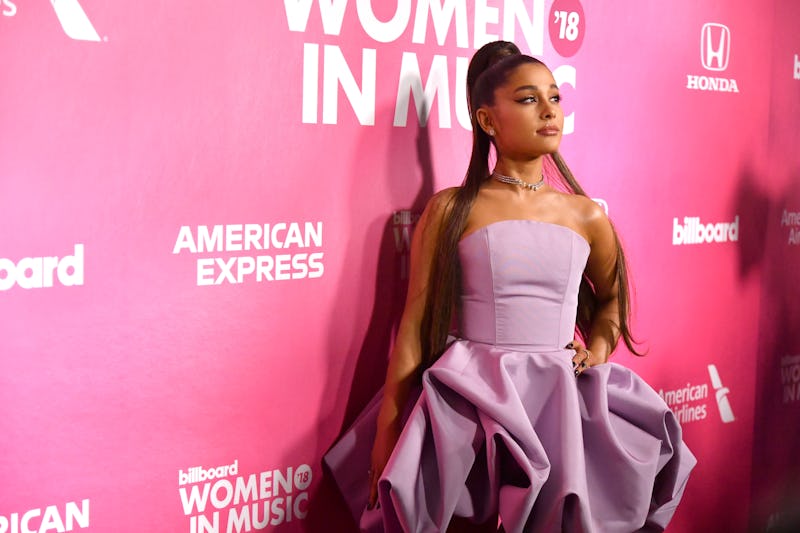 Mike Coppola/Getty Images Entertainment/Getty Images
Although fans missed out on one of pop music's biggest stars attending the Grammys, who's Sweetner album won the category of Best Pop Vocal Album, they were blessed with a humble surprise. Probably laying down at home in her custom Zac Posen gown, Ariana Grande tweeted a video of her natural hair to show fans her natural hair hasn't strayed from her days as a youngin.
After announcing her win, Arianna Grande posted a throwback photo from her childhood with a picture of a Grammaphone photoshopped into the tiny palm of a then-five-year-old Ari's hand. She shared the photo on Twitter, explaining to fans that her features haven't changed all that much and that even her hair remains the same curly top fans see in the pic.
"If i'm honest ..... this is still exactly what i look like without lashes and my pony," she wrote. "..... anyone who knows me knows me knows ..... like .... i'm twenty five. i was five here. the only difference now is that hand now says bbq grill finger."
Once a fan asked for the receipts, Grande had them, posting a Snapchat video to Twitter, showing a short curly-banged Ari in a dog-filtered face with her iconic cat eye.
The Grammy-award winning singer wore her hair in a half updo with bangs, showing her natural curly hair at its finest. The hair style plus baby blue "No Tears Left To Cry" sweatshirt low-key gives you 90s Tai vibes from Clueless.
Although Ari captioned it with a worried emoji, the tweet gained over 32,000 favorites and 7,000 retweets. It's safe to say there are plenty of fans here for the natural look.
"CAN YOU PLS GO NATURAL ALL THE TIME. YOU ARE THE CUTEST HUMAN BEING ALIVE," one fan wrote in favor of the short hair.
"Sis bring this look on tour," another wrote.
The initial photo Grande posted online after her Grammy win was derived from an old article published by the Sun Sentinal about how the singer was struck for the second time with a puck at a hockey game. In celebration of how far she'd come, she captioned the photo with a classic line from Drake.
"Started from the bottom," she wrote, "now we here #thankunext #fineafterbeingstruck2ndtime"
Grande had previously stated that she would not be attending this year's Grammy's for reasons pertaining to alleged differences in song choices for the night's performance with show runners. Rather than giving the feud too much smoke, she said "thank u, next" and dressed up in Zac Posen's Sunday best for Instagram in a baby blue ruffle gown. The singer also just casually spread out on her floor in over $380,000 worth of diamonds around her neck in a Butani choker. It's just another day in Ari's world.
There's no doubt fans are looking forward to a live performance of one of her new songs off the "thank u, next" album, but in the meantime, fans can take a few more moments ogling over Ari's natural baby bangs.