Here's What You Should Know About This "Bomb Cyclone" That Could Be Heading Your Way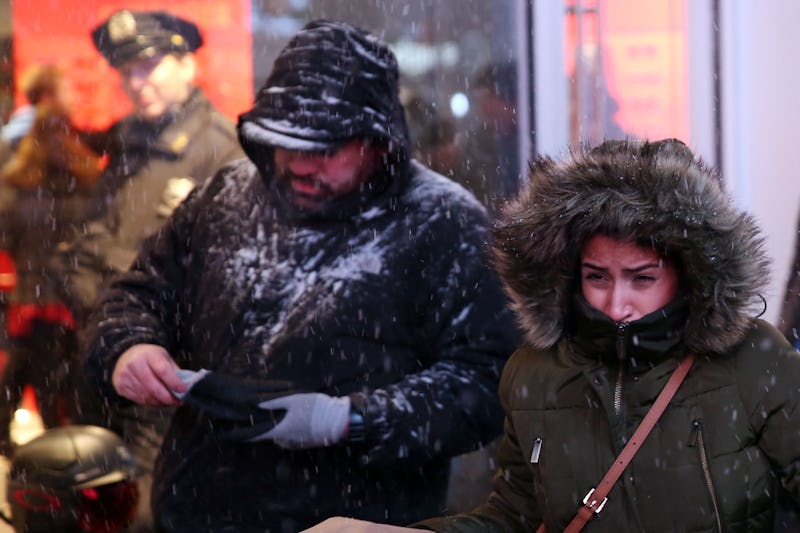 Anadolu Agency/Anadolu Agency/Getty Images
If you're on the East Coast, you might want to cancel your upcoming plans and hunker down with a cozy blanket. After days of brutally cold temperatures, a "bomb cyclone" is slated to hit the eastern United States later this week. Wondering what "bomb cyclone" means? One thing's for sure: It doesn't sound pleasant.
Forecasters predict Winter Storm Grayson will bring freezing rain, sleet, and snow to the Southeast coast on Wednesday, making its way up to the North by Thursday. The storm will reach from northern Florida up to Maine, with New England likely seeing blizzard conditions.
Here's where the "bomb cyclone" comes in — if the storm's pressure drops quickly enough, it will gain strength and become what's called a "bomb cyclone," and will essentially resemble a winter hurricane. It could have pressure as low as Hurricane Sandy, according to meteorologist Ryan Maue.
This type of weather event is called a "bomb cyclone" because a rapid drop in atmospheric pressure is known as bombogenesis. As the Weather Channel's website reads:
To be classified as a weather bomb, or having undergone bombogenesis or "bombing-out", the central pressure of a low pressure system must drop at least 24 millibars within 24 hours. ... Bombogenesis results when there is a large temperature gradient, usually between a cold continental air mass and warm sea-surface temperatures. However, it can also be the product of a cold polar air mass and much warmer air from the south, say, over the Plains states.
Friday and Saturday could boast record low temperatures in the Northeast. Winter storm watches were issued from parts of Virginia to eastern New England, mostly east of the larger cities. However, Boston is under a winter storm watch for significant snowfall and the Massachusetts Emergency Management Agency warned the public of potentially hazardous travel conditions. The National Weather Service tweeted that its biggest worry for the Northeast is strong winds that could hit Thursday:
While specific snow amounts are uncertain, our biggest concern is the potential for damaging wind gusts especially near the southeast New England coast. Power outage risk followed by arctic air Fri/Sat a big concern!
The freezing temperatures will come from cold air drawn in by the storm as it moves up the coast. The Washington Post's Jason Samenow explains:
The storm's enormous circulation will help draw several lobes of the polar vortex, the zone of frigid air encircling the North Pole, over the Mid-Atlantic and Northeast by Friday and Saturday. Wicked cold air sourced from Siberia, the North Pole and Greenland will all converge on the region. Temperatures are forecast to be 20 to 40 degrees below normal, the coldest of the winter so far.
Parts of the nation that aren't used to extreme weather — such as Northern Florida, Georgia, and southern Mississippi and Louisiana — will likely get at least some snow flurries. The Weather Channel writes:
The first higher end impacts are expected as precipitation begins wrapping into the subfreezing air overnight in parts of interior north Florida and south Georgia, likely as freezing rain. Freezing rain or mixed precipitation is expected to begin in parts of northern Florida and southern Georgia during the pre-dawn hours on Wednesday.
Eastern Georgia and southeast Virginia could get a few inches of snow, but the Southeast will mostly get icy conditions. The Weather Channel warns travel will likely be dangerous Wednesday and early Thursday, especially on bridges and overpasses.
Power outages are also likely in parts of northern Florida, southeastern Georgia, as well as the immediate New England coast. If you're in any of these areas, it's best to be prepared with plenty of non-perishable foods, a portable charger, and supplies to keep warm. Most importantly, be safe and avoid driving once icy conditions reach your area.