Cardi B Revealed The Meaning Behind Her Name — And How It Connects Her With Her Sister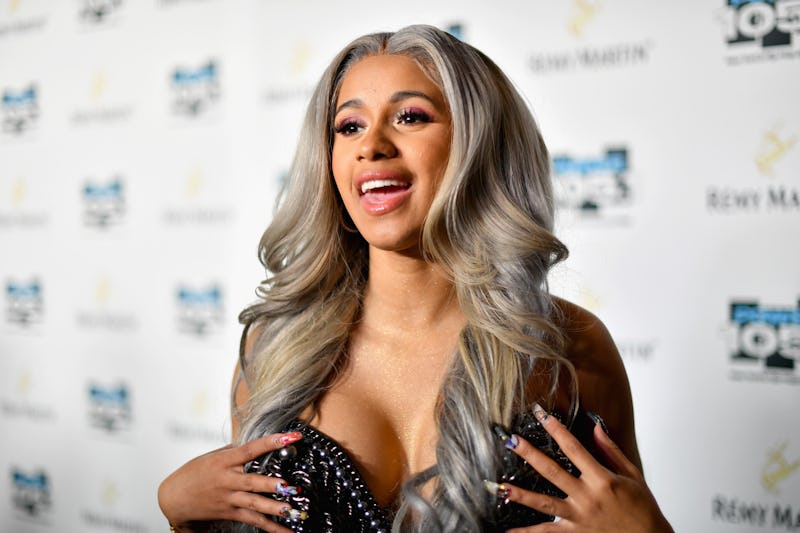 Dia Dipasupil/Getty Images Entertainment/Getty Images
Cardi B is at the top of the rap game right now. She's taken over the charts with her hit single "Bodak Yellow" and has captured fans' hearts with her humor and realness. But, there are still some question marks there when it comes to the singer. Like, what does Cardi B's name mean? In an interview for The Wendy Williams Show, she revealed where the moniker came from.
According to Cardi herself, who's real name is Belcalis Almanzar, her stage name is derived from a liquor brand. She said in her interview, "My sister, her name is Hennessy. So, everybody used to be like 'Bacardi' to me." She continued, "And then, you know, I shortened it to Cardi B. The 'B' stands for whatever the 'B'... be," and then said that "depending on the day, beautiful or a bully."
Cardi let her Twitter followers in on this info before in July 2016 when she tweeted the same explanation. At the time she wrote, "My name is Belcalis, Growing up people called me Bacardi cause my sister name is Hennessy ..FYI." Her moniker makes total sense now. And the "B" standing for a different descriptor depending on the day (maybe her real name sometimes?), is just a fun Cardi B move.
Cardi's stage name is a great way for the singer to stay connected with her roots. The name connects her with her sister, Hennessy Carolina, since Cardi's nickname first started when people connected her to her sister's name, which is also a brand of liquor.
The two sisters have an adorable bond, which has been highlighted time and time again on social media. They also appeared on Love & Hip Hop: New York together multiple times. Cardi starred on the VH1 series for two seasons before she reached "Bodak Yellow" levels of mega-stardom.
The sisters have an undeniable bond and are always there for each other. When Cardi was feeling a little stressed about her newfound fame on the Season 7 premiere of Love & Hip Hop, Hennessy was right there to pick her sister up and let her know that she's got her back in the face of all of her haters. She told her, "You cannot let them haters get to you." And jokingly added, "Jesus got criticized and he was a good man." Hennessy also gave the rapper some sound advice when it came to her love life with Tommy Geez. "If he don't wanna change, you're gonna have to pack that sh*t up and leave." Although, it seems like Cardi's now doing pretty well for herself in the love department considering her recent engagement to Offset.
Like Hennessy, Cardi is in her sister's corner no matter what and will always support her. When someone social media commented on one of Cardi's videos and criticized her sister, the rapper went off on Twitter. Cardi tweeted, "Some B*tch talking bout my sister looking for attention from man from the video I posted of her .Sis my sister is gay she could careless [sic]". Cardi was not going to stand for negative comments about her sister's relationships and set the record straight.
Some people, who have commented on Hennessy's social media posts, have been critical of her relationships in the past. In the comments for her recent photo of her girlfriend Mel (pictured below), who she's been dating for more than a year, some slung their vitriol the couple's way. Many were happy for the pair and voiced their enthusiasm with comments like, "Yessss! So cute," but others wrote some homophobic comments in reference to the photo. It's unfortunate that the couple has to experience that kind of hatred. It's great that Cardi at least seems to be in her sisters corner with everything.
Cardi has stated that she doesn't want to be on reality TV any more because she wants to focus on her music career, as she explained further in her interview on The Wendy Williams Show. But, if she and her sister wanted to have some kind of reality show together to show off their amazing bond, fans everywhere would surely be down.