You Have To See Carly's Wedding Ring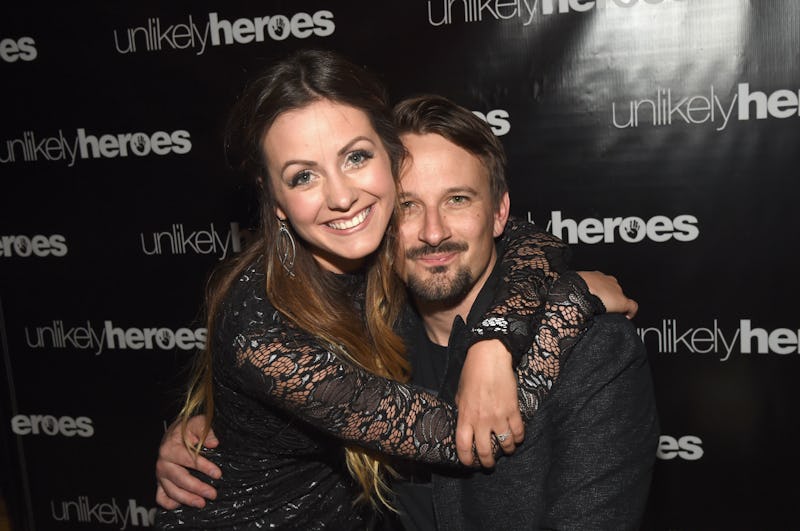 Rick Diamond/Getty Images Entertainment/Getty Images
Though he made it pretty far in the competition, I can't say I wasn't a little bummed when Evan Bass was sent home on The Bachelorette. Bass, who was featured on JoJo Fletcher's season, was one of the few men to stand up to the big bad Chad, A.K.A the show's villain, so he was naturally one of my favorites. That's why I was so excited when he made his TV return for Bachelor In Paradise shortly thereafter. If you've kept up with BIP, you know that Evan struck up a romance with fellow cast member, Carly Waddell, and the two tied the knot earlier this month. Now, the Bachelor Nation is dying to know — what does Carly's wedding ring look like?
Judging by the diamond sparkler he proposed with on the season finale of Bachelor In Paradise, the bar is set really high for Carly's wedding band. As you might recall, Evan popped the big question with a teardrop-shaped engagement ring complete with a 1.5 carat pink center rock, and tons of tiny diamonds covering the split band. The reported $90,000 ring is definitely a sight to be seen.
With an engagement ring that shiny, the wedding ring has got to be fancy AF to match, right? According to E!, Waddell's wedding ring is a channel-set eternity ring that features diamonds all around the length of the band. In case you're not familiar with wedding lingo, "channel-set" basically means the diamonds are arranged in a tight row, or "channel," inside a groove between the top and bottom edges of the band.
Unfortunately, up-close photos of the band have yet to surface, but you can sort of see when you click into the below photo, if you look closely.
See the extra sparkle on Carly's finger? That's the wedding ring.
And here is a picture of her pink engagement ring, in case you forgot.
So pretty.
Keep your eyes peeled on Carly's Instagram for ring updates soon. I have a feeling she will be sharing more photos ASAP.