Here's What You Need To Know About The CTE Brain Disease Aaron Hernandez Had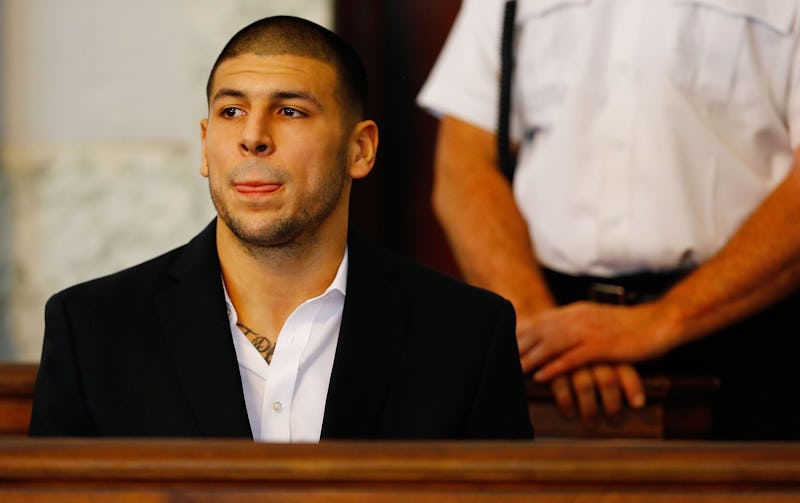 Jared Wickerham/Getty Images Sport/Getty Images
In April, former NFL star Aaron Hernandez was found dead in his prison cell in an apparent suicide. Hernandez had been convicted in 2015 of first-degree murder, and was serving a life sentence with no possibility of parole. But the recent posthumous discovery that Hernandez had CTE has brought the disease and its effects back into the public discussion. According to Boston University Research Center, CTE — chronic traumatic encephalopathy — is defined as "a progressive degenerative disease of the brain found in people with a history of repetitive brain trauma." Those people are often athletes, particularly football players, and the frightening and severe symptoms of CTE are prompting many to consider the ethics of high-contact sports.
CTE is caused by repeated injury to the brain. The trauma causes the brain to start degenerating, and prompts the buildup a protein called tau — an abnormality that can be diagnosed only after death. According to BU Research Center, symptoms of CTE include "memory loss, confusion, impaired judgment, impulse control problems, aggression, depression, suicidality, parkinsonism, and even progressive dementia."
Boston University's CTE Center did an analysis on Hernandez's brain and found "classic features of CTE." Out of four degrees of categorization, Hernandez had Stage 3 CTE, just one level down from the most severe designation, Stage 4.
The implications of Hernandez's CTE diagnosis are enormous for the NFL. As a former player, the proof of Hernandez's regular exposure to brain injury is undeniable. But perhaps more troubling for the sport of football itself is the stunning development of CTE in Hernandez's brain. Stage 3 cases are found in those who die at an average age of 67, according to a statement from Jose Baez, a lawyer representing Hernandez's daughter. With Hernandez showing such damage when he took his life at just 27, it appears his CTE progressed at an alarming rate.
It is possible that Hernandez's crimes were exacerbated by CTE. With symptoms that include aggression, impulse control problems, and impaired judgment, Hernandez's story reads like a tragic case study in worst-case scenario CTE outcomes.
In 2015, a jury found Hernandez guilty of murdering Odin Lloyd, a semi-pro football player who was dating the sister of Hernandez's fiancée. In apparent retaliation for Lloyd talking with his "enemies" at a nightclub, Hernandez murdered his acquaintance.
This outburst of "outrageous violence" was not Hernandez's first. And while CTE is no excuse, the NFL is being sued on behalf of Hernandez's daughter. "The NFL had made certain representations to players during this time that Aaron was playing (2010 to 2012) and those representations turned out to be false," her lawyer, Baez, said in part of a released statement outlining the lawsuit.
The NFL has been sued before. In 2015, a class action lawsuit brought by a number of former NFL players over brain injuries incurred while playing in the league resulted in a massive settlement of over $1 billion dollars. But with 20,000 ex-NFL players entitled to some of that money, and enormous lawyer fees from the multiple clients and firms represented in the case, the aftermath has been anything but the generous and peaceful compensation many were anticipating. Many families report not being able to access the funding they need, and law firms are fighting among themselves over how much each is owed.
Public awareness of CTE, and the dangers of successive concussions that can be common among professional football players, has been growing. The topic was the focus of Concussion, a film released in 2015 and starring Will Smith.
Research and a growing PR boondoggle have led the NFL to make changes in order to try to better protect players. These include "nearly 40 rule changes in the last decade, strict concussion protocols, and better training and sideline medical care," according to a 2016 statement provided to CNN by the NFL.
Still, football remains a dangerous sport. As CTE has no cure, the risk inherent in playing is high.