'Black Panther's All-Female Warrior Group Are Gonna Be Your New Heroes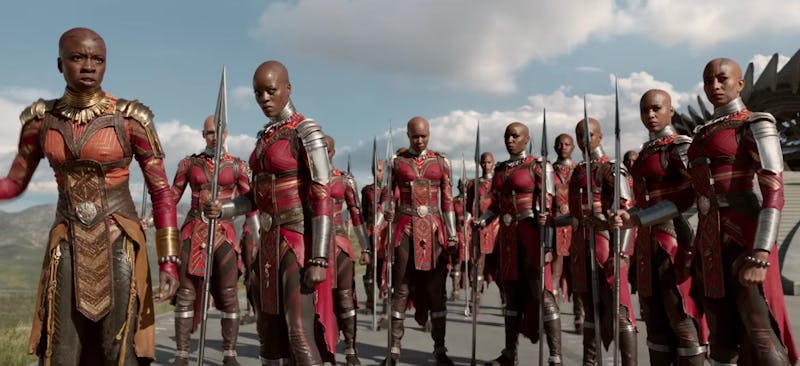 Walt Disney Studios Motion Pictures
There's a lot to get excited about in Black Panther, but the badass army of ladies called the Dora Milaje is definitely on the top of the list. The fierce, all-female warriors are Wakanda's first line of defense (Black Panther included), and they are not to be messed with. With an intimidating presence and purpose, it makes sense that Dora Milaje would mean something like "army" or "badass ladies," but these women are not defined by their physical power. Instead, what Dora Milaje means is "Adored Ones." Because who wouldn't adore an army of strong, female warriors?
The Dora Milaje in Black Panther are fighters first. In fact, director Ryan Coogler described them to Entertainment Weekly during a trip to San Diego Comic-Con as "the most elite fighters in the country." They have pledged allegiance to the throne of Wakanda and will protect it at all costs.
What does this have to do with being "adored," you ask? Well, originally, the Dora Milaje wasn't just an army, it was a pool of potential wives. Making their first appearance in the comics in 1998, the Dora Milaje were defined as "wives-in-training" and "the king's concomitants," via Inverse. Recruited from the 18 different tribes of Wakanda (one woman from each tribe) the Dora Milaje were trained to protect the king and groomed as potential wives for the Black Panther — "Adored Ones," indeed. Granted, in the comics, T'Challa did away with this tradition, instead focusing the Dora Milaje as an army only, not contestants on a Wakandan season of The Bachelor.
Following T'Challa's lead, the movie Black Panther also ignores the Dora Milaje's history as wives for the picking. As producer Nate Moore explained in an interview with ScreenRant, director Ryan Coogler and his team decided that this one trait from the original comics "wasn't necessary to tell the story of the Dora, and in a way we all kind of rejected as being a little creepy." Changing this aspect of the Dora Milaje also meant changing some of the characters.
Okoye (Danai Gurira) and Nakia (Lupita Nyong'o), two key members of the Dora Milaje, are quite different in the film from their comic book counterparts. "I would say that what Ryan [Coogler] and Joe Robert Cole have done with this film is that they've really deepened our understanding of the role of women in Wakanda," Nyong'o told journalists during an on-set roundtable interview, via /Film. Instead of being a love-obsessed T'Challa stalker, for example, Nakia is now a skilled secret agent and former girlfriend of the king's. Fans will also see a major difference in Okoye, who is now the leader of the Dora Milaje. "She's really nothing like the character in the comic book at all. I actually loved that, I loved the reinvention of her," Gurira said in an interview with Elle.
Nakia and Okoye aren't the only Dora Milaje members who have more fleshed out roles in the film than they do on paper. Moore told ScreenRant that Coogler was always interested in making each Dora Milaje warrior their own character, as opposed to "this monolithic force of a**-kickers." But just because they are individuals with their own opinions, don't expect the Dora Milaje to be breaking into cat fights on screen.
"In this genre, where spandex is involved, oftentimes the women are pitted against each other. In our story, there are so many different women holding their own space," Nyong'o said in an interview with Teen Vogue. "Women may be in competition with each other, sure, but that doesn't necessarily mean there's an absence of love or respect."
The Dora Milaje are the "Adored Ones," but the secret to their success is that they also adore each other.