It's Time To Get Over The Myth That Your Skin Has To Be Clear To Be Healthy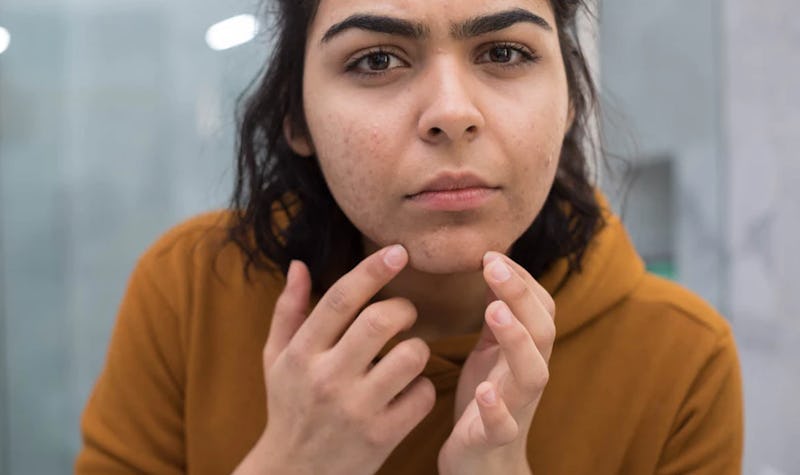 Ashley Batz/Bustle
Assessing someone's health just from looking at them is almost always impossible (not to mention problematic). And when it comes to healthy skin, things get a little bit more complicated. Unlike organs like your heart or brain, a significant part of your skin is largely visible to the other people. This means not only are so-called "flaws" more easily perceived by the rest of the world, but also that the beauty industry is quick to capitalize on finding ways to make money off of fixing those same "flaws." In a society that promotes smooth, blemish-free skin as the goal, it's easy to assume that having zero pimples 24/7 is the same thing as having healthy skin. But while your epidermis may be front-and-center every day, this doesn't mean that it tells the whole story when it comes to your skin's true health.
Yoon-Soo Cindy Bae, M.D., Clinical Assistant Professor at NYU Dermatology tells Bustle that in reality, healthy skin looks different for everyone. Dr. Bae explains that different complexions and background come with different skin types as well.
"Some may think that healthy skin is free of any blemishes, but I disagree," Dr. Bae says, explaining that just because someone has birthmarks, occasional acne, or sun damage doesn't mean that they don't have healthy skin. And no matter what someone's current level of skin health, how they're thinking about their future skin health is actually more important.
Dr. Bae notes that skin health is really less about how it looks at a present moment and more so about how you are preventing it from being unhealthy in the years to come.
Just because someone has birthmarks, occasional acne, or sun damage doesn't mean that they don't have healthy skin.
"Some patients have had blistering sunburns that have caused skin cancer later in their life, but what they are doing now helps prevent problems in their future skin health," Dr. Bae says of patients with healthy, albeit "damaged," skin.
And when I initially ask Dr. Bae to tell me her definition of healthy skin, she mentions sun protection immediately.
"Healthy skin is cared for and protected daily with broad spectrum sunscreen of SPF or higher," Dr. Bae says, adding that the lower the inflammation, the better the skin is. But Dr. Bae is also quick to mention that inflammation can come in many forms. Acne is indeed one of those, but this also includes rashes and lesions.
Another professional, board certified and fellowship trained cosmetic dermatologist Dr. Kimberly Jerdan, tells Bustle that healthy skin is ultimately a reflection of their overall health.
"As a dermatologist, first and foremost I make sure they are free of any skin disease, such as acne, psoriasis, rosacea, lupus, that require medical management," Dr. Jerdan says of analyzing a patient's skin to gauge whether it's healthy or not.
Dr. Jerdan also differentiates here between cystic acne and "occasional comedones or pimples." Cystic acne usually requires oral medication intervention, Dr. Jerdan says, while the occasional breakout is usually treated with lighter topical products.
The skin care industry often focuses so heavily on acne prevention and of achieving pimple-free skin that achieving sun protection comes in second. According to the Global Acne Market Report for 2016-2026, dermatology therapeutics (AKA what acne treatment falls under) is expected to grow from a $19.8 billion industry in 2016 to a $41.2 billion industry in 2026. To put that number in perspective, the sun care market is predicted to go from a $14.8 billion industry (in 2015) to a $24.9 million industry in 2024. There is a lot of money in skin-clearing treatments — and specifically when it comes to acne treatment.
The Global Acne Market Report goes on to mention how products like "Benzoyl peroxide, Salicylic acid, and their combinations are largely moving into the over-the-counter space." With more accessibility comes, of course, more sales. In 2016, the global market for over the counter dermatology products was worth $114 billion.
Acne prevention is sexier than sun protection. After all, if you have a pimple, and there is a treatment that says it will make it go away, that result (though rarely that simple) is tangible. A pimple is there, and this cream will make it go away – what could be more tempting than that? Sun protection, however, is a little more abstract.
Except avoiding sunburns, there's no way to immediately see the benefits of sun protection. And even when it comes to sunburns themselves, it's still easy to ignore, forget, or dismiss sun damage as no big deal.
Sure, we all know that UV rays are potent and skin cancer is real, but it's harder to think about your skin in five years or ten years than it is to think think about it right now. If you're unsure of this, just take a moment to think about the last time you stressed about a bad breakout versus the last time you stressed about sun damage. I'd be willing to bet the former sticks out in your mind as happening much, much more frequently.
While Dr. Bae tells Bustle that everyone's healthy skin care routine "does not and should not" look the same, she does note that there should be some basics everyone incorporates into their routine. First up? You guessed it: SPF. Dr. Bae recommends La Roche-Posay Anthelios Melt In Sunscreen Milk if you're not quite sure where to start.
Besides SPF, Dr. Bae suggests cleansing your face in the morning, evening, and after sweating as well as gentle exfoliation, noting that Cetaphil's Extra Gentle Daily Scrub is an exfoliation treatment that is actually gentle enough to be used daily.
Dr. Jerdan concurs with Dr. Bae, telling Bustle that there should be staples in everyone's skin care routine while still tailoring it to a person's specific needs — and often this means trial and error with products.
"I do highly recommend a sunscreen daily for everyone though, and sometimes that means going through a few until you find one you like. For instance, in the summer I like lighter dewy sunscreen like PCA SKIN Tint Broad Spectrum SPF 45, but in the winter I opt for fuller coverage with Alastin hydratint," Der Jerdan explains.
If you're unsure whether or not your skin is healthy, Dr. Bae says the first step is to see a board certified dermatologist, who will be able to tell you if the skin concerns you have need to be addressed. If you're already seeing a dermatologist, cleansing your skin twice a day (plus after sweating), reapplying broad spectrum sunscreen every two hours, and using a moisturizer like Cetaphil Rich Hydrating Cream is where you should start. From there, you can add products and treatments that make sense for your skin in particular.
In general, though, Dr. Bae's suggestions reflect the idea that healthy skin has much more to do with how we're protecting it than how it looks — and that how we're treating it is ultimately more powerful than whether or not we have a pimple or two.
"It's important to remember [that] we can all strive for healthy skin — which does not mean perfect skin."