Molly McNearney Is A Boss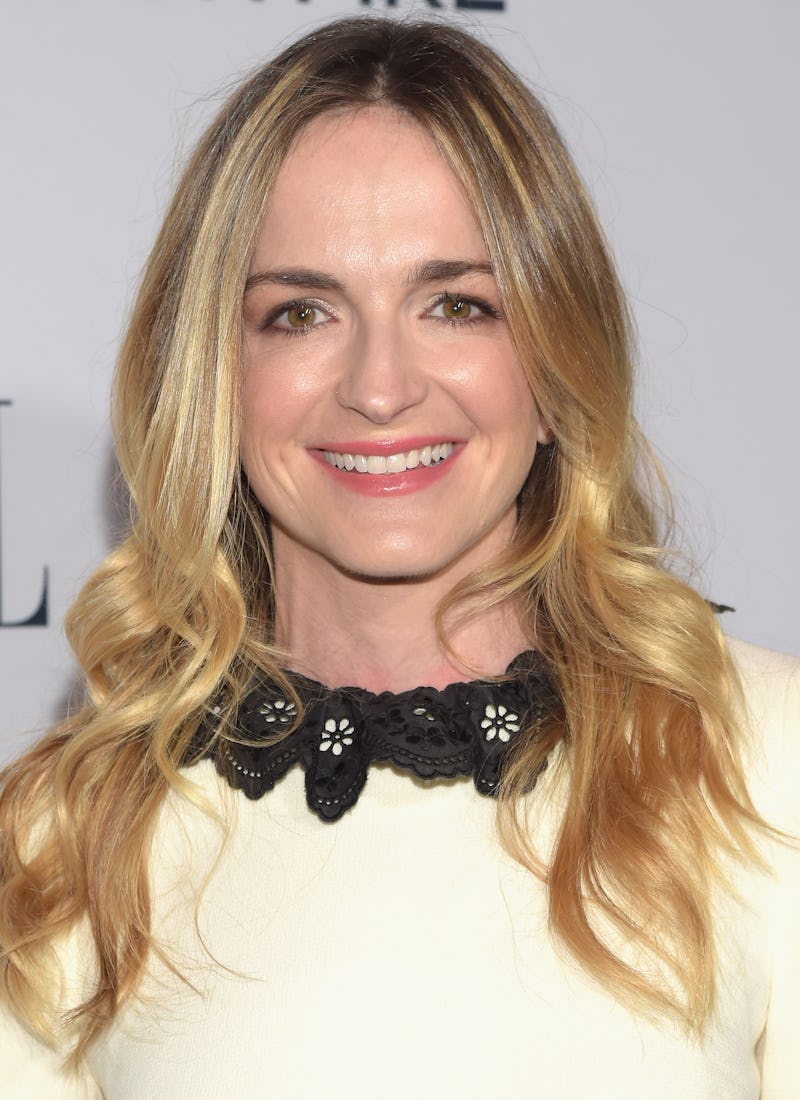 Jason Kempin/Getty Images Entertainment/Getty Images
Jimmy Kimmel is having a moment. The comedian has been the host of Jimmy Kimmel Live! for over 14 years, and the late-night show continues to be a successful both on TV and online. The show has many famous segments (Mean Tweets, Pedestrian Questions, etc.) and is the longest running late-night show in the history of ABC. On Sunday, the star will also host the Oscars, a job he was apparently begged to do. What you may not realize about Kimmel, however, is that his wife Molly McNearney has been crushing it in Hollywood for just as long. McNearney is a screenwriter and producer, and the two met because McNearney is a head writer and producer on Kimmel's show. That's right — McNearney is also a comedian, and the Emmy-nominated co-head writer on Jimmy Kimmel Live!.
McNearney's career trajectory should be inspiring to anyone pursuing comedy or TV writing. She's been working on Jimmy Kimmel Live! since the show began in 2003, but was new to the biz and started out as a writer's assistant. Over the years, she worked her way up the ranks, and now has a huge role in running the show. While the entertainment industry at large struggles to employ and represent talented women, comedy in particular has a long standing mens-club problem. McNearney conquered an impenetrable industry, and has spoken out repeatedly against the absurd, sexist idea that women are not as funny as men.
During her time working on Kimmel's show, McNearney has contributed to some seriously funny, and often star-studded, sketches. For example, she conceived the sketch where singer Josh Groban sang Kanye West tweets. The bit ended up being hilarious, and it was one of the shows many videos that went viral.
While McNearney has been at the helm of Jimmy Kimmel Live! for years, and contributed to some of the shows funniest material, she also has a career outside the night show. When Kimmel went to the White House Correspondents Dinner in 2012, she contributed jokes for the occasion. That same year she wrote for the 64th Primetime Emmy awards, and she once again returned to the awards show's writing staff in 2016. McNearney is more than familiar with the Emmy Awards, as she has been nominated as a producer and writer for Best Outstanding Variety Series on four separate occasions.
As if McNearney couldn't get any cooler, in interviews she has offered advice for women trying to break into the comedy industry. "I think women naturally come in with a disadvantage because I do think there are some 'old school' ways of thinking that women are not as funny," she said in an interview with Splitsider. "I think funny people are funny regardless of their gender. I think a really talented, funny woman will instantly prove she's funny and that will dismiss that old way of thinking. And it is our responsibility as funny women to do that."
She also mentioned that women seem more hesitant to apply for these types of high-level comedy positions, so drive and confidence are also important for making it. If this is true, McNearney has definitely lead by example.
So, how did Kimmel end up with his smart and talented colleague? The two met working on the show, of course, but their relationship was purely work-related for years before they became interested in each other romantically. In an interview with Glamour, McNearney explained that the two were hesitant to have a workplace romance when the show depended so heavily on their creative relationship. It all worked out for the best, as they are now married and have a daughter, Jane Kimmel, together. In the interview McNearney also mentioned that though Jimmy Kimmel Live! has been her world for a long time, she would like her career to eventually move beyond the show. With Kimmel potentially retiring from late night, it may be an opportunity for McNearney to branch out into new comedic territory. It would certainly be interesting to see where the writer takes her skills next, though it is likely she will stick to a comedy writers-room.
Kimmel will host the Oscars on Sunday, and I think it's safe to say that Molly McNearney will be there to support him, both on the red carpet and behind the scenes. After all, this wouldn't be the first time she's given the host key monologue tips.