Katherine Johnson Seems Proud Of 'Hidden Figures'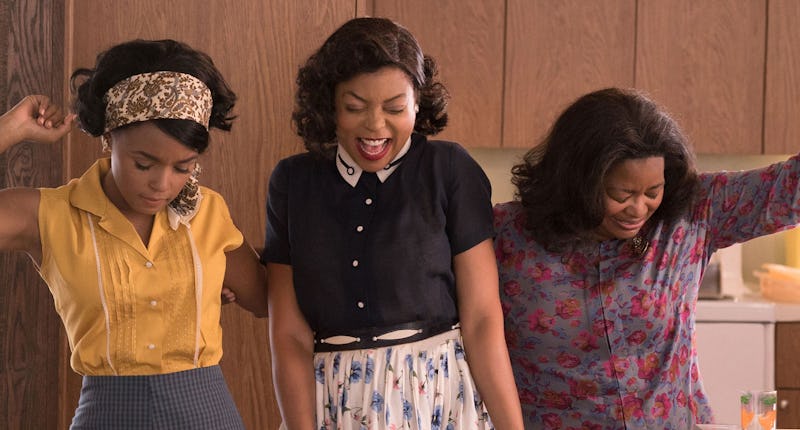 20th Century Fox
I know I'm not the only one excited to see Hidden Figures, which tells the amazing true story of the team of brilliant African-American women who helped make NASA's first manned space mission a success. In the film, Octavia Spencer plays mathematician Dorothy Vaughan, Janelle Monae plays mathematician and engineer Mary Jackson, and Taraji P. Henson plays mathematician Katherine Johnson. Both Jackson and Vaughan have passed away, but the incredible Johnson is still alive, and even received a Presidential Medal of Freedom from President Obama in 2015. The stars of the movie worked hard to produce a film that did justice to the accomplishments of Johnson and her colleagues, so what does Katherine Johnson think of Hidden Figures?
Johnson, who played a critical role in ensuring the success of the launch of Friendship 7, the shuttle that held John Glenn during his historic manned space mission in 1962, has participated in the creation of Hidden Figures in a few awesome ways. Before the film was even created, the story of Hidden Figures was a book by Margot Lee Shetterly, and Shetterly told CBS News that in doing research for the book she spoke with Johnson about how the story should be told. "Katherine Johnson's request," Shetterly said, "was not for her but all the women who worked at NASA be represented. She didn't want this to be just about one person." As a result, Shetterly expanded her research to focus on many of the African-American women who were doing important work for NASA including Jackson and Vaughan.
As for the film itself, Henson has said in multiple interviews noted that she was fortunate to be able to speak with Johnson during the filming of the movie. Speaking to Space.com, she recalled meeting Johnson and thinking "Wow, I am in the presence of a real-life superhero," and while visiting Cape Canaveral (where the real women of Hidden Figures helped successfully launch Friendship 7) she told ClickOrlando.com that in person, Johnson was "selfless."
On Dec. 1, 2016, Johnson also got to attend a special screening of Hidden Figures hosted by NASA at Virginia Air and Space Center. There aren't any quotes on record from her at the event and it isn't clear whether or not she spoke about the film at the screening. However, if you want to feel your heart swell, there are some amazing photographs of the event, including a stunning and impactful one where Johnson shakes hands with Spencer, who plays Johnson's colleague and friend Dorothy Vaughan.
Imagine how it must feel for Johnson to see a movie of her life and to have the world recognizing her work after being erased in so many ways from history. In an interview with Deadline, Henson spoke about how she and the rest of the cast weren't familiar with the stories of Johnson, Jackson, and Vaughan.
I went to an historically black university, where Ron McNair – who died in the [Space Shuttle] launch to space – [had attended]. I actually studied electrical engineering. I failed, but I was there. And this man has a building named after him. If it wasn't for Katherine Johnson, there would have been no Ron. But hey, who am I? Never heard of her. I was annoyed. I was mad. And this became my passion project.
Henson later noted that "it's an embarrassment that these women were omitted from the annals of history." And it is. Johnson deserves every moment of recognition for her invaluable work.