The Miss America Prizes Are So Awesome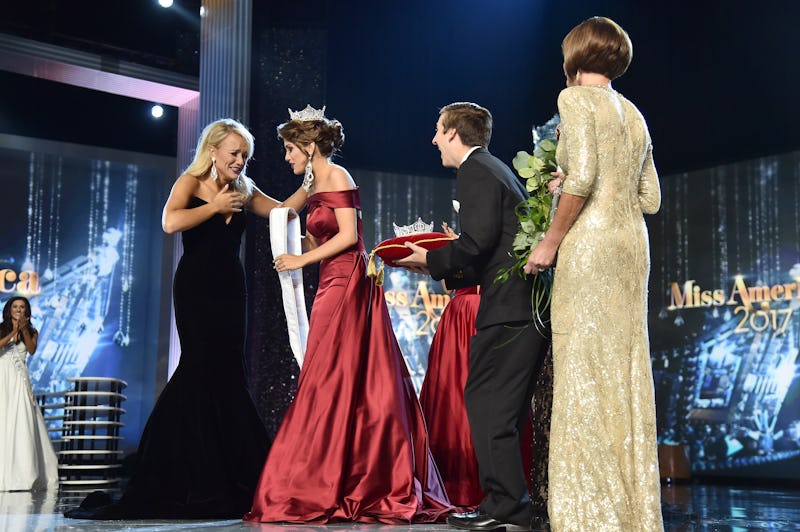 Michael Loccisano/Getty Images Entertainment/Getty Images
It's that time of the year again to wonder what does Miss America 2018 win? Well, besides her majestically sparkly crown, of course! According to The Miss America Organization's Office & Public Relations Coordinator Chelsea Mineur, the main Miss America grand prize is a hefty $50,000 scholarship — which will certainly go a long way when it comes to opening doors for one lucky lady. But, she's not the only one going home a winner. The first runner-up nabs a $25,000 scholarship, the second runner-up $20,000, the third runner-up $15,000, and the fourth runner-up $10,000 — suffice it to say, the top five definitely do more than alright.
But, the $50,000 scholarship is only the tip of the iceberg where the newly crowned Miss America is concerned — you see, the full prize package usually includes even more great stuff. During last year's pageant, it was announced that the winner would also take home "a six-figure salary and expenses during her reign," and Mineur confirmed that Miss America 2018 will also be earning such a salary. Of course, that's to be paid out over the course of a year, so it's not exactly not a lump sum of prize money — but it's still nothing to sneeze at, especially if you factor in however much the expenses add up to.
Suffice it to say, it's quite the hefty prize. Of course, not to be corny, but the true prize is the pride and responsibility that comes with the Miss America title (not to mention that aforementioned sparkly, sparkly crown), but some extra funds don't hurt a bit — especially when they go towards education, the way Miss America's scholarships do. It's important to remember that, in addition to all the pageantry, Miss America is all about forwarding women's education and helping others.
Oh, and here's something you might not know: Every single contestant in the Miss America pageant actually wins a scholarship. Of course, the scholarships all vary in size depending on the particular contestant's placement, but altogether it amounts to a substantial $302,000 in scholarship money awarded during the competition. After the runners-up, the ten semi-finalists will all respectively be awarded scholarships between $4,000 and $8,000, and the remaining 36 competitors all get a base scholarship of $3,000.
Each contestant is also eligible for bonus scholarships, should they place in competition areas such as the Lifestyle and Fitness in Swimsuit portion, or of course, the Talent portion. Miss Congeniality also takes home an extra $2,000, which is a nice little cherry on top. Here's the full breakdown, in case you're interested:
Semi-Finalists 6 and 7 — $8,000 each
Semi-Finalists 8 through 10 — $7,000 each
Semi-Finalists 11 and 12 — $5,000 each
Semi-Finalists 13 through 15 — $4,000 each
Contestants 16 through 51 — $3,000 each
3 Preliminary Talent Winners — $2,000 each
3 Preliminary Lifestyle & Fitness in Swimsuit Winners — $1,000 each
4 Non-Finalist Talent — $1,000 each
Miss Congeniality — $2,000
So, when it comes right down to it, it sure is nice knowing that even the women who don't place in the pageant still take some material gains away from the competition (along with the exposure and invaluable experience, of course). So, in a small way, everyone is a winner on Sunday night — and that makes watching even more fun.