The Miss Universe Prize Is So Luxurious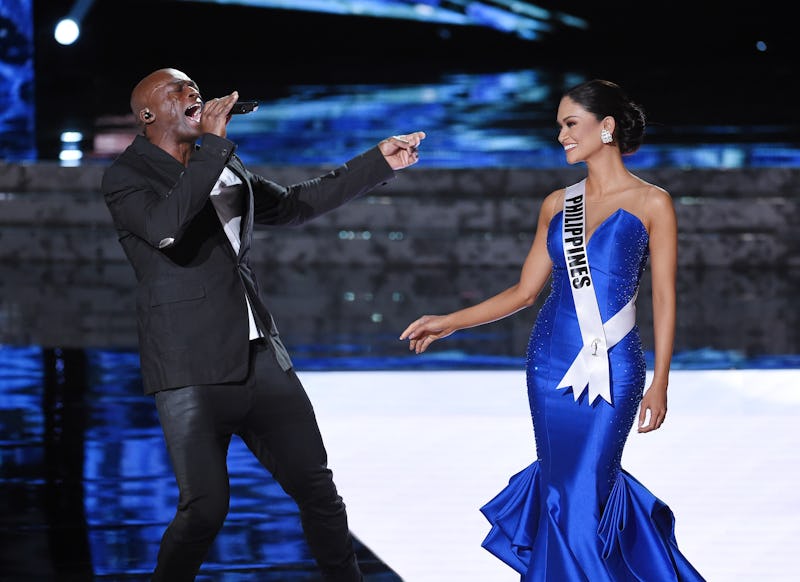 Ethan Miller/Getty Images Entertainment/Getty Images
It's a pageant well-known for all its glitz and international glory, but what's the actual prize? What will Miss Universe win at the 2017 competition? You know, aside from her tiara, sash, and huge increase of Instagram followers, of course.
According to the Miss Universe website's contest rules, the Miss Universe prize package is quite the many-splendored thing. Perhaps the most valuable prize of all is the fame and exposure, but there are considerable monetary perks as well, including a year-long salary for performing all of the duties that come along with the title. Room and board in a "luxury apartment" in New York City (aka one of the most expensive cities in the country) as well as living expenses are also included, which is certainly nothing to turn your nose up at — and there's all that expenses-paid globetrotting to consider as well.
On the professional side of things, there are a ton of perks too. According to the official website, the winner is immediately granted representation from WME IMG, which happens to be the Miss Universe parent organization, as well as one of the most prestigious and well-known talent agencies in the country.
This representation (as well as the prestige of the crown and sash) comes with a lot of perks — as the website explains, Miss Universe will be invited to "casting opportunities, movie premieres, fashion week, sporting events and career opportunities" during her reign in New York.
Oh, and as for just plain fun stuff? The newly crowned winner will get "personal appearance wardrobe and styling by the official Miss Universe Organization fashion stylist." According to Business Insider, last year's winner also got a year long's supply of hair products for CHI, a year long's supply of shoes from Chinese Laundry, and a custom-made diamond tiara from the Diamonds International Corporations — so those are some prizes to look out for too, although they weren't specifically mentioned in the official contest rules for this year.
Last but not least, on top off all the material gains, never forget that there is a significant amount of philanthropy hard-wired into the Miss Universe pageant and subsequent year-long reign. In addition to all the perks listed above, the website says that winner also gets to use her time both in New York City and her time traveling the world to "developing and representing her platforms, and raising awareness and funds for charitable initiatives."
Suffice it to say, it's quite the all-inclusive and eclectic prize package. Rest assured that Miss Universe will have quite the busy-yet-luxurious 2017 reign!