The Complete Prize For Winning Miss USA 2018 Actually Sounds Amazing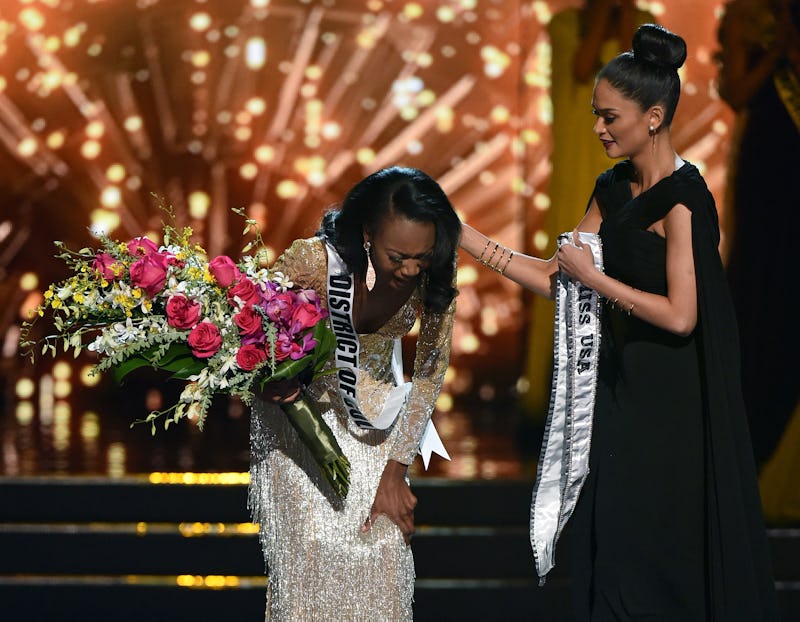 Ethan Miller/Getty Images Entertainment/Getty Images
It takes a lot of hard work to prepare for a beauty pageant. With so much time and energy devoted to competing, there better be more than just a crown at the end. What does Miss USA 2018 win anyway? Of course, she earns a title and a place in the pageant's history, but she actually gets a lot more than that title, sash, crown, and bouquet of flowers that she is handed at the end of the night.
Earning that top spot actually results in a whole year of privileges and perks. According to the Miss Universe official website, the woman who is crowned as Miss USA will instantly move into a luxury apartment in New York City. The winner will live there rent free for her entire reign as Miss USA.
In addition to a new living situation, Miss USA 2018 will receive a year-long salary. Not only that, but all of her living expenses will be covered for her whole reign. She will be making promotional appearances around the country and the internationally, which is both a duty and a perk of the acquiring the title. The winner also gets to be styled by the official Miss Universe Organization fashion stylist. Oh, and she also gets her annual wardrobe covered. There will be no outfit repeating here.
Miss USA 2018 will get representation from the entertainment agency WME|IMG, which is the parent company of the Miss Universe Organization. This means that they will get access to different career opportunities and events including fashion week, movie premieres, sports competitions, and more.
In addition to the glitz and glamour of the title, Miss USA will have many opportunities to make a difference with a focus on causes that are important to her and her platform. According to the Miss Universe Competition official website, Miss USA will spend her reign "developing and representing her platforms, and raising awareness and funds for charitable initiatives."
Aside from everything that comes with being Miss USA, the winner will have an opportunity to move on to the next level of competition: the Miss Universe pageant. If Miss USA ends up winning the Miss Universe title, there will be even more personal perks and opportunities to give back to the community, but on a global scale.
Miss Universe also gets to live in a luxury apartment in New York City, a year-long salary, living expenses for her entire reign, and styling by the Miss Universe Competition wardrobe stylist, but there are also additional opportunities that come with that title- which makes total sense considering how all encompassing Miss Universe is. It definitely takes a lot to get to that point.
If Miss USA does end up taking the crown at Miss Universe, she will get a year's supply of hair products and styling tools from Farouk Systems, the makes of CHI Haircare. She will also get a "shoe wardrobe" from Chinese Laundry Shoes & Accessories. She receives products from MAC cosmetics along with a personalized face chart. She will get a membership and personal training services from Gravity Fitness at Le Parker Meridien Hotel. She will be able to get her hair done at the John Barrett Salon for free all year long. She will have access to personal health, nutrition, and dermatology, and dental services.
Earning the Miss USA title comes with a lot of responsibility, perks, and opportunities. She will be able to give back to causes she is passionate about, travel the world, and look glamorous doing so all while earning an annual salary. After all the work that goes into preparing for a beauty pageant, it definitely sounds like the end game is worth it. There is a lot to gain beyond the Miss USA title and crown.