This Is What North Korea Might Want From The U.S. In Return For Giving Up Nukes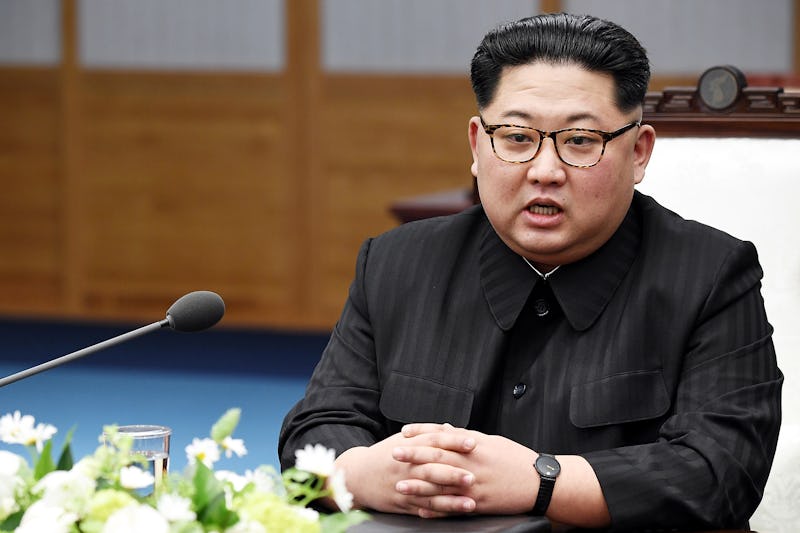 Pool/Getty Images News/Getty Images
In the early hours of Thursday morning, Secretary of State Mike Pompeo returned from a brief trip to North Korea with three American citizens who had been detained there. Kim Jong Un's decision to free the prisoners has been perceived as a diplomatic gesture, and indeed, it precedes a summit between Kim and Donald Trump that is slated to take place this June. The United States is going into this summit seeking the total denuclearization of the Korean peninsula, but such demands have not been successful in the past. So, what does North Korea want from the United States?
USA Today recently pointed out that just a few months ago, Kim and Trump were both threatening nuclear war, but now both men are preparing to meet in Singapore on June 12 to discuss denuclearization. Although Trump previously said he would only attend the summit if it promised to be "fruitful," he has taken on a more optimistic tone in the last month, suggesting that Kim wanted to bring North Korea "into the real world."
Government officials in Washington reportedly told The Times that Kim's concessions on nuclear testing, the three American detainees, and the presence of American troops in South Korea were all designed to convince the United States to lift economic sanctions before North Korea eliminated its nuclear arsenal. Pompeo has made it clear that the United States would not be loosening economic sanctions on North Korea until demands for denuclearization have been met. But according to The New York Times, North Korea most likely wants to maintain its nuclear weapons to ensure regime security while simultaneously evading these economic sanctions.
Japanese Prime Minister Shinzo Abe and other international leaders are wary of Kim's motives ahead of his meeting with Trump. Although Abe agrees with the Trump administration's insistence on maintaining economic sanctions, he is also concerned that the United States and North Korea will not consider Japan's security while coming to any potential agreements.
"Just because North Korea is responding to dialogue, there should be no reward," Abe told reporters after spending time with Trump in Florida. "Maximum pressure should be maintained, and actual implementation of concrete actions towards denuclearization will be demanded."
Abe's desire to tread cautiously is largely rooted in the fact that previous attempts to achieve North Korean denuclearization have often fallen apart. Chinese officials, meanwhile, are worried that they will be sidelined in the negotiations between Washington and Pyongyang, and will no longer be able to maintain as controlled a relationship with North Korea as they once did.
Back in September, Axios reported that North Korea was primarily seeking two things: fewer economic sanctions and a reduction in joint exercises between the United States and South Korea. The Washington Post, meanwhile, asserted that North Korea wanted to remain a nuclear state and was not likely to give up its nuclear arsenal. But the dynamic between Washington and Pyongyang has shifted dramatically since the fall, with Kim making multiple concessions.
Nonetheless, officials in the United States, China, and Japan are worried that these concessions are a sign that Kim is simply posturing, and that he will never accept genuine disarmament. Earlier this year, however, a top admiral in the U.S. Pacific Command told the House Armed Services Committee that Kim is seeking the reunification of the Korean peninsula under North Korean rule. Whether this is actually the case will likely become more clear as the summit approaches, and as talks between North and South Korea continue.
What is almost certain, however, is that North Korea is still seeking the removal of American troops from the Korean peninsula. Washington has been relentless in its maintenance of economic sanctions, but could still reconsider the presence of 30,000 American military personnel in South Korea if North Korea demonstrates a willingness to give up its nuclear weapons.