Jimmy Fallon's Getting Back At Trump By Donating To This Immigrant Aid Group In His Name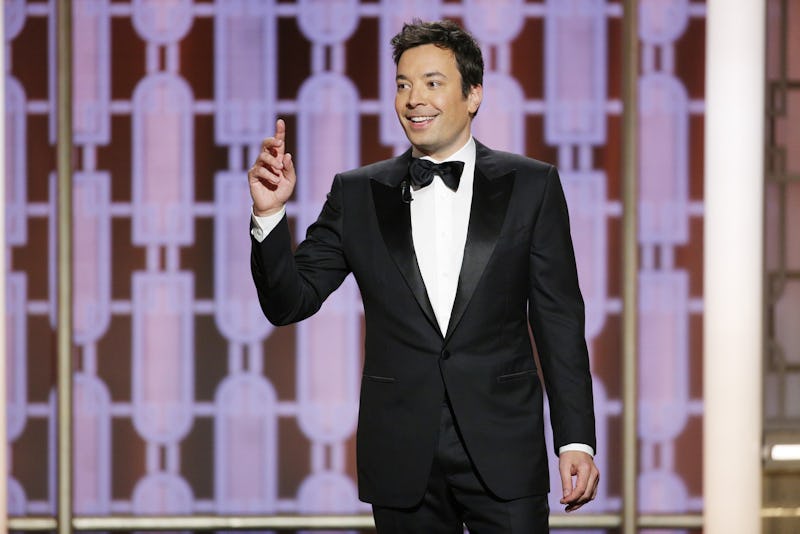 Handout/Getty Images Entertainment/Getty Images
On Sunday evening, President Trump condemned a late night host for again asserting that he has regrets about an interview he previously conducted with Trump. In responding to Trump's criticism, that host announced that he will be making a donation to RAICES. If you're wondering what RAICES stands for, know that Jimmy Fallon's donation is going to help provide legal assistance for immigrants. Indeed, the Texas-based Refugee and Immigrant Center for Education and Legal Services (RAICES) helps thousands of immigrant families every year and was recently the recipient of a massively popular Facebook fundraiser.
Fallon's donation came after Trump publicly mocked him on Twitter. Trump's condemnation seemingly arrived after Fallon said in a recent interview on The Hollywood Reporter's "Awards Chatter" podcast that he made a mistake when conducting a September 2016 interview with Trump. During this interview on Fallon's show, the late-night host playfully mussed the then-presidential candidate's hair, among other things. At the time, Fallon received condemnation for seemingly humanizing the controversial then-presidential candidate. Trump did not respond well to Fallon's most recent comments about the interview, writing on Twitter:
@jimmyfallon is now whimpering to all that he did the famous 'hair show' with me (where he seriously messed up my hair), & that he would have now done it differently because it is said to have 'humanized' me-he is taking heat. He called & said 'monster ratings.' Be a man Jimmy!
In response, Fallon released a tweet of his own, writing, "In honor of the President's tweet I'll be making a donation to RAICES in his name." RAICES is a nonprofit located across Texas that helps secure legal services for immigrant families. The organization's mission is further explained in the "About Us" section of its website, which highlights its areas of expertise:
RAICES ... promotes justice by providing free and low-cost legal services to underserved immigrant children, families, and refugees in Texas. Founded in 1986 ... RAICES has grown to be the largest immigration legal services provider in Texas ... RAICES is a frontline organization in the roiling debate about immigration and immigrants in the world. As an organization that combines expertise developed from the daily practice of immigration law with a deep commitment to advocacy, RAICES is unique among immigration organizations ...
RAICES' services are seemingly especially needed following the recent announcement of the Trump administration's zero-tolerance immigration policy, which mandates that any undocumented immigrant seeking to cross the U.S. border is criminally prosecuted. The policy has resulted in children being separated from their parents at the border, since parents were being charged with a crime and their children were not. President Trump's June 20 executive order ended the family separation policy, but the zero-tolerance policy remains, as do many issues regarding family separation that the executive order did not address.
Indeed, many see RAICES as pivotal to providing assistance in light of these policies. As Vice reported, last week a California couple, Charlotte and Dave Willner, used Facebook to seek to raise $1,500 to donate to RAICES. Much to their surprise, the couple's fundraiser went viral, raising $20 million and counting. On its Facebook page, RAICES has revealed its gratitude for the funds, saying that the donations will positively impact many people. "We know it will change lives. We know it will save lives by keeping people from being deported to unsafe countries," the organization wrote.
Indeed, last year alone RAICES reported that it closed 51,000 immigration cases at no cost to the legal client. With the ongoing Facebook fundraiser and Fallon's donation, hopefully the organization can help even more immigrant families, especially in light of the Trump administration's controversial zero tolerance policy.