Everything You Need To Know About The "Shib Sibs" Who Have Captured America's Heart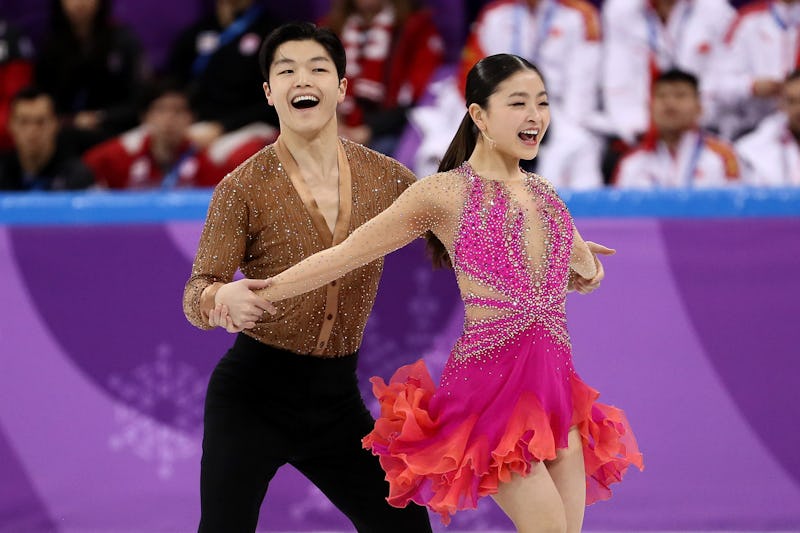 Jamie Squire/Getty Images Sport/Getty Images
After an Olympics season goes by, chances are that you won't remember the mascot, the weather issues, or the theatrics at the opening or closing ceremonies. Instead, what you remember are the athletes, giving their all out there in their respective sports. For the 2018 PyeongChang Winter Games, then, you need to know what "Shib Sibs" means — because this ice-dancing brother-sister pair has already made it clear that they're going to be a duo to remember.
Specifically, the Shib Sibs are Maia and Alex Shibutani, an American ice dance team. At only ages 23 and 26, respectively, the two have already claimed a fair amount of success in their discipline, and they started out strong in PyeongChang by finishing second in the ice dancing portion of the team figure skating event.
"We felt that the skate was actually really good," Maia said of their PyeongChang debut, according to NBC Olympics. "We've been training so hard, and to be out on Olympic ice for the first time, we are really happy with it."
This isn't actually their Olympic debut; after joining forces in 2004, the Shibutanis qualified for the 2014 Sochi Games and ended up finishing in ninth.
This was, however, their first time taking part in the team event, and the short dance is rather a specialty of theirs. Although they finished with a silver medal at nationals in January, they came in first in the short dance — so it's fitting that they were picked to represent the U.S. in the team event. They danced to a medley of songs by Cuban Mambo musician Perez Prado, with Maia decked out in a pink and orange costume with some serious Latin flair. For their free dance, which is a longer set than the short dance, expect to hear Coldplay's "Paradise" — which is a throwback to earlier in their career together, where they made some serious waves with a routine set to the same band's early hit "Fix You."
In an interview with People, the Shibutanis said that their experience at Sochi was a sort of jumping off point that they're now excited to build on.
"We came away incredibly motivated. We knew that our goals and our sights were set on 2018 and that gave us four years to develop our craft and really grow as people," Maia said in the interview. "We focused on a lot of the work on the ice, but then we also just took our skating to a whole other level by reaching outside of our lane and really collaborating with incredible people."
It's not just their skills on the ice that has hundreds of thousands of people cheering them towards victory. The two also seem to genuinely love working together, and their significant social media presence is filled with adorable pictures not only of the two of them competing and training, but also of their childhood together.
This has some wondering how such a close brother-sister pair competing at such a high, intense level is even possible. "Man me and brother would have killed each other!!" tweeted SNL comedian Leslie Jones, along with a video of part of the Shib Sibs' routine. "Hell to the naw!"
The Shibutanis, however, seem to have handily risen above the bickering that has probably nipped hundreds of potential Olympic sibling pairs in the bud. So far, they've won nationals in 2016 and claimed the bronze at the 2017 world championships — so an Olympic medal truly seems to be within reach. The U.S. is coming off an ice dancing victory in 2014, where Meryl Davis and Charlie White twizzled and skipped to the gold in Sochi. So far, the Shib Sibs definitely have the support of the fans — and hopefully it will help push them to the same heights that Davis and White reached four years ago.