This Is How The Alt-Right Really Feels About Steve Bannon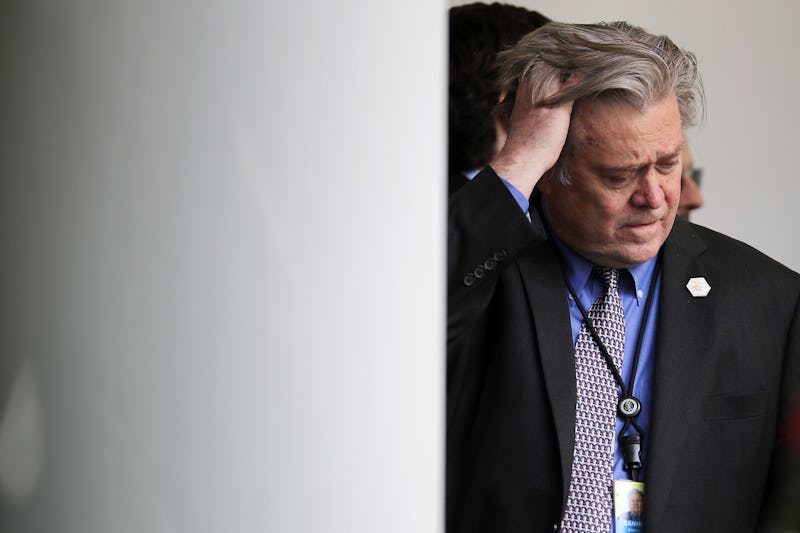 Chip Somodevilla/Getty Images News/Getty Images
Once thought to be the darling of the alt-right movement, Steve Bannon has recently sought to distance himself from it. In a controversial interview with The American Prospect, a progressive publication that wrote that it was surprised to receive a call from Bannon, the former White House chief strategist "a collection of clowns." The alt-right and Steve Bannon would seem like a match made in heaven, but there are indications that this isn't the case.
"Ethno-nationalism," Bannon mulled around, according to the Prospect, "it's losers."
Those comments come in sharp contrast to Bannon's previous associations with the alt-right, especially in his previous capacity as the head of the far-right website Breitbart. Prior to his departure to join the Trump campaign in August of last year, Breitbart has been a prominent normalizer of the so-called "alt-right." In fact, it even ran a lengthy explainer which tried to put a good face on it, painting the movement's evident bigotry and white supremacy as largely the work of ironic, edgy internet kids, rather than hardened neo-Nazis and people agitating for racist violence.
There's actually a divide that exists within self-identifying members of the movement, in fact ― some of the more extreme members refer to high-profile, social media celebrity Trump supporters as the "alt-light" instead, denoting their relative lack of open, flagrant embrace of white supremacy.
And while Bannon has reportedly long occupied the role of the base whisperer within the administration, the remarks he made about far-right ethno-nationalists to the Prospect, regardless of whether he meant them, probably isn't going to help his reputation in those circles.
Ethno-nationalism—it's losers. It's a fringe element. I think the media plays it up too much, and we gotta help crush it, you know, uh, help crush it more. ... These guys are a collection of clowns.
That said, according to journalist Gabriel Sherman, Bannon may be headed back to his old job at Breitbart now that his time in government has come to an end. If that happens, it seems likely that the site will continue to be one of the most visible, pseudo-mainstream outlets to trumpet the white nationalist and supremacist alt-right ideology.
In fact, last year, Bannon reportedly told Sarah Posner of The Nation that he considered Breitbart to be "the platform for the alt-right." And that's an energy that he's clearly going to want to tap back into if he indeed returns to his old job, now that his time in government has come to a close.
More to come...