Where Does The Name 'Always Dreaming' Come From?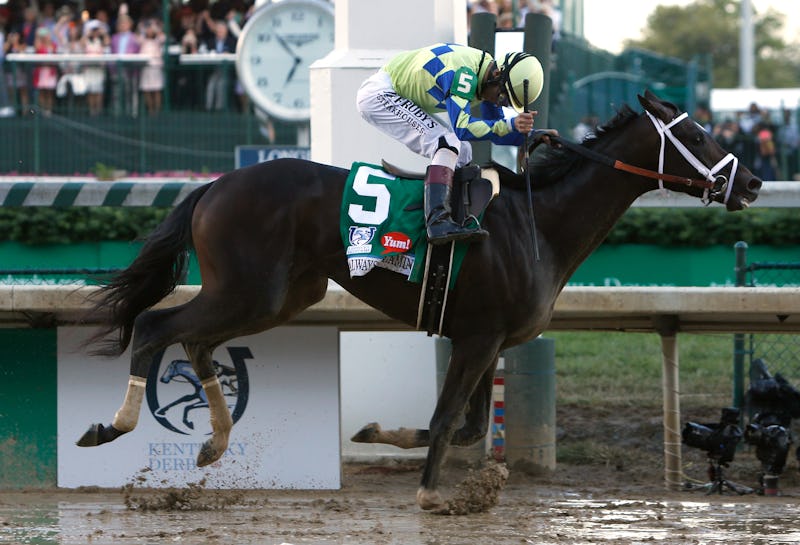 Michael Reaves/Getty Images Sport/Getty Images
Well, that was wild, huh? The 2017 Kentucky Derby has come to an end, with the field of horses galloping across the finish line, and Always Dreaming taking home the top honors. And yet, this raises a question, one that you could probably ask of countless horses out there: what does the name Always Dreaming even mean? What's behind the moniker of the horse now at the center of the racing world, the same one that'll be running for the Triple Crown in a few weeks?
It's one of the fun oddities of horse racing, even for people who aren't close followers of the sport: the various strange, fun names the horses are given. This year, for example, the Kentucky Derby features such horses as Tapwrit, Patch, Practical Joke, Gunnevera, Irish War Cry, Irap, Hence, State of Honor, and Lookin at Lee, among many others. Amid a sport steeped in tradition, ceremony, and seriousness, some of the sillier, more mystifying names always jump off the page.
But only one name is recorded in the history books as the winner, and this time around that name is Always Dreaming. So, the obvious question: what does the name mean, and how did the horses' owner decide on it?
Luckily, thanks to the Miami Herald, the story is publicly known, and the background is pretty simple. Always Dreaming is owned by Anthony Bonomo and Vinnie Viola, a New York duo who've dreamed for years of seeing one of their horses finish first at racing's biggest event. And according to Bonomo, it was his wife MaryEllen who gave this latest Derby winner his name.
It's magical. I don't know anyone who's been in the horse business who doesn't dream of this. So the name that my wife picked out — Always Dreaming — is what you have to do every day, especially in this business.
So, that's basically it! Always Dreaming, according to his owner, is so named for the ambition and willingness to dream big in the horse racing business. Clearly, in this instance, all the dreaming paid off.
Regardless of whether or not you dig his name, however, one thing is for certain: Always Dreaming is now in line to compete for the Triple Crown, a feat that's only been accomplished a scant 12 times in the history of American horse racing. The next leg of the Triple Crown is the Preakness Stakes, which will be taking place on May 20 at the Pimlico Race Track in Baltimore, Maryland. And if Always Dreaming manages another first place finish there, then he'll be just one more victory away from completing the trio ― the final leg is the Belmont Stakes in New York, which will be held on June 10.