Here's What The Queen Thinks About Meghan & Harry's Engagement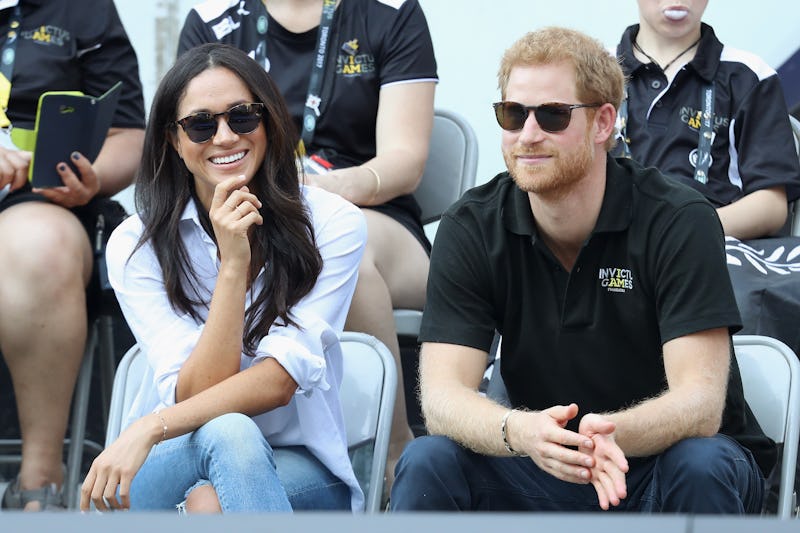 Chris Jackson/Getty Images Entertainment/Getty Images
Monday morning started with a bang as the news of Prince Harry's engagement finally broke — something fans of the royal family have been waiting to hear for months. But what does the Queen think of Prince Harry and Meghan Markle's engagement? As it turns out, she's actually thrilled for them both, so it's time to let all of those rumors that she doesn't approve of the match go. That's right, everyone: There's a high probability of adorable, happy family photos at their future wedding, so prepare yourselves accordingly.
The news came as most of America was waking up after the holiday weekend when Kensington Palace revealed on Twitter that Harry popped the question in London earlier this month, and that he's already informed his family about their impending nuptials, which are scheduled for spring 2018. More details are still to come, but it certainly seems like his grandmother is cheering them on.
Following the official announcement of the engagement, Harry's family members issued their congratulations on his big news. The Queen and her husband, Prince Philip (also known as the Duke of Edinburgh) released their statement via the Royal Family's Twitter, letting the world know that they're both "delighted" that Harry and Markle will be tying the knot next year.
And before you ask, yes, Kate Middleton and Prince William have shared their congratulations, as well. In a separate tweet, Kensington Palace quoted Middleton and William as saying, "We are very excited for Harry and Meghan. It has been wonderful getting to know Meghan and to see how happy she and Harry are together."
It's good to hear that Middleton and William are supportive of their relationship, because it seems like Middleton and Markle have a lot in common. Of course, after starring in Suits and having a career as an actor, it's not like Markle's totally new to the spotlight, but becoming part of the royal family without having grown up in that environment has to be on a totally new level. And since Middleton once stood where she stands now, she might be a good resource for her going forward. Besides, who wouldn't want her as a sister-in-law?
And speaking of Markle, her parents have issued a statement of their own, saying that her engagement is "a great source of joy for us as parents," so it seems like these two are surrounded by support from their family in all directions.
The Queen and Markle were first rumored have met in September, when she and Harry visited her Scottish highlands estate. Whether or not they interacted was never confirmed, but regardless of if they met then or met at a different time, it definitely sounds as though Markle left a pretty good impression on her future grandma-in-law.
It's so great to hear that the Queen is happy about Markle and Harry's engagement, because her opinion on their relationship is very important. According to People, the Royal Marriages Act of 1772 gives her the right to nix an engagement before it even happens if she doesn't like the pairing, although that right only extends to certain members of her family, including Harry. Fortunately, that's not something we have to worry about this time around, and anyone who's ever had to deal with in-law drama can probably understand what a relief that is.
And now that fans don't have to worry about whether the Queen approves, we can all focus on more exciting things, like the fact that we now have another royal wedding to look forward to. Now, all we need is an official wedding date so the countdown can begin.