Here's Why Toner Is Actually Really Beneficial For Your Skin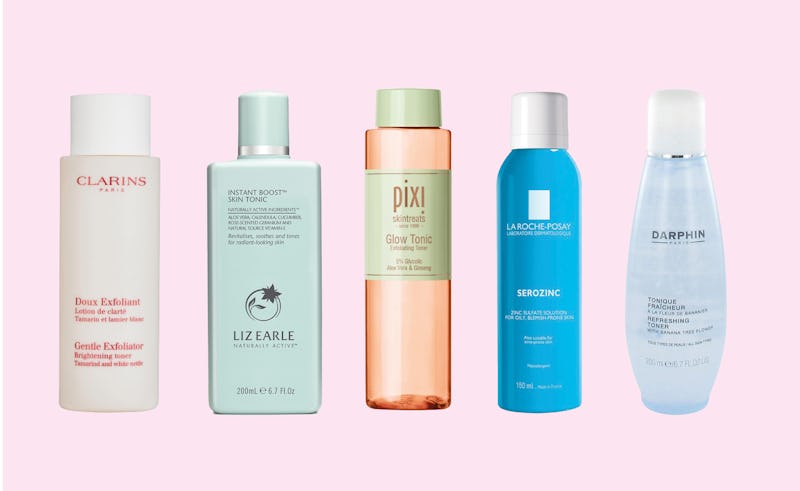 Clarins/Liz Earle/Pixi/La Roche/Darphin
Toner. It's often the forgotten skincare step, the one that goes unrecognised and the product that can confuse even the most advanced of beauty addicts. So, what does toner actually do, and does it actually make a difference? It's surprising how many of us aren't quite sure.
Well, while using a toner isn't compulsory, it actually has a huge range of benefits that make it a smart skincare step to include in your routine (following cleanser, before serums, oils and moisturisers). First off, toner is designed to round up the cleansing stage nicely by picking up any last bits of makeup and unwanted oil on the skin following your cleanse. It also aims to reduce the pore size and as its name suggests, improve the overall tone of your skin.
Now, depending on the type of product you choose, toners can have a range of skincare benefits, from exfoliating to moisturising to soothing. Toner is especially brilliant for skin prone to excess oil, as it wipes away unwanted oil and impurities, which helps in turn to reduce pore size. Many now also help to protect the complexion from outside aggressors such as pollution.
Drier skin types should avoid toners with alcohol, which can feel stripping and a little too harsh. Instead, they should opt for moisturising and soothing formulas with ingredients such as rose and aloe vera. Oiler skin, on the other hand, is better suited to toners that exfoliate using AHAs.
To help you find the right toner, I've rounded up my five very favourite toners:
Let's face it: toner is the underdog of the beauty world, and it's definitely worth the investment.