This Is What Trump's "Zero-Tolerance" Immigration Policy Actually Entails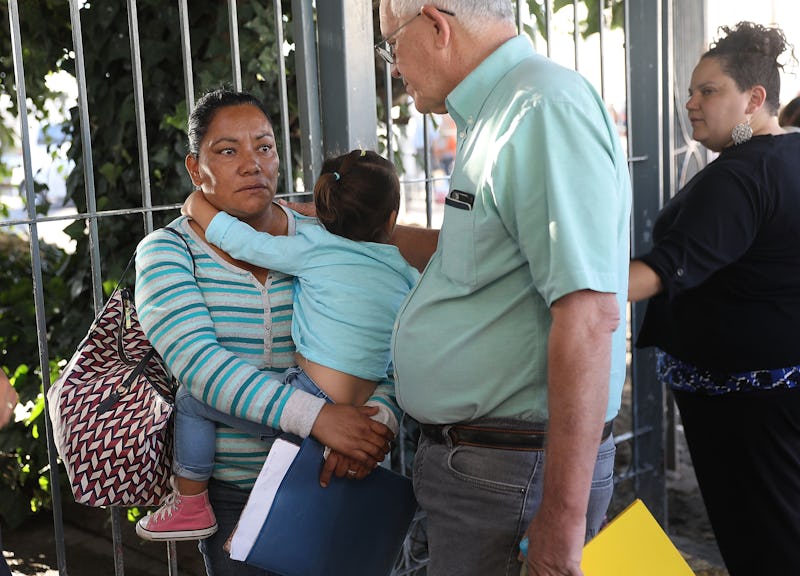 Joe Raedle/Getty Images News/Getty Images
The news cycle is currently overflowing with headlines decrying Trump's family separation policy, which has taken thousands of children away from their families at the U.S.-Mexico border for over a month. But the language can become repetitive, and you might find yourself wondering what Trump's "zero-tolerance" immigration policy actually means.
It traces back to a statement released in early April by Attorney General Jeff Sessions.
"The situation at our Southwest Border is unacceptable," Sessions said in the statement. He went on to blame Congress for failing to fund a border wall, and for failing to close legislative loopholes. According to Sessions, a "crisis has erupted at our Southwest Border" that required immediate action.
"To those who wish to challenge the Trump administration's commitment to public safety, national security, and the rule of law, I warn you: illegally entering this country will not be rewarded, but will instead be met with the full prosecutorial powers of the Department of Justice," he said. Later, a press release formally announced a "new 'zero-tolerance' policy" for attempted illegal entry into the U.S., and illegal entry itself.
What this boils down to is that Sessions directed all U.S. Attorneys who work in border states to prosecute every case referred to them by the Department of Homeland Security. In the past, being caught illegally entering the United States wasn't always a one-way ticket prosecution.
How these mandatory prosecutions lead to separated families is pretty simple. Because children may not be kept in jails, they must be taken away from the older family members with whom they illegally crossed the border. But this hasn't always been the case.
Technically, it has been legally possible for children to be taken away from family if their family is apprehended while unlawfully crossing the border. But frequently, families were released to await judicial proceedings together. Now that every adult must be prosecuted, per order of Sessions and the Department of Homeland Security, the U.S. government has quite suddenly found itself needing to care for more than 2,000 children who cannot go through the penal system themselves.
Once the children are taken away from their parents, they are treated as "unaccompanied alien children," and handed over to the Office of Refugee Resettlement, which is part of the Department of Health and Human Services (HHS). They have been dispersed to various detention centers, which journalists and politicians have had limited access to.
Reports of the conditions that the separated children are living in have sparked outrage from both sides of the political spectrum. Companies, nonprofits, individuals — even the Pope — have condemned the separations, which some professionals believe could have a lifelong psychological impact on those affected.
On Wednesday, Trump announced that he was ending the family separations, but reiterated that the zero-tolerance policy would remain in place. Though he signed an executive order decreeing that families should be kept together during immigration proceedings, it did not provide any instructions for what to do with those children already in HHS custody.
The executive order does consolidate some movement, opting to keep families under DHS jurisdiction, in lieu of transferring minors to HHS. However, it does allow for minors to be taken away from families if their well-being is deemed to be at risk.
For weeks, Trump and his administration have maintained that the family separations were require by law. This has been proven false by many news outlets — there is no law requiring the separation of families.
There are several bills in Congress that seek to solve the issue in the long term. However, it is not clear how successful any of those bills will be.