Trump Has Finally Broken His Silence On Roy Moore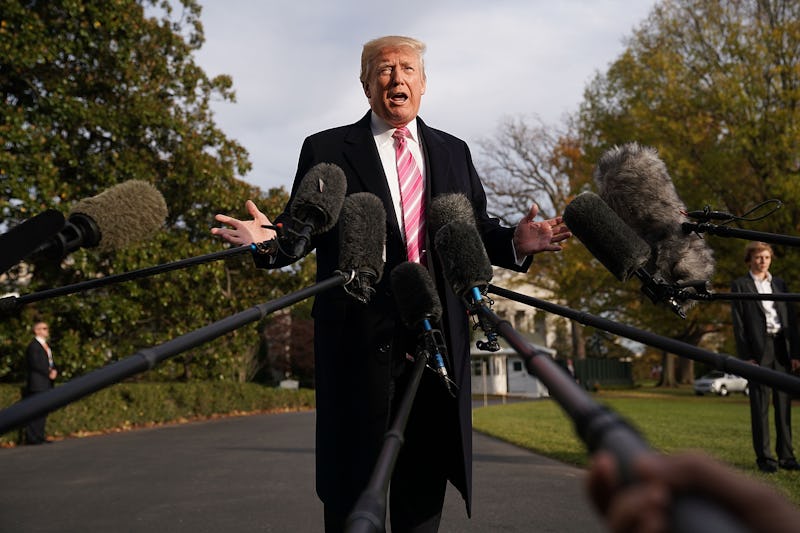 Chip Somodevilla/Getty Images News/Getty Images
On Tuesday, President Donald Trump finally addressed the ongoing controversy and scandal surrounding the U.S. Senate race in Alabama, where Republican candidate Roy Moore has been accused of molestation and sexual assault. Moore strenuously denies the allegations, portraying them as politically motivated fabrications by the media. Throughout his Asia trip, Trump conspicuously did not comment on the situation, which dominated national headlines and threw the GOP into disarray. But now Trump has finally commented on Moore and the allegations, saying people should listen to Moore's denials.
"Well he denies it, look he denies it," Trump said. "I mean, if you look at what is really going on, if you look at all the things that have happened over the last 48 hours, he totally denies it. He says it didn't happen, and you know, you have to listen to him also. You're talking about he said 40 years ago he said this did not happen."
Moore is facing allegations of being sexually predatory toward several accusers: a 14-year-old girl, Leigh Corfman, a 16-year-old girl, Beverly Young Nelson, and a 28-year-old woman, Tina Johnson. In a story by The Washington Post, Corfman told the paper that Moore molested her in the 1970s, when she was 14 and Moore was 32. Nelson similarly claims she was sexually assaulted by Moore at the age of 16, also in the 1970s. A separate report from AL.com further alleged that Moore groped Johnson's butt as she was leaving his law office in 1991.
The Post story, for which more than 30 sources were interviewed, also described interviews with three more anonymous women who claim Moore "pursued" them between the ages of 16 and 18. Since then, even more women have come out to make accusations against Moore. He denies them all and says he will not leave the race.
Speaking on Tuesday, Trump finally broke his silence on Moore, something he'd avoided doing since the scandal caught fire during his trip. Even the president's eldest daughter, White House adviser Ivanka Trump, spoke out and condemned Moore before he mentioned him. With Republicans as high-ranking as Senate Majority Leader Mitch McConnell calling for Moore to leave the race, however, it was probably inevitable that the president would have to weigh in at some point.
Along with stating that people need to listen to Moore's denials, Trump added a message to voters that they should not elect his opponent, Doug Jones. "We don't need a liberal person in there, a Democrat, Jones, I've looked at his record, and it's terrible on crime, terrible on borders, terrible on the military," he said. "I can tell you for a fact we do not need somebody that's going to be bad on crime, bad on borders, bad with the military, bad for the Second Amendment."
According to CNN on Wednesday, Nov. 15, citing an unnamed White House source, Trump reportedly hoped to avoid commenting publicly on Moore due to his own history of being accused of sexually predatory behavior. During the 2016 presidential campaign, Trump was publicly accused by more than a dozen women of varying forms of sexual misconduct, including unwanted groping and kissing in both public and private places.
At the time, Trump forcefully and repeatedly denied the allegations against him, calling his accusers "horrible, horrible liars" and threatening to sue them after the election.
Those threats never amounted to anything, however, and Trump himself is currently being sued by one of the women, former The Apprentice contestant Summer Zervos, for allegedly defaming the women who spoke out against him. In October, Press Secretary Sarah Huckabee Sanders stated that it is the official position of the White House that all the women who've accused Trump of sexual misconduct are lying.