This Is What "Feeling Of Falling" Singer Kim Petras Wishes You Knew About Her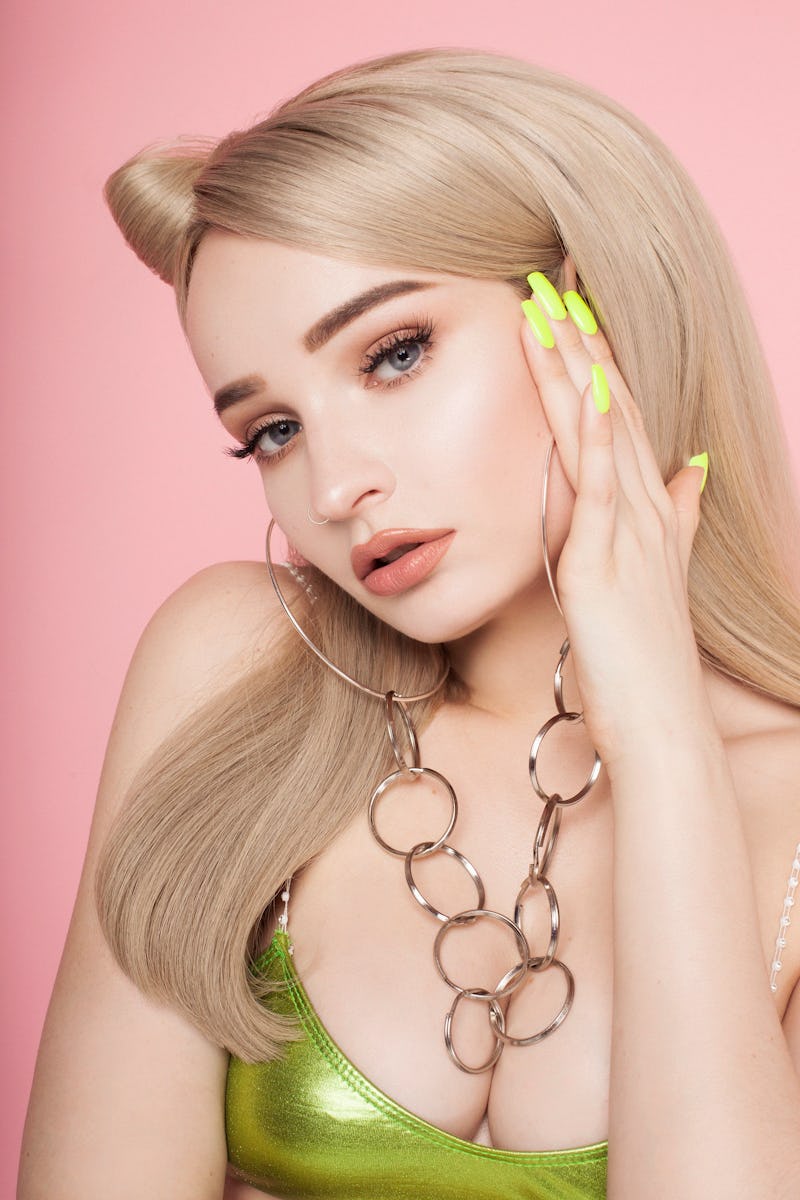 Photo credit: Thom Kerr
When I first met Kim Petras, she was drenched from performing in the middle of a rainstorm at LadyLand, a Brooklyn outdoor queer music festival and NYC pride celebration. The star was scheduled to take the stage alongside Aquaria, King Princess, Tommy Gensis, and Sophie, among other queer icons, to kick off NYC Pride, but seconds before Petras was supposed to go on, a torrential downpour broke out. Although most pop stars might cancel or postpone a performance in an outdoor arena during inclement weather, the now completely wet singer proceeded to the stage with grace. And she not only greeted her eager fans with a vibrant stage presence, but belted out viral hits "Heart To Break," "Hillside Boys," and "I Don't Want It At All," only after embracing me with a very wet hug and wishing me a happy Pride.
Well-known for her public documentation as one of the youngest individuals to receive gender-confirmation surgery at the age of 16, Petras has had an impressive and rapid emergence into the spotlight. Even just in the few months since we hung out at Pride, her career has continued to skyrocket, landing her a spot on Troye Sivan's Bloom Tour, and seeing her write, direct, and produce hit after hit. That includes her new single, "Feeling of Falling," done in collaboration with Cheat Codes.
"Since I was really young, all I've really cared about is my art," Petras tells me when we chat for a second time, on Dec. 3. "I didn't have many friends [growing up], so I just focused on music and always wrote songs to escape my life. I used to buy Vogue with my pocket money and plaster my walls in campaigns and models that I liked."
Not only were these images inspirational to her music, but they also affected her sense of style and evolving self. Explains the singer, "I went through various phases when I was a teenager. I went through an emo phase, a really grungy phase, and a really girlie phase. I feel like I've been through all the phases and I'm trying to put my own style together now."
Although Petras exhibits plenty of confidence, she notes that she often still feels misunderstood. "I just wish more people knew that I write all my songs. I write all my treatments for my music videos. I put together my outfits. I'm part of everything that I put out there and I'm really proud of that," she says. It's fitting, then, that she says the hardest part of being an artist for her is "explaining" herself and her art. Adds the musician, "I love expressing myself through my songs and through performing, but it's hard to always have to talk about it all the time. America is so much more collaborative [than Germany]. When I first got here, I went to a different studio every single day and met people. I hustled really hard and learned how to collaborate and write with people, so that's changed my music a lot."
"Feeling of Falling", her newest single, is about vulnerability, especially as it pertains to Petras' recent breakup. She describes the track as coming from [her own] personal experiences of falling in love" and says that it reflects a fear she has about "falling" for another person. She labels the song as electronic, which she explains is "a completely new sound for [her], as [she is] usually more drawn to creating straight-up pop."
Regardless of how her sound evolves, though, in the future, Petras just wants to be in the studio as much as possible, using her music to connect with her listeners (there's also a music video for "Feeling of Falling" with Cheat Codes forthcoming). "Writing new songs and giving my fans as many songs as possible," she explains, is her main priority.
And that's stayed true, even as her career has blossomed over the years. "Sometimes I wish I could tell my younger self to chill the f**k out, because I was really stressed about my life and had been focused on making it. I was always home writing songs. That's literally all I did," she says. "And now, [my music] is still all I really care about."
Petras' relentless drive not only is what sets her apart from other pop artists right now, but proves that nothing can stop her from taking over the music industry one anthem at a time.