This Is Why The Roxanne & Ryan Incident On 'CBB' Is More Complicated Than It Seems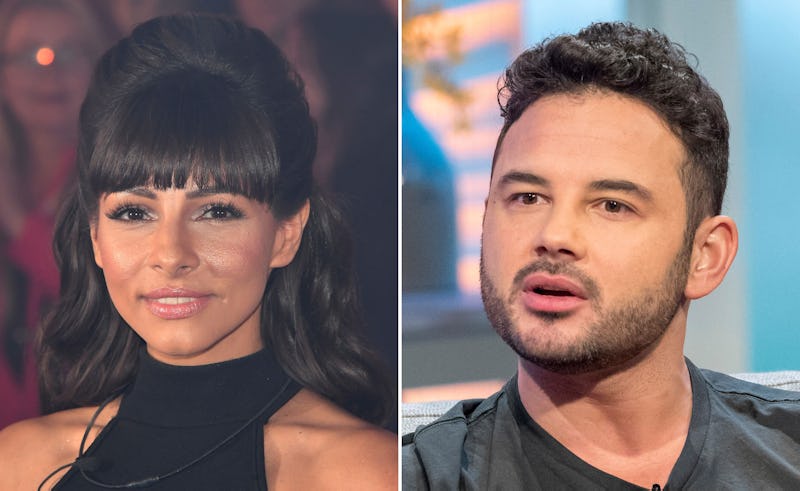 Ken McKay/ITV/Shutterstock/Stuart C. Wilson/Getty Images Entertainment/Getty Images
The incident has been in the headlines pretty much constantly following Thursday night's episode; but what even happened between Roxanne Pallett and Ryan Thomas on Celebrity Big Brother? She spent last night sleeping in a different room because she didn't want to be near him, meanwhile, he is yet to be seen on screen after being an issued a formal warning. But how did we get to this point?
Re-wind back to Thursday's episode, and you may recall Roxanne having a general conversation with fellow housemate, Sally Morgan. As the pair were talking, Ryan literally skipped over, pretending to be a boxer, imitating whooshing sounds as he threw air punches. However, as he did so, he made physical contact with Roxanne's body several times.
Sally did not appear alarmed by the incident and casually walked away without looking back. However, Roxanne then reacted, saying: "Ow! Woman beater. That bloody hurt." Upon realising his actions had hurt Roxanne, the former Coronation Street actor then quickly apologised and appeared to try and hug her as she walked away. Roxanne then joked: "I was gonna ask if you want your washing done but I might shrink 'em instead."
Roxanne then entered the bedroom, where she was alone, and began to talk to producers via her microphone. She said: "I've just been beaten up by Corrie's Jason Grimshaw. Ouch. Big Brother, that hurt."
The former Emmerdale actress then made her way into the Diary Room and was visibly upset. "Can I speak to a producer please? I need to speak to a member of production if that's alright?" she said. When a crew member tried to ask if Roxanne could explain what was wrong, she responded: "No, I just need to talk to somebody in production about something that's just happened that's made me feel really uncomfortable. I don't really want to go any further and talk about it on camera like this."
Moments later, Roxanne was back on screen with Big Brother offering reassurances that her concerns were being taken very seriously. However, she was still clearly distressed by the situation. She claimed:
"I'm just a little bit in shock. I went from being upset to angry now because a boy has punched me, repeatedly, unprovoked, completely deliberate. He actually punched me like a boxer would punch a bag. And we weren't play fighting. It wasn't banter, it wasn't a joke, there was no exchange. I can't believe you're letting somebody stay that's done that. It's not OK."
In a later scene, Ryan was summoned into the Diary Room. Once there, a producer issued him a formal warning with regards to physical contact in the house. He was also told that if there was repetition of any such behaviour, Big Brother would be left with no choice but to remove him from the house. They said:
"Before you entered the Big Brother house, rules regarding unacceptable behaviour were clearly explained to you. Big Brother has called you into the Diary Room because you have broken this rule; at 3.55 p.m. today, Big Brother noticed that whilst almost play fighting, you punched Roxanne in the ribs. This caused Roxanne to say, 'Ow that bloody hurt.' Whether you intended to hurt Roxanne or not is irrelevant."
Although he appeared shocked, Ryan informed producers that he understood why Big Brother was taking action. However, he also claimed that both he and Roxanne were aware at all times that there was "no malice, no hurt, or anger" with regards to his behaviour. The actor then apologised and wasn't seen again on screen for the rest of the episode.
However, Roxanne later made another trip to the Diary Room. On this occasion, she informed producers that she did not want to sleep in the same room as Ryan after what happened. She explained: "I don't feel comfortable sleeping in the same room as Ryan. I can't sleep. I am now suffering, and I am now having to alter my experience because somebody else was violent."
She then went on to suggest that Big Brother should remove Ryan from the house, telling producers, "I can't believe you're letting him stay here." Roxanne went on to describe what had happened as "awful" and expressed concern that the fact she had to isolate herself from the other housemates could have repercussions: "I am going to get nominated for being unsociable."
Roxanne was then taken to a spare bedroom where she spent the night. But her fellow housemates weren't given any explanation with regards to her whereabouts. After watching her leave, Dan Osborne assumed that she may have been feeling unwell and so was probably being taken to the medical room. Ryan's reaction is yet to be aired.
During her time on Emmerdale, Pallett played the character of Jo Sugden, whose husband Andy (Kelvin Fletcher) violently assaulted her, leaving her hospitalised twice. At the time, Roxanne explained that she found the storyline difficult because of her own history with domestic violence. During an interview on This Morning back in 2008, as reported by the Metro, she said: "It's hard for me because it's so close to home. When you're 100 percent involved in something like this and you're living it and you're taking it home with you and I'm so passionate about the role.
"Kelvin and I have been living this storyline since Christmas and you're researching it and it brings it all back to you and it's devastating. I can't even watch these scenes back without it choking me up...I'm a strong character and I'm confident and I'm quite assertive and if it can happen to me and it can happen to a character like Jo, it can happen to anyone. It happens to everyone in all shapes and sizes. It doesn't just happen to timid women in the corner."
Given the actress' history with domestic violence, Sian Hawkins, head of campaigns and public affairs at Women's Aid, tells me that while Ryan may have been play fighting, his behaviour could have triggered painful and "frightening" memories for Roxanne. "Domestic abuse means you don't feel safe in your home environment, and as a woman who has previously spoken about being in a violent and abusive relationship, Roxanne clearly did not feel comfortable going to sleep in the same room as someone who had physically hurt her, even if that was not his intention," Hawkins tells me.
Last year alone, it's estimated that 1.2 million women experienced domestic abuse, according to Women's Aid. Given the statistics, Hawkins points out that it's likely most of us know someone that has experienced domestic abuse, even if you are not aware of it. "That's why it is so important for us to show understanding and empathy for someone who is clearly upset by certain behaviours rather than blaming them for overreacting," she continues. "For any survivors out there, you are not alone. Women's Aid is always here to listen to you, believe you and support you."
I reached out to Ryan's rep for comment. However, they declined to talk about the situation. Big Brother also did not want to comment any further when I reached out. However, I also reached out to Roxanne's spokesperson. They tell me: "Roxanne has no contact with the outside world to make her own statement, however we do know that Roxanne has worked closely with various domestic violence charities due to being a victim of domestic violence herself."
Some people have accused Roxanne of over-reacting to what happened, even going as far as to say it is offensive to domestic violence victims, as the Mirror have reported. Her rep adds: "She would be very upset to find out she may have caused offence to others who have been through the same. We can't make any more comment at present until such time as Roxanne is out of the Big Brother house and is able to address this situation herself."
Following Thursday night's episode of Celebrity Big Brother, Ryan's girlfriend Lucy Mecklenburgh, and his famous brothers Scott and Adam Thomas, have been taking to social media to defend him. Meanwhile, Roxanne's social media accounts all appear to have been deleted.
If you or someone close to you need help or someone to talk to regarding domestic abuse, please call Women's Aid on 0808 2000 247. Alternatively, you can visit the charity's website by clicking here.
Celebrity Big Brother is on Channel 5, daily at 9 p.m.