Why 'Real Housewives' Star Tamra & Her Daughter's Reconciliation Was So Short-Lived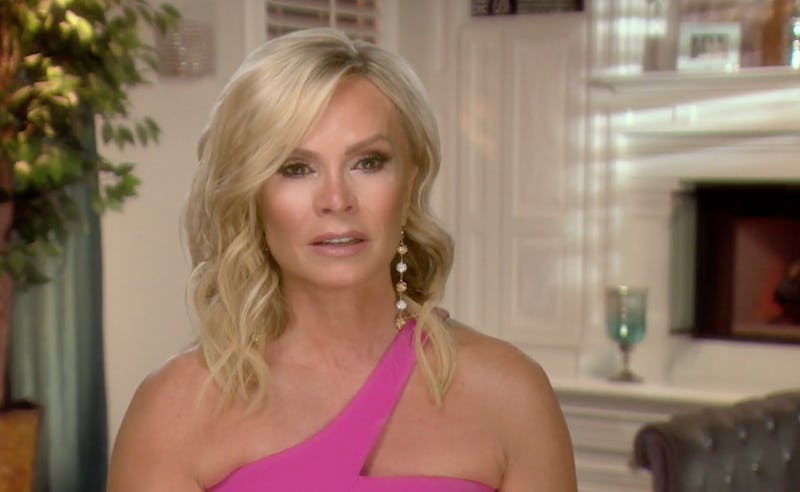 Bravo
It really seemed like things were turning around for Tamra Judge and her daughter during the The Real Housewives of Orange County Season 12 finale, when Tamra attended Sidney Barney's high school graduation. That didn't last, and the mother and daughter are currently not on good terms, according to a chyron update at the end of the finale. So what happened between Tamra and Sidney after the episode?
At the beginning of the Nov. 13 episode, Tamra admitted in an on camera interview, "Being able to make these baby steps with my daughter is a huge deal to me. To be able to go and see her graduate and see her grow up and take on the next step of her life means the world to me." Of course Sidney's graduation was not shown on the show. Tamra's kids haven't been shown on RHOC since her divorce from ex-husband Simon Barney, but there were some updates about their relationship by the end of the episode.
Tamra told the cameras, "I still miss my daughter Sidney, but I know that she's going to be back one day and everything is going to be perfect." Unfortunately, "one day" does not seem like it will be happening at any time soon. When the episode ended, there was an update that read, "After attending Sidney's graduation, Tamra had dinner with both Sidney and Simon." That sounds promising, but then another update appeared: "Soon afterwards, Tamra and Sidney had a falling out and are no longer speaking."
At this point it's unclear if their latest fight will be addressed during the RHOC reunion episodes, but there has been some public drama between the mother and daughter after Sidney's graduation. Sidney addressed her issues with her mother in a lengthy Facebook post, which has since been deleted or locked down with privacy settings. She linked out to the Facebook post in a tweet that's still pinned on the top of her Twitter page, however.
In that same tweet, Sidney included a screen shot of a conversation with her mother, asking her not to "take pictures and post them anywhere," insisting that she doesn't "want to be posted about." She also shared another screen shot of Tamra's Instagram post (also now deleted) about her graduation, apparently to prove that her mother ignored the promise that she made not to put up any photos.
Even though Sidney possibly deleted the Facebook post, it still lives on thanks to screen shots posted by the blog All About The Tea. People also reported on the social media post. It's very personal and includes claims of neglect and mental and emotional abuse. Bravo told Bustle that Tamra Judge had no further comment on the post, but would be speaking out at the reunion.
Sidney wrote, "I want to start by clearing some things up as my mother continues to talk about me despite me requesting her to stop speaking of me publically [sic] as I don't want to be associated with her or the show."
Sidney referred to Tamra as "the true parent alienator," saying she "would constantly talk negatively about my father in front of me and my siblings." Sidney claimed, "She even called us Simon or 'mini Simon' when we did something bad or told us that we were 'acting like your father'. This parent alienation caused me to resent my father and take her side."
Sidney's post also goes into her reasons for not living with her mother. She claimed:
"The reasons I left my mothers house are that she was neglectful (leaving us at home with no food or simply ignoring us entirely), she constantly put herself first and the biggest reason was that she was mentally and emotionally abusive. She was no mother to me. This was an unhealthy environment for all of us kids and unfortunately I was the only one to recognize this and take steps to get out of that toxic environment. I have explained this to her numerous times in court, in therapy, and when we would meet up that the ONLY reason I am not living with her is because she continues to do the things that pushed me out of her house, like talking about me on the show/press/social media, doing embarrassing things on the show, lying to me and putting herself first to name a few."
When a Twitter user pointed out Sidney's Facebook post to Tamra, she responded, "Not surprised. #brainwashed Ask her paid [sic] for her very expensive college. I'm good when it works for her and her dad."
Another fan said to Tamra, "I'm usually on your side but I don't understand y u posted when she clearly tells u not to. Put yourself in her shoes." Tamra replied, "Way way more to that story!"
Tamra has been very open over her years on The Real Housewives of Orange County, but this is such a sad and complicated situation. Hopefully Tamra and Sidney are able to work things out and reconcile their relationship for good.