What Happened In Mariah Carey's NYE Performance?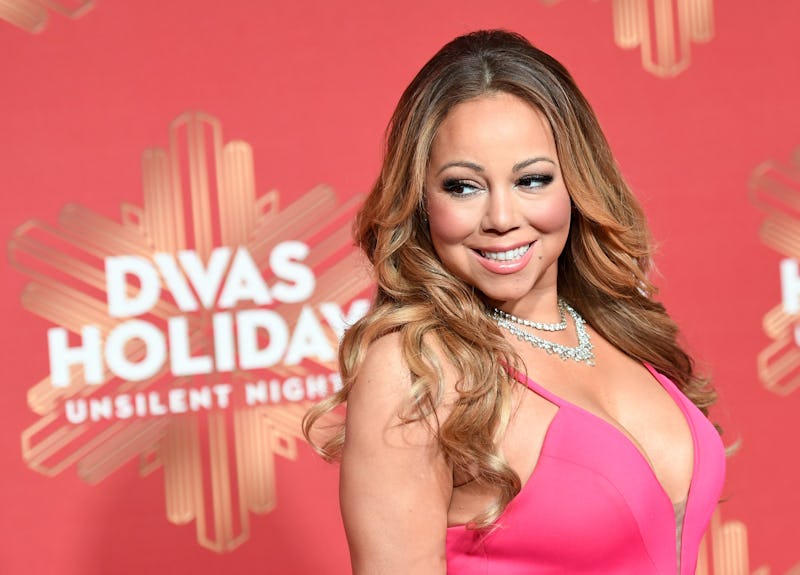 ANGELA WEISS/AFP/Getty Images
Dick Clark's New Year's Rockin' Eve rang in 2017 on the East Coast with a long-awaited performance by Mariah Carey right before midnight. The singer started off her medley of songs in Times Square looking as fabulous as ever — but then the performance became very confusing for Mariah and for viewers. Bustle reached out for comment to Carey's representatives, but they did not respond in time for publication. So what happened during Mariah Carey's Dick Clark's New Year's Rockin' Eve performance?
Update: Carey's representatives have issued the following statement to Bustle: "There was a production issue. Technical difficulties. There unfortunately was nothing she could do to continue with the performance given the circumstances."
Earlier: According to The Hollywood Reporter, Carey explained to the crowd that her vocal track was missing. "I'm trying to be a good sport here," she said, according to the publication.
Judging from Carey's comments during the performance, it sounds like there was no sound check for the performance or a song was left out of the sound check, leaving Carey confused when the song "Emotions" was included in the medley. Once the music began on "Emotions," she did not sing. During the song, Mariah can be heard saying into the mic, "We didn't have a check for this song, so I'll just say it went to No. 1 and that's what it is. We're missing some of this vocal, but it is what it is. I'm going to let the audience sing." Mariah walked around the stage awkwardly for a bit, saying "We didn't have a sound check for this new year's, baby. Put these monitors on, please." Later, she joined the dancers and says, "I'll just go through the motions."
But according to her Twitter feed, Carey did attend a rehearsal for the medley earlier in the night.
Perhaps during that rehearsal "Emotions" wasn't included and another song was in its place, causing the confusion. And it sounds like Carey was as confused as viewers were during the performance, which she braved until the very end. Mariah powered through and performed her hit "We Belong Together." Before she walked off stage, she said, "It just doesn't get any better."
Watch the video below.