Refresh Yourself On The Plot Of 'My Brilliant Friend' Before You Watch The HBO Show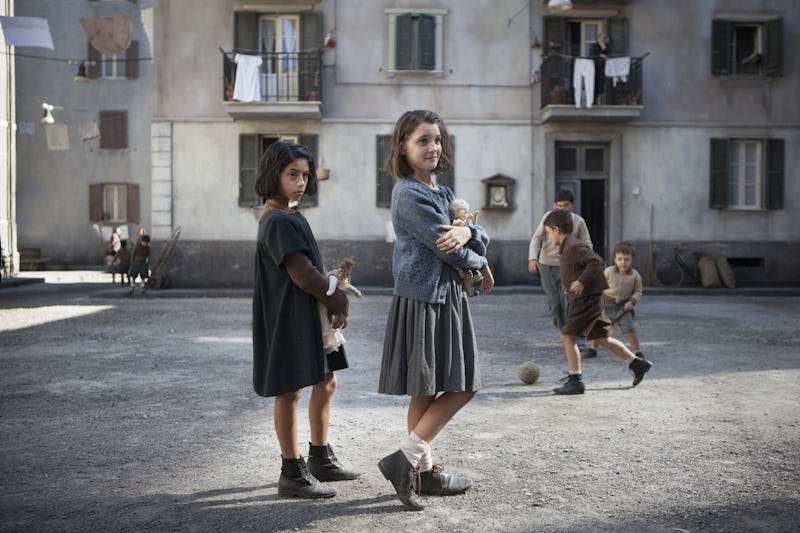 Eduardo Castaldo/HBO
With HBO's latest book-to-screen adaptation primed to premiere as an eight-episode miniseries on Sunday, November 18, readers and viewers alike are wondering: what happened in My Brilliant Friend, anyway? And, more importantly, what elements of the book will make their way to television this weekend? (If you've watched the totally captivating, just released official trailer, you might already have some idea.) Notably, this adaptation is also HBO's first foray into a foreign-language series — the script is Italian, with English subtitles.
My Brilliant Friend is the first title of the bestselling Neapolitan Novels, a four-book series written by pseudonymous author Elena Ferrante and translated by American editor Ann Goldstein. The novel takes readers into the post-World War II lives of two Italian girls: Raffaella (Lila) Cerullo and Elena (Lenú) Greco, as they navigate the loves, losses, politics, and poverty of their, at times, suffocatingly insular Naples neighborhood. Following Lila and Lenú from ages six to 16, My Brilliant Friend is both a universally relatable story of the myriad complexities of girlhood friendship as well as an investigation into how girls — especially girls born with two strikes against them already — grow into women. The novel also confronts the meaning of an education; formal schooling frequently collides with street smarts in ways that leave both girls grasping for more. Basically, I can't wait to see what HBO has done with this one.
Here are 11 things that happened in My Brilliant Friend — almost sure to make their way into the television series. You're warned: there are major spoilers ahead.