Netflix's 'The Death & Life Of Marsha P. Johnson' Is The Heartbreaking New Doc You Need To See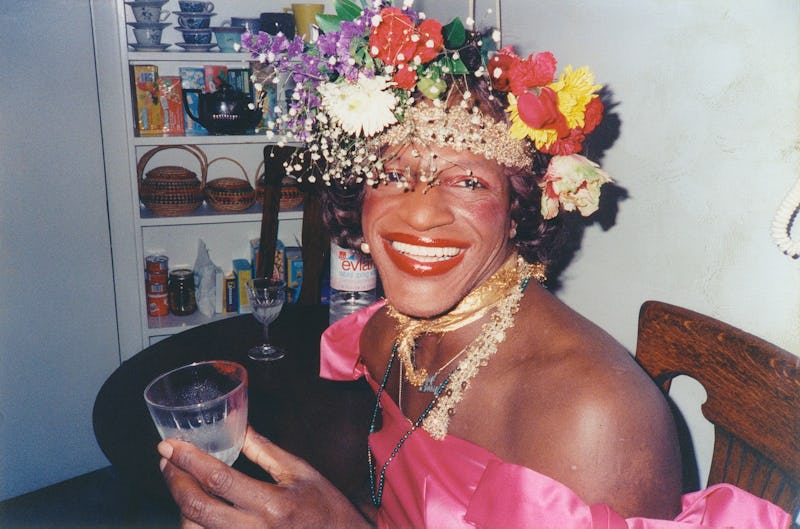 Netflix
There's a reason why the title of Netflix's new documentary, The Death and Life Of Marsha P. Johnson, starts at the end and not the beginning. To better understand what happened to Marsha P. Johnson, a transgender woman on the front lines of the LGBTQ movement, you must first talk about her death and what it meant to those who knew her.
On July 6, 1992, 46-year-old Johnson's body was found floating in the Hudson River in New York City. Her death was quickly ruled a suicide, despite community leaders arguing that there was a lack of evidence, and demands for police to investigate further didn't lead to any change. For the last 25 years, many have asked exactly what happened to Johnson, and as seen in the new documentary, on Netflix Oct. 6, her loved ones continue to ask that question. They know that finding the truth about how Johnson died doesn't just mean justice for her, but for all the many late trans women and men who deserve to be remembered as more than a statistic.
The film, directed by David France, begins by introducing Victoria Cruz, a crime-victim advocate for the LGBTQ community who is about to retire from the New York City Anti-Violence Project. Before Cruz, a trans woman herself, leaves, she wants to "find justice for Marsha," who, she explains, is just one of the "massive number of trans women who have been murdered and their cases have just gone cold. And they're yelling out from their graves for justice."
According to GLAAD, 2016 was the deadliest year on record for transgender people in the United States. Last year, 27 trans people were killed in the U.S. and nearly all of the victims were trans women of color. 10 months into this year, GLAAD reports that 21 transgender people have been killed so far in 2017, all but two of whom were trans people of color. It's noted by the organization that these numbers don't "include transgender people whose deaths were not reported due to misgendering in police reports, news stories, and sometimes by the victim's family," so the real number is likely even higher.
In 2016, Mic worked to account for all trans lives that had been lost by putting together Unerased: Counting Transgender Lives, a comprehensive and interactive database looking at murders of trans people from 2010 to 2016. The database includes 111 trans and gender non-conforming victims, 72 percent of whom were black trans women. At the time, 46 of those 111 cases remained unsolved.
What is clear from those horrifying numbers is that Johnson's death, and the fact that it's still unsolved, isn't an outlier, but the unfortunate norm. Violence against trans people is at an all-time high — especially, for trans women of color — but that hasn't changed the way in which the cases are often handled by the media, law enforcement, or the justice system.
Yet while what happened to Johnson might unfortunately be all too common, her legacy has given her case more attention than most. People knew who Marsha P. — the "P," she said, stood for "pay no mind" — Johnson was: an icon for the LGBTQ community. As the doc shows, her fame started with the 1969 Stonewall riots, where Johnson's presence has become the stuff of legend. It's been claimed that she threw the first brick that initiated the uprising, although she denied this, saying that she got to the bar after it began. But regardless of what happened, it's known that Johnson stayed during the riots, and, alongside fellow LGBTQ icon Sylvia Rivera, became a hero of Stonewall. From there, Johnson and Rivera (another trans woman of color) started the activist group Street Transvestite Action Revolutionaries (S.T.A.R.), and later opened S.T.A.R. House, the first shelter for gay and trans youth in 1972.
Throughout the documentary, friends refer to Johnson, who was a sex worker and a proud drag performer, as a "holy person wandering the Village," while Cruz, who never met Johnson, goes as far to call her the "Rosa Parks of the LGBTQ movement." But even with all Johnson accomplished and the notoriety she received — she was photographed by Andy Warhol, something her own siblings, for years, didn't believe — it wasn't enough to get law enforcement to properly investigate her death.
The documentary goes into the different accounts of when and where Johnson was last seen, with at least one person claiming that when they saw her the night before she was found in the river, she was "frightened" because "two men were following her." There was credible evidence that the mob had threatened a close friend of Johnson's, as well. Yet despite the Anti-Violence Project having record of these testimonials, Cruz is told in the film that this information was never given to the police. The doc also shows one retired cop telling Cruz to stop investigating Johnson's case if she knows what is good for her. If Cruz is scared after hearing this threat, she never shows it on camera, and never stops looking into her friend's death.
"If we can't bring justice for Marsha," Cruz says early on in the documentary, "then how can we bring justice to all these other unsolved cases?"
That's the question you're left pondering long after The Death and Life of Marsha P. Johnson is over. After you've seen how much Johnson meant to the trans community and the pain and confusion her death caused. After you watch how hard Rivera, who died in 2002, fought to make sure the "T" in LGBTQ wasn't being ignored in life or in death. After you see the lengths Cruz, who was the victim of violence herself, goes to get the city to care about Johnson's death. After you hear that the man who pled guilty to the murder of transgender woman Islan Nettles in Harlem in 2013, a case that's discussed at length in the doc, was sentenced to just 12 years in jail for manslaughter.
This documentary is not only about Johnson's life and death. It's about the people like Cruz who will stop at nothing to make sure that late trans men and women get the justice they deserve long after they are gone. These are the people who make sure the lives and deaths of the trans community do not get erased from history, because otherwise no one else will.
Like other recent Netflix true-crime offerings like The Keepers and Making A Murderer, The Death and Life Of Marsha P. Johnson likely won't give you the ending you hoped for — no one person is deemed responsible for Johnson's death, and justice isn't found. But don't be discouraged; this fight is not over yet, and it won't be until more people stand up and decide to care. When you're done watching the doc, it's hard to believe you won't.