Here's How The Garden Michelle Obama Started Is Faring In Melania Trump's Hands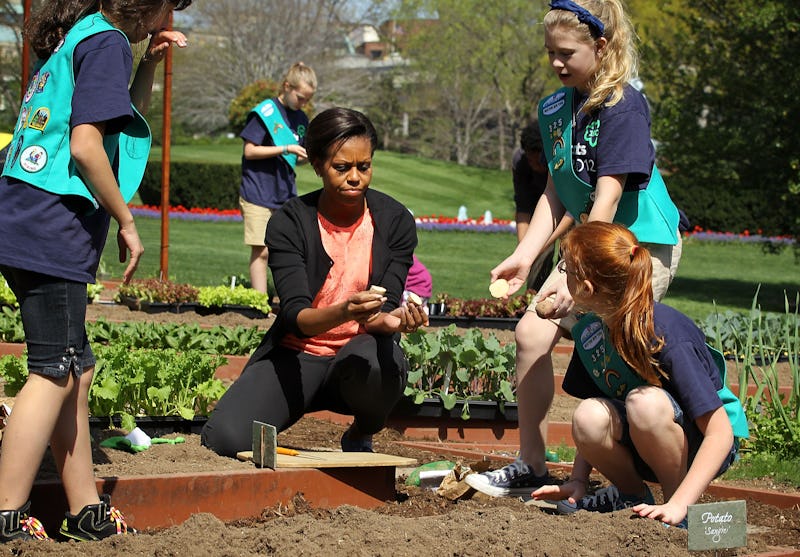 Alex Wong/Getty Images News/Getty Images
Back in March 2009, a vegetable garden was planted on the South lawn of the White House. Since Donald Trump took office in January 2017, you may be wondering what happened to Michelle Obama's garden and what Melania Trump's role is in maintaining it.
As it turns out, Michelle's garden, which was used to prepare meals for the Obama family and their guests throughout the 44th president's administration, does still seem to be flourishing. Melania also has expressed her commitment to its longevity. However, the current first lady has approached the vegetable garden in a more hands-off way than her predecessor.
Shortly after her husband was inaugurated last year, one of Melania's advisors, Stephanie Winston Wolkoff, released a statement to CNN saying that the first lady would continue Michelle's legacy of the White House vegetable garden, otherwise known as the kitchen garden. As Wolkoff described:
As a mother and as the first lady of this country, Mrs. Trump is committed to the preservation and continuation of the White House Gardens, specifically the first lady's Kitchen Garden and the Rose Garden.
While she does not frequently hold public events in the kitchen garden, Melania did host a gathering of school children there last fall, as Politico reported. The children were given the the opportunity to help harvest vegetables on the White House lawn as well as plant vegetable seeds. Melania harvested alongside the children in the garden and also gifted them with gardening kits and honey from the White House beehive.
As Politico noted, at the time she briefly spoke with the children about healthy eating habits, saying:
I'm a big believer in healthy eating because it reflects on your mind and your body ... I encourage you to continue to eat a lot of vegetables and fruits, so you grow up healthy and take care of yourself.
However, while the garden still remains intact and functioning, Melania and the Trump administration seem to have a less direct role in maintaining and promoting it. As the Washington Post reported, the first lady has not held annual spring planting events like her predecessor, Michelle, did. Moreover, Politico noted, the garden is kept up by the National Park Service and maintained by a private funding stream (notably, the Obama administration arranged for both of these endeavors as a means of ensuring the garden's longevity).
Indeed, guaranteeing that the garden remains a part of the White House was a priority for Michelle in the waning days of her husband's administration. As Politico reported in October 2016, Michelle renovated the vegetable garden in order to make it more permanent, expanding its size and installing steel, stone, and cement landscaping features.
Politico also wrote that in a speech dedicating the garden in October 2016, Michelle expressed confidence that it would thrive for many years to come. "I take great pride in knowing that this little garden will live on as a symbol of the hopes and dreams we all hold of growing a healthier nation for our children," she said.
While it doesn't seem like Michelle's vegetable garden is going anywhere, the Trumps haven't necessarily taken a very proactive role in maintaining or promoting it. As the Washington Post described, this may be because the kitchen garden carries political symbolism regarding food policy, which is a weighty territory.