Puerto Rico's Power Just Blew — Again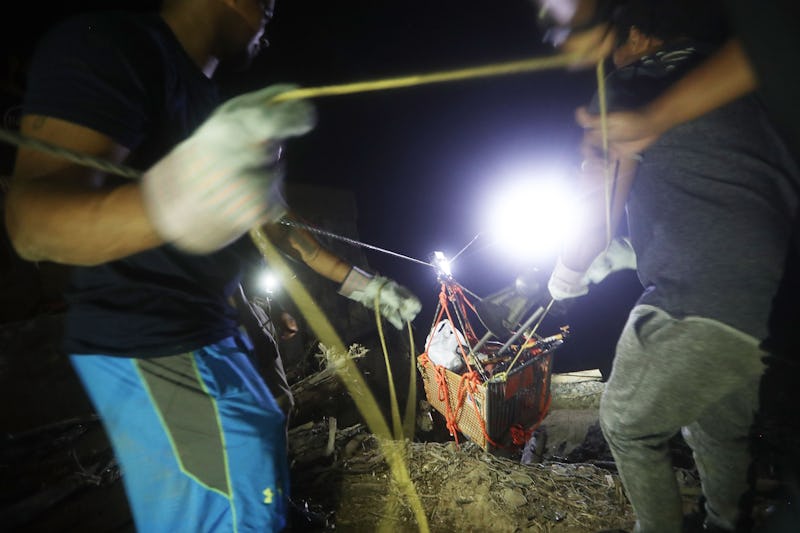 Mario Tama/Getty Images News/Getty Images
Puerto Rico's electricity had been restored to about 43 percent of the island before a power line went down Thursday, causing more than 80 percent of Puerto Rico to again lose electricity. Just 18 percent of the island currently has power.
The electrical failure came from a line repaired by Whitefish Energy, the tiny Montana outfit whose $300 million contract with Puerto Rico Electric Power Authority (PREPA) has prompted an FBI investigation. WhiteFish Energy denied any fault for the most recent power outages, providing BuzzFeed with a statement that said: "None of the issues reported today with the outage have anything to do with the repairs Whitefish Energy performed."
An official with PREPA, Fernando Padilla, told CNN that, "It was a mechanical issue on the line, could have happened at any line."
PREPA has canceled its contract with WhiteFish Energy. But the energy authority has struggled to find the necessary workers and supplies to restore electricity.
The recent electricity downage on Thursday highlights how fraught restoring power to Puerto Rico has been. Over six weeks since Hurricane Maria hit, and most Puerto Ricans still have not had electricity restored. The problem seems to be especially acute in small towns located in the mountains.
Carmen Maldonado, the mayor of Morovis, has been disappointed in what she perceives as the way mountain towns like hers are overlooked for attention. Maldonado told NPR their situation is "very sad," emphasizing that the people of her community are "as important as any citizen in another municipality." There is the perception that mountain towns are being passed over for attention and relief for the more populous city centers that dot Puerto Rico's coastal regions.
Heading up the federal response to Puerto Rico's current crisis is Lieutenant General Jeff Buchanan. He met with Maldonado to hear her concerns over longstanding problems with the water supply infrastructure in Morovis. And while sympathetic to the community's needs, Buchanan said there were bureaucratic issues that made fixing Morovis' water supply system out of his hands.
Centers for distributing basic necessities, especially water, have become a staple of everyday life for many Puerto Ricans. Passing out cases of water to residents of Morovis, Captain Angel Morales called this routine the "new normal."
An electricity failure like the one that sent much of Puerto Rico's capital city of San Juan into blackout on Thursday evening is one more impediment to getting Moravis — and other towns like it — the help they so desperately need.
Access to water can be a daily struggle for many Puerto Ricans. Without electricity to run water pumps, finding clean water has led some residents to collect running water from nature. José Luís Gambo Rodríguez told the Miami Herald, "We're drinking water from wherever we can get it, because the water doesn't come."
Fears of drinking contaminated water are rooted in fact. Eighteen cases of leptospirosis have hit Puerto Rico, with at least four of them being fatal. The disease spreads through unclean water, and officials suspect the real number of cases and victims is actually much higher.
The problem is exacerbated by a scarcity of bottled water in certain locales, especially in rural areas. But even in densely populated city centers like San Juan, the high cost of bottled water can price out many. And government directives to boil water are impossible to follow when the electricity goes down or hasn't yet been restored at all.
For those in San Juan, power has been restored following Thursday's outage. But for thousands of Puerto Ricans across the island, a sustained lack of electricity and reliable water sources continue to pose an immediate threat to their well-being.