This Weird AF Missing Chapter From 'Picnic At Hanging Rock' Explains SO Much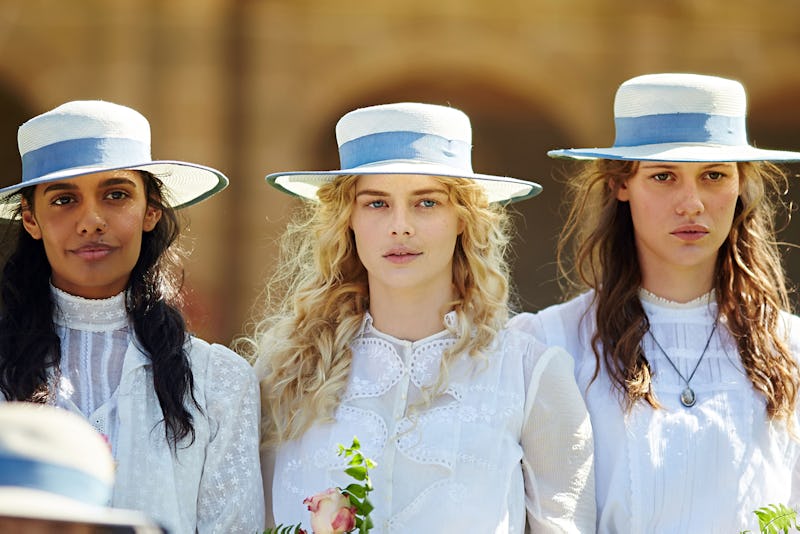 BBC/Fremantle Media/Narelle Portanier
Picnic At Hanging Rock's launch episode was bravely aired against the last hour of England's World Cup semi-final on Wednesday. But despite the competition it faced, BBC Two's six-part mystery drama picked up pretty positive reviews on Twitter. However, that's not to say some weren't left a tad confused as the episode left us with a lot of unanswered questions. Like, what did happen to the lost school girls in Picnic at Hanging Rock? Anyone?
Based on the 1967 novel by Australian author Joan Lindsay, the fictional narrative of a picnic gone wrong is actually framed as a true story, making the sudden disappearance of the three schoolgirls Miranda Reid (Lily Sullivan), Irma Leopold (Samara Weaving), Marion Quade (Madeleine Madden), as well as their mathematics teacher Miss Greta McCraw (Anna McGahan) even more addictively frustrating. In case you haven't read the book, it opens with an ambiguous disclaimer, as reported by Mashable, telling readers: "Whether Picnic at Hanging Rock is fact or fiction, readers must decide for themselves. As the fateful picnic took place in the year nineteen hundred, and all the characters who appear in this book are long since dead, it hardly seems important."
Um, Lindsay? "Hardly important?" I think not.
The book leaves us with an open-ended conclusion, where what happens to the girls isn't at all clear. Thankfully, the questions that arose from that conclusion were answered in a chapter that wasn't originally published with the book. Why, you ask? Apparently, it was a tad too wacky.
Lindsay's editor Sandra Forbes suggested that the final chapter be removed, as the story "might benefit from a little more ambiguity," as reported by Little White Lies. Judging from what I've discovered about said missing chapter, it's hard not to see why Forbes thought the original ending didn't exactly fit.
The conclusion to Picnic at Hanging Rock was eventually published posthumously in 1987 — three years after Lindsay's death — and was "in response to the onslaught of enquiries" from readers who wanted to know what happened to the girls and their guardian, the website added.
However, that ending literally opens up a time-warp of questions and further mystery, almost in the styling of Stephen King's IT. Sound weird? It's about to get weirder. The girls appear to be in some kind of time-warp or gap in space — they describe feeling "inside out" — where a woman appearing to be Miss McCraw turns into a crab like creature and disappears though a crack in the rocks, with two of the girl following her. A boulder prevents Irma (Samara Weaving) from following them.
All in all, I'm not surprised that actress Natalie Dormer (who portrays governess Hester Appleyard) recently told The Express that Picnic at Hanging Rock is not "a costume drama", and that "it's helpful to think of it more in sci-fi terms", without mentioning the original ending. I guess thanks to the original posthumous ending, it's hard not to regard the mystery surrounding the lost girl's disappearance as science-fiction rather than a period drama.
Before the publishing of Lindsay's The Secret of Hanging Rock, many readers had already become so enthralled and obsessed with the mystery and whether or not it was a true story, that some even started searching "old newspapers in vain for mention of missing girls", reports Literary Hub.
Director Peter Weir's film adaptation then certainly added fuel to the fire when it was released in 1975. His movie also spurred writer Yvonne Rousseau to publish The Murders at Hanging Rock in 1980, in which she examined numerous theories, including alien abduction, murder, and countless other conspiracy theories.
As the BBC mini-series was first broadcast in Australia back in May, the conclusion to the TV series is already known. I won't spoil it for you here though, all I will say is that it strays from the posthumous chapter.
Show runner Larysa Kondracki has suggested that the conclusion to the mini-series is an opportunity to explore different interpretations of the novel, telling Mashable that it's "not so much about what happened to the girls — but who are they? Why did they want to run away in the first place?"
So many questions, and so much mystery to ponder. God, I love shows like this.
Picnic At Hanging Rock continues on BBC Two next Wednesday at 9 p.m.
Picnic at Hanging Rock by Joan Lindsay, $10, Amazon