Why The Jodi Arias Murder Case Captured National Attention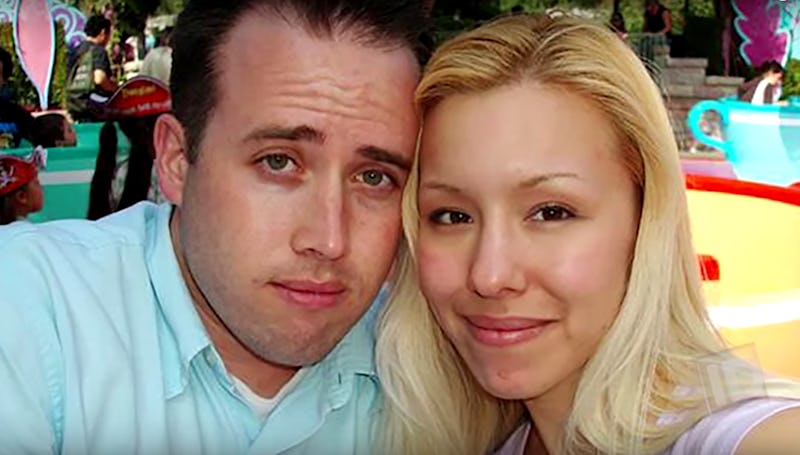 Discovery Communications
It was a crime that shocked the nation, not only due to its brutality, but also due to its perpetrator. Salesman Travis Alexander was found murdered in his Mesa, Arizona home in 2008, and the main suspect was his ex-girlfriend, then-32-year-old Jodi Arias. She was convicted of the crime in 2013 and sentenced to life in prison. The murder is being given new examination in the new docuseries from Investigation Discovery, Jodi Arias: An American Murder Mystery, which premieres Sunday, Jan 14 at 10 p.m. ET. But before watching the series, it might be helpful to know what happened to Travis Alexander, and what drove Arias to kill her ex-boyfriend.
Arias and Alexander first met in 2006 at a work conference in Las Vegas, per ABC News. The pair quickly became infatuated with one another. Per CNN, in order to become closer to Alexander, who was a devoted Mormon, Arias was baptized in The Church of Jesus Christ of Latter-day Saints in November of that same year. CNN reports that Arias testified that two months after her baptism, she and Alexander began officially dating, before breaking up during the summer of 2007.
Yet, the breakup didn't end their contact. The same CNN report states that even after ending their official relationship, Arias and Alexander met up on several occasions until Arias moved back to Northern California, while Alexander began to date other women. Even after Arias moved away, the pair stayed in touch, per CNN.
Alexander was found dead in his shower on June 10, 2008 by friends who began to search for him after the salesman had missed two appointments. The crime scene was exceptionally gruesome. Alexander had been stabbed nearly 30 times, his throat had been slit, and he had been shot in the head, according to HuffPost.
When questioned, Arias initially denied having been in Alexander's house the day of the murder, according to ABC News. But later, police found a camera in Alexander's washing machine. They recovered images taken the day of the murder, which depicted Arias and Alexander in sexual situations, Alexander in the shower moments before the murder, and even some featured some shots of Alexander's bloody body that seemed to have been taken by accident when the camera was dropped, per ABC News. Crime scene investigators also recovered a bloody handprint that had traces of both Alexander and Arias' blood in it, according to CBS News.
Arias was arrested for the murder, and though she initially claimed that two masked intruders had murdered Alexander, she eventually claimed that she had killed her ex in self-defense, per USA Today. "Jodi's life was in danger. [Alexander] knocked her to the ground in the bathroom where there was a struggle," Arias' lawyer claimed in in court, as reported by USA Today. "If she did not have to defend herself, she would not be here."
Arias was eventually found guilty of murdering Alexander in 2013. In 2015, she was sentenced to natural life in prison, avoiding the fate of the death penalty. "I wish there was something I could do to take it back," Arias said at her sentencing hearing, per USA Today.
The media and the American public could not get enough of the Arias case, in part due to the way the case, and Arias herself, were sexualized both in the trial and in the press. Headlines such as HuffPost's "Jodi Arias Trial: Boobs, Anal Sex Dominate Day 10" and "Jodi Arias Sex Life: Defendant Reveals More Dirty Details" brought attention to testimony that recounted details of Arias' sex life in lurid detail. A piece in The New York Times argues that public fascination with the case had more to do with an obsession with policing female sexuality than with the details of the crime itself:
And while [Alexander's] death was certainly grisly enough to explain a baseline of media interest, the amount of attention it has received stems from the courtroom juxtaposition of the defendant, outfitted in nerdy eyeglasses and a frumpy hairstyle, and evidence of what a steamy, pliable playmate she was. It stems from pictures of her genitalia that she let her lover take, audiotapes of the phone sex that the two of them had — and that she recorded. It stems from the shock and censure of such potent female desire.
But regardless of why the public was, and continues to be, fascinated with the Arias case, the damage of what she has done cannot be denied. Alexander has lost his life, and Arias will spend the rest of hers in prison. No matter how much the coverage of the case focuses on the sexual relationship between Alexander and Arias, viewers should never forget the human cost of the crime committed.