Florida's Racing To Meet Its Recount Deadline — Here's What Happens If It Doesn't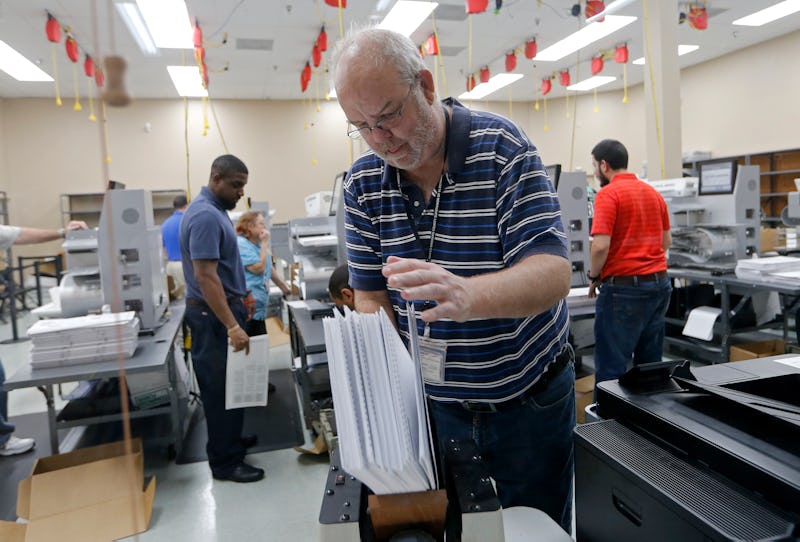 Joe Skipper/Getty Images News/Getty Images
Following the midterm elections on Nov. 6, the state of Florida is conducting recounts for three different races: governor, senator, and agriculture commissioner. Thursday marks the deadline to finish recounting ballots — and what happens if Florida's recount deadline isn't met illustrates the high stakes nature of the process.
As CNN reported, if a county in Florida does not finish recounting its ballots by Thursday's deadline, then the election results that the state already has on file for that country will remain in place. Moreover, as the outlet pointed out, there seems to be little leeway with this deadline, as Florida's Secretary of State does not have the authority to grant an extension.
Thus, as the Palm Beach County GOP Chairman, Michael Barnett, described, if the deadline isn't met by some counties, "... the secretary of state of Florida may [still] go ahead and certify the elections ..." with whatever results are on file. However, Barnett speculated that this would cause a host of problems, saying, "In that case [where elections are certified when some counties haven't finished their recounts], you can bet your butt there will be lawsuits filed everywhere."
The Thursday deadline could potentially pose significant problems for at least one county in Florida. As Fox News described, the supervisor of elections in Palm Beach county, Susan Bucher, has indicated that the county is unlikely to meet the deadline because of its outdated ballot counting equipment. Bucher also told CNN that getting all votes recounted ahead of the deadline is "impossible." Notably, as Fox News pointed out, Palm Beach is a democratic-leaning county — and failure to complete a recount for the area could potentially have negative consequences for Democratic candidates.
As Local 10 News, an ABC affiliate in Florida, reported, other large counties in Florida are also rushing to meet the Thursday deadline. Broward county began its recount on Sunday, though a machinery glitch caused its start time to be delayed by several hours. Miami-Dade county began its recount on Saturday night and has also requested additional voting machines from out-of-state to support its recount through the week.
The outlet noted that current vote tallies show that Republican Ron DeSantis leads the governor's race against Democrat Andrew Gillum by a margin of 0.41 percentage points. Republican Rick Scott also currently leads Democrat Bill Nelson by a margin of 0.15 percentage points in the Senate race. Finally, Democrat Nikki Fried leads Republican Matt Caldwell by a margin of 0.06 percentage points in the race for agriculture commissioner. Thus, recounts will play a crucial role in determining the recipients of all three offices.
As Local 10 News described, counties must submit their machine recount tallies by 3 p.m. on Thursday. If the state's tallies still show that there's a margin of 0.25 percent or less between two candidates, then a hand recount will commence, which will have a deadline of Nov. 18.
Time will soon tell if all of Florida's counties will be able to complete their ballot recounts by Thursday or, if not, of what the implications of not meeting this deadline will consist.