The Cold In PyeongChang Is Literally Wrecking Athletes' Skis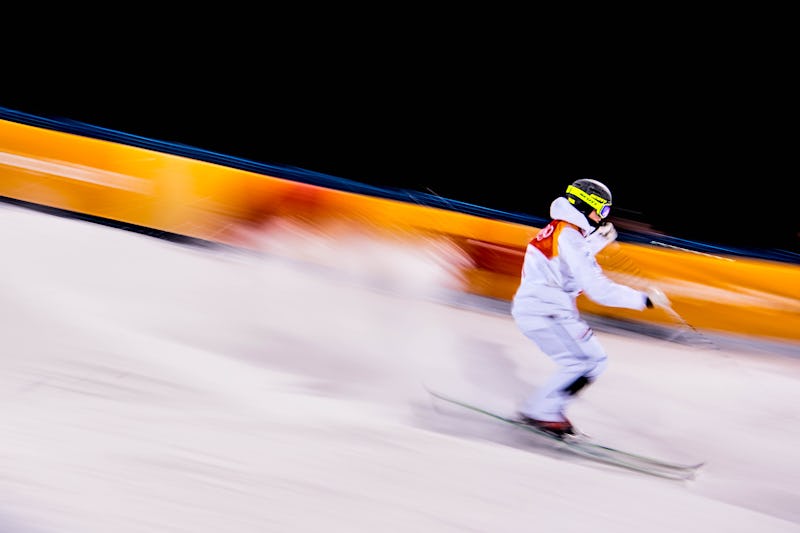 David Ramos/Getty Images Sport/Getty Images
The 2018 Winter Olympics are kicking off in PyeongChang, and they're on track to be one of the coldest games yet. Temperatures in PyeongChang have been so bone-chillingly low, in fact, that some have started wondering: Could it actually be too cold to ski at the Olympics this year?
That's up for debate. Many skiers will claim that it's never "too cold" to hit the slopes, so long as the skier in question is properly dressed for the cold. In this school of thought, no temperature is too frigid for the savvy, well-prepared skier.
And yet there have already been reports from PyeongChang that throw this conventional wisdom into doubt. Reuters reported Tuesday that several skiers' skis were effectively destroyed because of the cold weather, and had to be thrown out after training runs.
The culprit? The snow itself, which in low enough temperatures can damage skis.
"It's not because of hard conditions, but the cold conditions," Austrian Alpine skier Marcel Hirscher told Reuters. "Snow crystals get really sharp when temperatures go to -20 degrees and the base burns. It's the same as lighting fire and burning your base because the snow crystals get such sharp edges."
Craig Randell, a start crew technician who's working the games, told Reuters that "one of the coaches said they are throwing the skis out after today," though he didn't specify which one.
"You can't do anything about it, but with the cold temperatures, the snow adheres to the ski base and twists it," Randell said. "They are turning their skis to garbage real fast."
Hirscher said that, although it might seem extreme to throw away a perfectly good pair of skis on account of what might seem like minor damage, it's a trade any Olympic athlete would make.
"When you are an athlete training to be the best in the world, every little millisecond, every little idiosyncrasy counts," Hirscher told Reuters.
To combat the freezing temperatures and help ensure that no skis get damaged during the Olympics themselves, organizers have injected the slalom race with water, Reuters reported.
One thing's for certain: It's bone-chillingly freezing in PyeongChang, and it has been for some time. In November, seven people got hypothermia after attending a pop concert in sub-zero temperatures that was held in the same stadium as the ceremony. The week before the games kicked off, audiences walked out of a rehearsal for the Opening Ceremony when temperatures hit six degrees with wind chill factor of seven below zero, according to USA Today.
Understanding that a mass walk-out during the opening ceremony would be a bad look for the Olympics, organizers have taken several steps to provide relief to athletes and attendees. Although the stadium lacks a roof, it will be equipped with wind guards, portable gas heaters, and "heat respite" areas. Moreover, attendees will be given heat kits, complete with a blanket and heating pads, to help them endure the ceremony.
Not wanting to take any chances, Team USA took it one step further, and had special parkas with a "wearable heat system" manufactured especially for the American athletes. Created in conjunction with Ralph Lauren, the parkas are lined with conductive ink, which provides heat with the help of an internal battery pack and can be controlled with athletes' phones.
Nevertheless, the freezing temperatures in PyeongChang — the coldest city in the world at its altitude — will pose a threat to all of the skis set to grace the slopes for the Winter Games. On the plus side, it definitely won't be too warm to ski — as it was in 2014, when some skiers at the Sochi games reportedly landed in puddles of water instead of snow.