Here's What Happened To Those Premade Patriots Super Bowl Championship Shirts After They Lost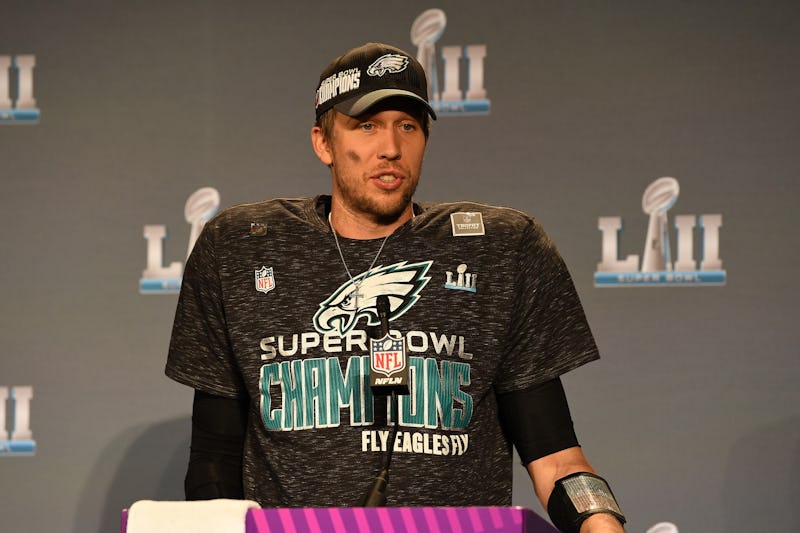 Larry Busacca/Getty Images Sport/Getty Images
At major American sports events like the Super Bowl, the winning team is outfitted with championship attire that is immediately sold to fans at retail. The apparel usually consists of pre-printed caps and tees handed out on the field during post-game celebrations. But what happens to the premade shirts for losing Super Bowl championship teams?
While the Philadelphia Eagles donned merch declaring their Super Bow LII winner status on Feb. 4., the pre-printed merch of their opponents in the New England Patriots isn't actually going to be destroyed. But it's not going to be recycled either. The ultimate fate of the merch is actually quite positive.
According to a report from Mental Floss, the losing team's merch is donated to those in need overseas. That makes total sense. After all, what these shirts and hats have printed on them is of little to no consequence to people who are desperate for clean articles of clothing.
Good360, a charity organization located in Alexandria, Virginia, has taken the lead on the repurposing the unusable merch. The company's mission is to make giving easy — and they are clearly succeeding it at.
Good360 has been handling the distribution of excess NFL merch since 2015. After the big game, the group is told how much excess product is at its disposal. Then, Good360 decides where, how, and to whom to disperse it.
Previously, an international humanitarian group called World Vision was responsible for the handling of the loser's merch. The company would send the items to those living in poor regions or areas that experienced horrific natural disasters. Mental Floss reports that the Pittsburgh Steelers' losing gear from the 2011 Super Bowl was parsed out to people in Zambia, Armenia, Nicaragua, and Romania.
Upon losing to the New Orleans Saints in 2010, the Indianapolis Colts' pre-printed mech was shipped off to Haiti. The country was recovering from a massive earthquake at the time, so the influx of clothing was certainly a huge help. The Arizona Cardinals' premade materials from their 2009 Super Bowl loss were utilized by children in El Salvador.
Sending a losing championship team's merch to those in need is an excellent way for the NFL and the teams, which rake in billions of dollars in revenue, to help their fellow humans. It also eliminates waste. And the trend extends to other sports, including hockey, baseball, and soccer.
MSN reports that Major League Baseball actually amended its policy on losing team merch for a minute back in 2016. MLB demanded that the apparel be destroyed over concerns that it would up being sold in secondary markets. The league eventually returned to its original donation policy.
The winning team is always stoked to further announce its professional accolade to the world by wearing matching shirts.
Meanwhile, diehard and proud fans are eager to scoop up that championship merch and to further show their support, as well. This type of sports gear is also the ultimate execution of fast fashion. It gets clothes to the people who want to purchase them on the quick.
This fan's tweet indicates just how big of a business sports championship gear really is. It's heartwarming to know that the there is a whole mess of merch that finds a new lease on life in other parts of the world. Perhaps that can be somewhat of a salve to soothe the pain of losing for both players and their dedicated fans.