Jeff Sessions Being Axed Could Affect The Mueller Investigation — Here's How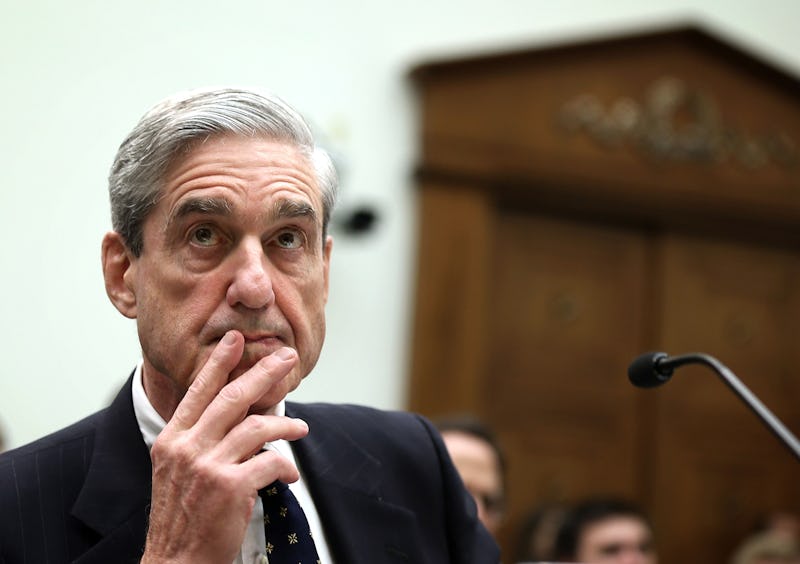 Alex Wong/Getty Images News/Getty Images
President Trump fired Attorney General Jeff Sessions on Wednesday, and the Justice Department will be temporarily headed up by Matthew Whitaker, Sessions' chief of staff. This immediately many political observers wondering: What happens to Robert Mueller's investigation now that Sessions has resigned?
Although the answer to that question isn't clear yet, one thing is clear: The firing of Sessions represents a significant threat to Mueller's investigation. By firing his attorney general, Trump has paved the way for eventually firing Mueller — although, to be clear, it's far too soon to say whether this will happen or if Trump intends to do so.
The reasons for this are complex, but they all date back to March 2, 2017, when Sessions announced that he would be recusing himself from the Justice Department's investigation into Russian involvement in the 2016 presidential campaign. Sessions explained that, because he himself worked for Trump's campaign, it would be improper for him to oversee an investigation into the campaign. It's also worth noting that, one day before Sessions made this announcement, the Washington Post reported that he had made false statements to the Senate Judiciary Committee regarding his communications with a key Russian diplomat during the campaign.
Thanks to Sessions' recusal, Deputy Attorney General Rod Rosenstein became the one in charge of the Russia investigation. He promptly appointed Mueller, a former FBI director, to lead the investigation, and gave Mueller authority to look into "any matters that arose or may arrive directly from the investigation."
The chain of command was complicated; technically, it was Rosenstein who had authority over Mueller and the Russia probe, but that authority was contingent upon the attorney general having recused himself from the investigation. Now, Sessions isn't attorney general anymore.
There won't be an official attorney general until Trump nominates one and the Senate confirms them, but in the meantime, Whitaker will serve as acting attorney general. Unlike Sessions, Whitaker hasn't recused himself from anything, and the Justice Department confirmed later on Wednesday that, as expected, he will replace Rosenstein as the overseer of Mueller's investigation.
The question, then, is what approach Whitaker will take to the Mueller investigation — because he now has the power to fire Mueller. Only time will tell, but Whitaker has publicly criticized the Mueller probe on many occasions, and many on the left fear that he will move to weaken the investigation or end it entirely.
In August, Whitaker argued in an op-ed that Mueller would be crossing "a red line" if, as part of his investigation, he began looking into the Trump family's finances. In addition, he has often tweeted critically of the investigation, at one point quoting an article that referred to it as the "Mueller lynch mob."
Around a year earlier, Whitaker said on CNN that if Sessions left and was replaced on an interim basis, his replacement could effectively end the Mueller investigation by defunding it.
"I could see a scenario where Jeff Sessions is replaced with a recess appointment and that attorney general does not fire Bob Mueller, but he just reduces his budget to so low that his investigation grinds to almost a halt," Whitaker said.
Several Democrats, including Senate Minority Leader Chuck Schumer, have called on Whitaker to recuse himself from overseeing the Mueller probe as a result of his past comments on the matter. Some have also noted that Whitaker once chaired Sam Clovis' campaign for Iowa state treasurer; Clovis is a close Trump ally and is now serving as a witness for Mueller's investigation.
It's anybody's guess what happens from here. But if Trump did want to end or neutralize Mueller's investigation, firing Sessions would be a logical first step to doing so.