What Happens To Your Body When You Cut Down To 1 Cup Of Coffee A Day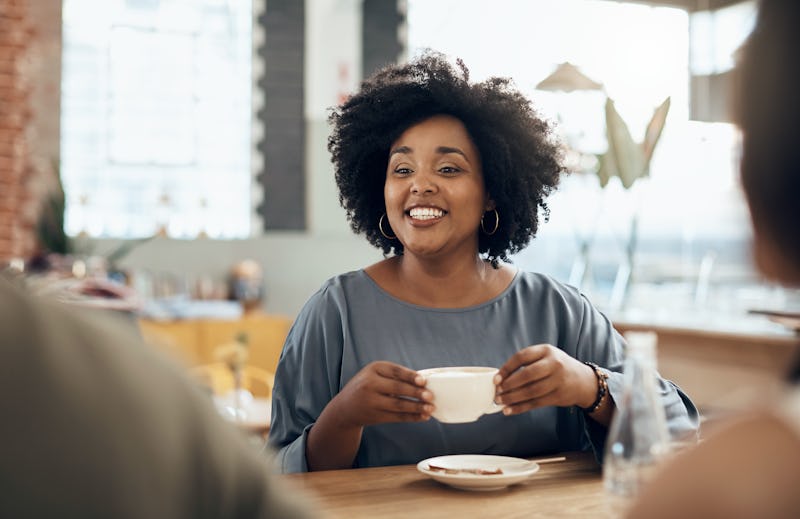 kupicoo/E+/Getty Images
If you're jittery, aren't sleeping well, and can't concentrate without a cup of coffee in your hand, you may be wondering about cutting back on your coffee consumption. According to a study in Critical Reviews In Food Science & Nutrition in 2018, 400mg of caffeine is the recommended daily limit for adults. This is about four cups of coffee, but many of us may ingest more.
"You find coffee on almost any street in any city anywhere in the world," Dr. David Cutler M.D., a family medicine physician at Providence Saint John's Health Center, tells Bustle. "Today, two-thirds of American adults have at least one cup of coffee daily." If you habitually drink more than that, but would like to cut back to just one delicious steaming cup per day, the effects on your health and body can be significant, experts tell Bustle.
It's a good idea to beware of blanket claims about the impact of cutting down on caffeine, though. "A degree of skepticism is needed when interpreting any claims about the benefits or risks of coffee," Dr. Cutler tells Bustle. "In addition to caffeine, there are many chemicals in coffee which can affect the body." Chemicals present in coffee include 3,5 dicaffeoylquinic acid, an antioxidant, and over 1,000 other compounds. How you take your coffee — with milk or sugar, for instance — can also affect the consequences of reducing your intake. "Some people are also more sensitive to the effects of caffeine," Dr. Anita Skariah, D.O., a primary care physician for UNC Health Care, tells Bustle.
This complexity means that it's very difficult to predict exactly how a one-coffee-a-day habit might affect you, but here are seven potential ways in which it could impact your health.