Here's What Happens To Your Body When You Swap Alcohol For Kombucha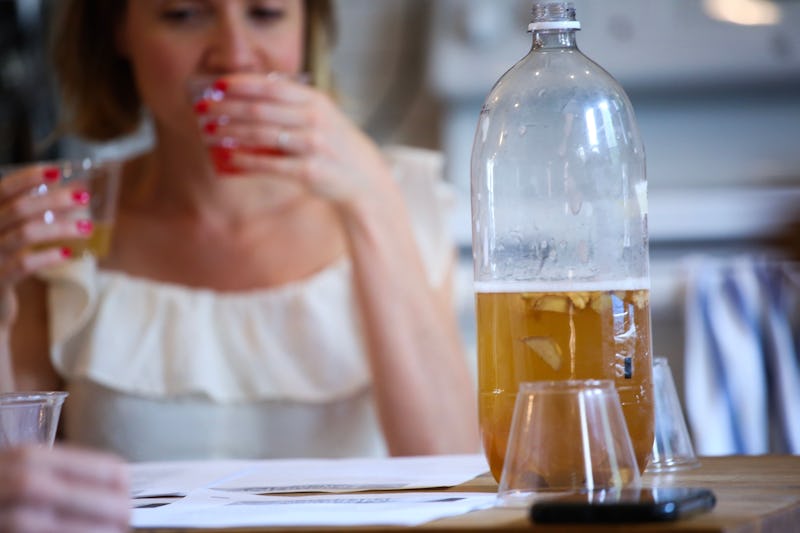 KENA BETANCUR/AFP/Getty Images
If you're thinking about giving up alcohol for a while, you may be considering kombucha as a handy replacement in those moments when you want a tangy, refreshing drink in your hand. It seems to fit the bill: sophisticated taste, varied flavors, and a reputation for being a bit better for your body than a standard beer or glass of wine. However, people switching from alcohol to kombucha may experience some unexpected consequences. One of the most notable is that they'll still be ingesting trace amounts of alcohol — but switching to kombucha for a little bit also has consequences for the body's antioxidant levels, sugar intake, and caffeine consumption.
Dr. Steven Gundry M.D., a heart surgeon, medical director at The International Heart and Lung Institute Center for Restorative Medicine, tells Bustle that kombucha has some health benefits, as far as beverages that aren't water go. "When drinking kombucha, you get many of the polyphenol benefits of wine without the alcohol and its gut barrier damaging potential," he says.
Just like alcohol, there are a lot of varieties of kombucha, so it's difficult to pinpoint the exact effects of exchanging all booze for kombucha drinks. The precise impact of an alcohol-kombucha switch will depend on how much you drink, how regularly, and other aspects of your lifestyle, including your diet. However, experts tell Bustle that changing from alcohol to kombucha can have various effects on the body — some more surprising than others.