Here's How The Olympic Medal Ceremony Will Be Different When An OAR Athlete Wins Gold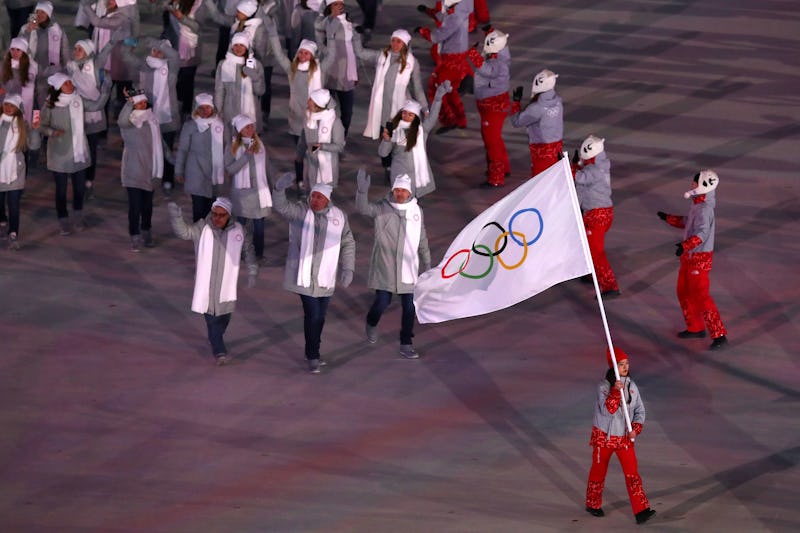 Dean Mouhtaropoulos/Getty Images Sport/Getty Images
Short-track speed skater Semen Elistratov sailed into third place Saturday during the men's 1,500-meter short-track speed skating event, nabbing Team OAR's first medal of the 2018 Olympic Games. But if you're a bit perplexed about just where to find OAR on a map, you're not alone. The truth is OAR is not a country, but rather an acronym for "Olympic Athletes from Russia." So, what happens when an OAR athlete nabs a medal?
While Elistratov is Russian, the bronze medal he won in Saturday's men's short-track speed skating event won't go toward Russia's official overall Olympic medal count as the country is barred from competing in this year's Games. In fact, when Elistratov is awarded his medal it won't be under the Russian flag or to the tune of the Russian national anthem. Rather, official Olympic conduct guidelines dictate the Olympic flag and anthem be used at all ceremonies for any member of the OAR delegation.
Traditionally, Olympic athletes compete under the flag of their respective country. Meaning those who win earn both individual glory and bragging rights for their country. But rather than compete for Russia, a total of 169 Russian athletes will compete in the 2018 Winter Olympics under a neutral Olympic rings flag and the OAR identifier. At no point during the Games can OAR athletes sing the Russian national anthem, refer to themselves by anything other than OAR, don Russia's national colors — white, blue, and red — or display the country's flag. They're also barred from posting or retweeting any national symbols related to Russia on social media while competing in the Games, according to Olympic conduct guidelines.
In essence, the OAR aren't officially being considered Russian athletes but rather a group of individual athletes who just so happen to all be Russian. "Failure of a member of the OAR delegation to comply with existing rules or these guidelines may lead to an OAR invitation being revoked and/or the withdrawal of accreditation," the guidelines state.
The OAR identifier is meant to be a form of punishing the Russian government for allegations regarding a state-sponsored doping scheme that enabled Russian athletes to cheat in both the 2014 Sochi Winter Olympics and the 2016 Rio Summer Olympics. Russia has denied the allegations. The International Olympic Committee (IOC) moved to ban Russia from participating in the 2018 Games after an investigation by the World Anti-Doping Agency found evidence Russia had tampered with urine samples in an effort to cover up the use of illegal, performance-enhancing drugs by their athletes.
However, at the same time that it was banning Russia from the 2018 Games, the IOC also provisionally cleared close to 400 Russian athletes for competition in the Games. The move was meant to be a compromise for Russian athletes who had not been found to have violated doping rules.
In a statement, the IOC claimed more than 80 percent of those nearly 400 athletes had not competed in Sochi and were thus "a new generation of Russian athletes," the New York Times reported. The IOC then invited the now-suspended Russian Olympic committee to select who among those nearly 400 athletes would compete in PyeongChang proving they cleared a screening process and could demonstrate they were not in violation of the IOC's doping rules. However, with 169 athletes the OAR delegation is significantly smaller than previous Russian Olympic teams. At the 2014 Sochi Games, for example, Team Russia was comprised of 232 athletes.
But while OAR won't be able to publicly honor their home country or add any of the medals they win to Russia's official medal count, the delegation will likely try to keep Russia's often dominating presence at the Winter Games alive.