Trump's Been Talking About North Korea Since 1999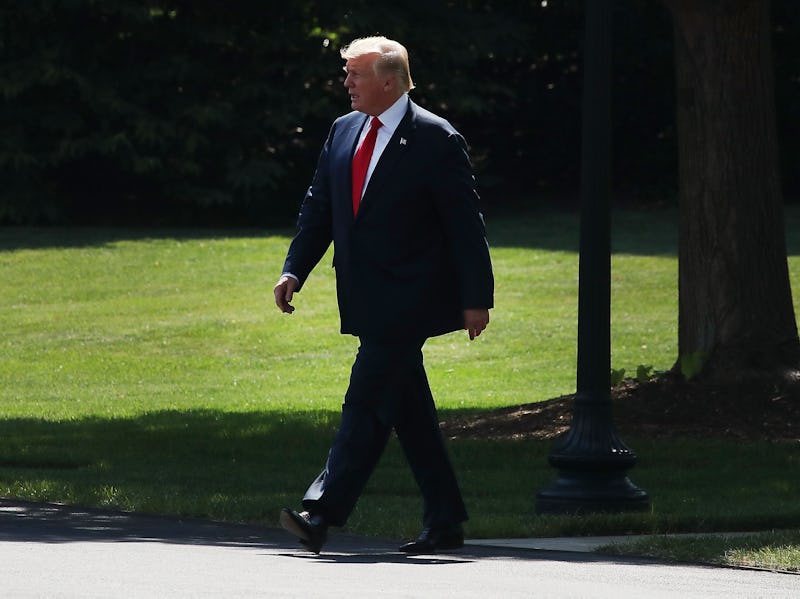 Mark Wilson/Getty Images News/Getty Images
Following several days of mounting tension and discord between the United States and North Korea, concerns are swirling that President Donald Trump might be getting ready to launch some form of military engagement against North Korea if it continues to provoke the United States. That was the message behind his aggressive statement on Tuesday, warning that the North Korean regime would be met with "fire and fury" if its nuclear threats continue. And yet, would he actually follow through? What Trump has said about North Korea throughout the campaign and his presidency gives a sense of his attitude towards this incredibly sensitive, perilous geopolitical conflict.
Make no mistake, Trump is not a particularly cautious or diplomatic speaker. According to The New York Times, in fact, his recent "They will be met with fire and fury like the world has never seen" quip was supposedly an improvised, off-the-cuff remark on which none of his military or diplomatic advisers were able to consult.
And that's exactly the kind of blunt, occasionally bombastic, and oft-concerning attitude he's taken to addressing North Korea in the past. Here are some of the most notable remarks he's made about the isolated state throughout his tenure as an American political figure.
1. "I'd Negotiate Like Crazy"
All the way back in 1999, a full 16 years before his presidential candidacy would begin, Trump advised "negotiating like crazy" to try to diffuse the North Korea situation.
First I'd negotiate. I'd negotiate like crazy. I'd make sure that we'd try to get the best deal possible.
2. "I Would Speak To Him"
Back in May of 2016, in the midst of his campaign against Democratic presidential nominee Hillary Clinton, Trump suggested he'd be open to direct negotiation with North Korean dictator Kim Jong-un to diffuse the longstanding tensions between the two nations.
I would speak to him. I would have no problem speaking to him.
3. "A Pretty Smart Cookie"
Trump praised Kim in April as a "pretty smart cookie," acknowledging the dictator's ascent to power at the relatively young age of 27.
4. "I Would Be Honored To Do It"
In early May, Trump reiterated his willingness to meet with Kim, provided it was "appropriate" to do so. This was in keeping with a track record of backing direct negotiation with the North Korean regime.
If it would be appropriate for me to meet with him, I would absolutely, I would be honored to do it.
5. "The Era Of Strategic Patience Is Over"
By the time the end of June rolled around, after yet another North Korean ICBM test, Trump's tone on things changed fairly dramatically. At that point, he said that the "era of strategic patience" regarding North Korea was over, a line Vice President Mike Pence similarly deployed while visiting U.S. ally South Korea.
The era of strategic patience with the North Korean regime has failed ... Frankly, that patience is over.
6. "Does This Guy Have Anything Better To Do With His Life?"
Trump's July 3 tweet following another North Korean missile test was not very encouraging if you're looking for signs he's taking the situation seriously. Basically, although not in the precise words, his response was to tell Kim to get a life.
7. "They Will Be Met With Fire & Fury"
This week, things heated up to what feels like an alarming extent, with Trump remarking that North Korea would be met with "fire and fury" if its threats and provocations against the United States continue. According to The New York Times, this statement was improvised, and not prepared by Trump's staff.
North Korea best not make any more threats to the United States. They will be met with fire, fury and frankly power the likes of which this world has never seen before.
In short, it's pretty impossible to deny that the content of Trump's remarks on North Korea have deteriorated over the past several months, from a position of openness to negotiation, to threats of raining down fire. Where it all goes next is an open question, but this much seems clear: the stakes are high, and tempers are beginning to run hot.