Here's What Trump Has Actually Said About Melania's Anti-Bullying Campaign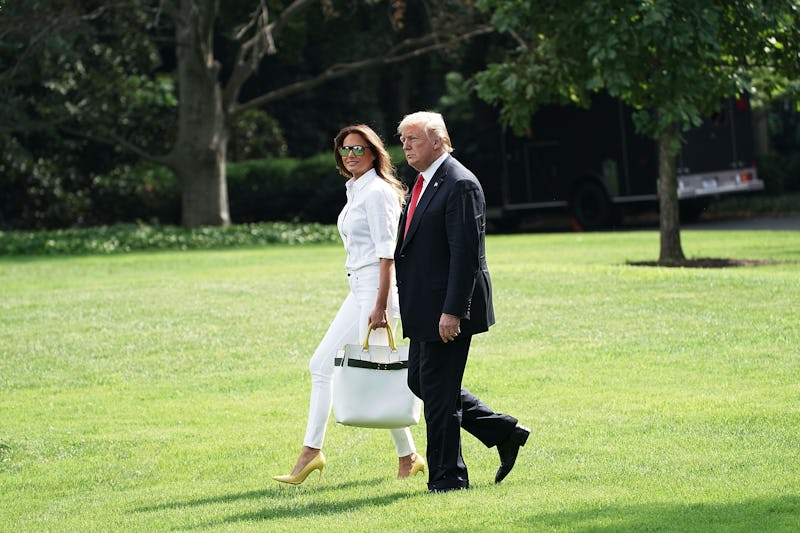 Alex Wong/Getty Images News/Getty Images
During her reign as first lady, Melania Trump has piloted the "Be Best" campaign, which serves to encourage wellness for children across several pillars, from discouraging cyberbullying to stopping opioid usage. But if you're wondering what Donald Trump's said about Melania's "Be Best" campaign, you might not be surprised to know he's kept pretty quiet about it. What's more, in the rare occasions where he has acknowledged the initiative, he hasn't commented much on the (very large) part of it that addresses cyberbullying.
Following Melania's unveiling of the "Be Best" campaign in May, Trump praised her "heart-felt speech," and then went on to point out Melania's efforts to raise awareness around the opioid addiction crisis across the country.
"Everywhere she has gone, Americans have been touched by her sincerity, moved by her grace, and lifted by her love," Trump said. However, throughout his speech and subsequent signing of the "Be Best" proclamation, Trump never mentioned the anti-bullying aspect of the initiative.
Most recently on Monday, many critics found cause to point out the irony of Melania's focus on cyberbullying, given how her husband has been described to be literally that by countless individuals. At an anti-cyberbullying conference, Melania said, "Let's face it: Most children are more aware of the benefits and pitfalls of social media than some adults, but we still need to do all we can to provide them with information and tools for successful and safe online habits."
Just hours before that speech, Trump went on a tweeting rampage against those who defended former CIA Director John Brennan. He tweeted, "Everybody wants to keep their Security Clearance, it's worth great prestige and big dollars, even board seats, and that is why certain people are coming forward to protect Brennan. It certainly isn't because of the good job he did! He is a political 'hack.'"
Though Trump has not commented much on Melania's "Be Best" campaign since the unveiling, a recent New York Times report suggests that he actually tried to convince her to choose a different initiative, supposedly because he was aware of the irony some people might see in it. Katie Rogers, Julie Hirschfeld Davis, and Maggie Haberman of The New York Times wrote,
The president suggested that Mrs. Trump choose a different topic to avoid questions about how the wife of a notorious Twitter bully could lead a campaign to spotlight anti-bullying and other child wellness efforts, and he warned her that she was opening herself to such jeers, people familiar with the conversations said. She rejected his advice, and publicly said she was willing to face the criticism.
Bustle reached out to the White House for comment on the report.
Trump has not responded to these allegations, though White House Press Secretary Sarah Sanders did acknowledge the question of whether or not there was a connection between Trump's reputation and his wife's initiative.
In May, when asked whether she believed the Trump administration was inciting the prevalence of online cyberbullying, Sanders said, "I think the idea that you're trying to blame cyberbullying on the president — when it comes to kids, this is something that has been problematic and something that we have seen over the last decade."
Melania's communications director, Stephanie Grisham, has since said of the "Be Best" campaign via The New York Times, "It is exactly what she wants it to be, and has been a success. We look forward to continued success in her mission of helping children."