Here's Why You Haven't Heard About A Bomb Cyclone Before (Unless You're 100)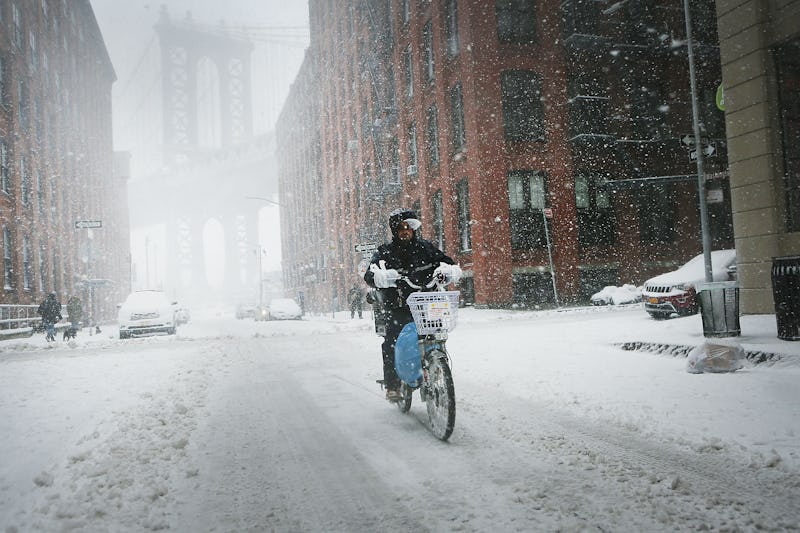 Spencer Platt/Getty Images News/Getty Images
Those not familiar with meteorological terms may not know that "bomb cyclone" refers to a weather event and not some kind of war strategy. But the name is specific to a certain combination of factors that create hurricane-like conditions in the winter months. It begins with a process called bombogenesis — which explains why it's called a "bomb" cyclone.
Bombogensis occurs when the central air pressure in an already low-pressure area starts plummeting, and fast. According to Andrew Freedman at Mashable, the current bomb cyclone barreling toward the Northeast could intensify significantly, due to the extreme temperature difference as cold air comes into contact with "near-record warm Gulf streams." Some computer models are putting this bomb cyclone's low air pressure on a record-setting path; to get technical for a moment, one prediction puts the storm's air pressure below 950 millibars. By comparison, Hurricane Sandy's air pressure was 946 millibars when it slammed into New Jersey.
As for the cyclone moniker, these storms always bring major winds comparable to the speeds and gusts associated with hurricanes. Bomb cyclone winds have hit 115 mph, which are comparable to the wind speeds of a Category 1 hurricane. So combine bombogenesis with a winter hurricane, and the term "bomb cyclone" emerges.
The current bomb cyclone is has characteristics not seen in a century. As of Tuesday, the city of Boston had tied its previous record for the most consecutive days not breaking above 20 degrees. The last time Boston saw such a long-lasting and bitter cold streak was exactly 100 years ago.
Last week's average temperatures in Chicago, Detroit, Kansas City, and Minneapolis were all the second-coldest ever recorded. It was the third-coldest week on the books for Pittsburgh, and the fifth-coldest for New York City. In fact, over 1,400 locations reported the coldest temperatures on record during the past week's bitter cold snap. Credit goes to the weakened polar vortex.
And these plummeting temperatures are unique to the United States. The rest of the world has actually been experiencing unusually warm temperatures for this time of year. A global map of the world's temperatures from the Climate Change Institute at the University of Maine shows a deep blue over the United States, while neutral creams and warm yellows and reds cover almost the entire rest of the world. The takeaway is that while Americans are pretty much freezing across the East Coast and Midwest, everyone else across the globe is relatively toasty.
Besides the potential high winds and heavy snowfall, the bomb cyclone also is likely to leave a parting gift in its wake: another round of extreme cold. After the storm itself passes—regardless of how much snow it dumps on New England or how high its wind speeds climb—this bomb cyclone is pulling a whole lot of cold air behind it. And those frigid temperatures are likely to linger, making the weekend ahead almost certainly another stone-cold freezing one for the Northeast.
New York City's projected high temperature for Saturday is a mere eight degrees. Boston's forecast has a high temperature of just five degrees. Residents of the Northeast and Midwest are well advised to prepare themselves for several days of extreme cold. As it turns out, a bomb cyclone doesn't just drop snow and unleash hurricane-like winds — it also brings some seriously freezing winter temperatures.