Here's Why Charcoal Lattes Are Suddenly Everywhere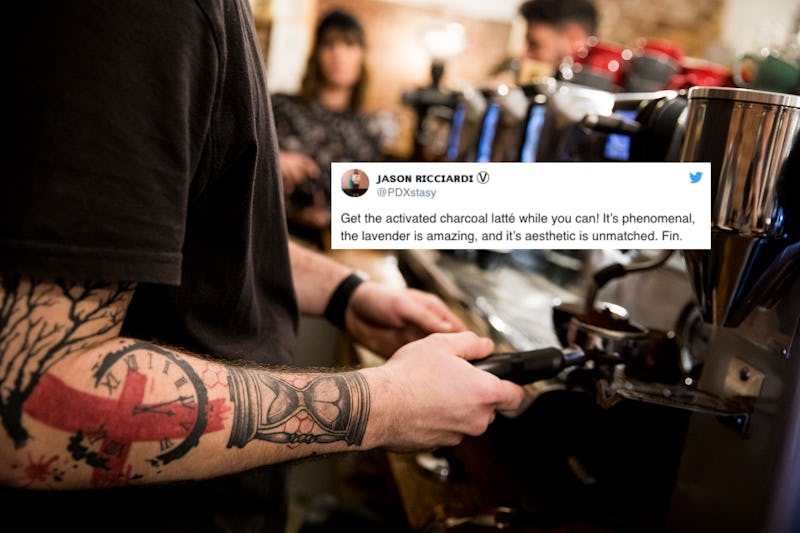 Tristan Fewings/Getty Images News/Getty Images
When it comes to lattes in 2018, black is the new black — charcoal to be exact. No, I'm not talking about boring old black coffee with a dollop of foam on top. Charcoal lattes claim myriad health benefits, and are starting to dominate coffee culture, and you're going to be obsessed with how dark and dreamy it looks. "The whole premise of a charcoal latte is that it's a detoxifying drink because charcoal itself is a detoxifying agent," Werewolf Coffee Bar General Manager Lindsey Reason told the Chicago Tribune. "We take some charcoal, half a shot of espresso, honey and lavender, to make it a little more floral and fragrant, and pair that all with some steamed milk."
Activated charcoal has been touted as the cure for what ails you, and is used for everything from teeth whitening to cleaning clogged pores to alleviating gas and bloating, according to Dr. Axe's blog. (Side note: I used charcoal toothpaste last year and, because my teeth are already sensitive, it stripped them of enamel, which resulted in my having a number of cavities. Before you try anything charcoal, make sure you do your research first.) Charcoal is most commonly used in emergency rooms when patients need their stomachs pumped. However, in recent years, it's been showing up everywhere as foodstuffs. Obviously, it was only a matter of time before someone made a charcoal latte.
So, aside from being all dark and dreamy, is the charcoal latte actually good for you? Metro UK spoke to Dietician Michelle McGuinness to find out. "Activated charcoal plays a significant role in the treatment of drug overdose and poisoning, by binding to the chemical and removing these from the gut, reducing absorption and removing the substance," McGuinness explained. "However activated charcoal is non-discriminative and therefore can remove beneficial nutrients or even more critically, medications... Evidence for the benefits of activated charcoal is not substantial, and the negative effects could be detrimental to health and wellbeing."
If you remember the charcoal ice cream craze from last summer, you may have heard reports that activated charcoal can mess with your birth control. While the risks are low, Dr. Will Cole, a functional medicine practitioner and health and wellness expert, previously told Bustle that you should avoid consuming charcoal at least two hours before, and two hours after, you take the pill. So, if you drink coffee at Lorelai Gilmore-levels, you might want to stick to just one charcoal latte and then switch to regular coffee.
While it certainly looks mysterious and alluring, some people on Twitter aren't crazy about the flavor, which isn't surprising because, charcoal. "Charcoal latte. I don't recommend it though. Tastes like dirt," @_Saarinaa tweeted. "Not much in the way of flavor but if sure has a striking color," @coreyjfoodie said on Twitter. Despite whether it's tasty or not, people still want to try it. Kind of like that cheese tea that had FOMO-ridden folks waiting in line for hours to try. I get that it's totally tempting to carry around a drink to match your mood (and your outfit), and as long as you keep yourself in check, the charcoal latte probably won't make you feel dark and twisty physically.
However, David Lans, D.O., an assistant clinical professor of medicine at New York College told Rodale's Organic Life that you shouldn't be guzzling charcoal on the regular. "One concern regarding the frequent use of activated charcoal is that one has no control over exactly what substances are being bound to it," Lans said. "While you may be taking it to detox and rid your body of toxins, vital nutrients, including vitamins and minerals, may also be bound and excreted." Kind of like what happened to my teeth. I'm still paying for that rookie mistake, BTW.
So, while the charcoal latte is the perfect complement to the winter of your discontent, make sure you exercise some self control. Gabrielle Francis, N.D., a naturopathic doctor in New York City and author of The Rockstar Remedy told Rodale's Organic Life that if you must drink it at all, it's best to drink your charcoal latte in the evening when it's less likely to strip your body of nutrients. What's more, Adam Burke, Ph.D., director at the Institute for Holistic Health Studies and a professor of health education at San Francisco State University, noted that if you're taking oral contraceptives or antidepressants, you should be particularly cautious so that charcoal latte doesn't mess with your medications.
That being said, there's no harm in trying this black-as-your-soul beverage so you can get some fab, FOMO-inducing Instagram snaps. After that, you might want to slow you roll until you know how the charcoal will affect you. Because, everything in moderation. Personally, I'll stick with my tried and true dark roast.