March Madness Has The Best Cinderella Stories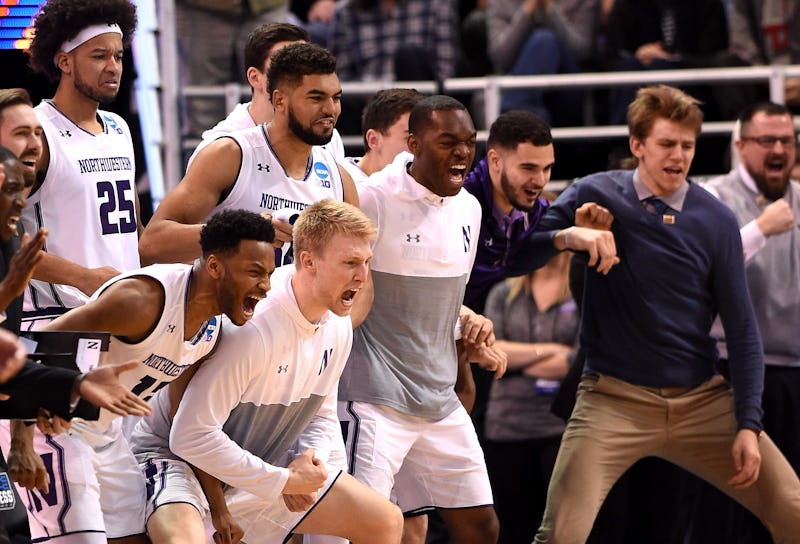 Gene Sweeney Jr./Getty Images Sport/Getty Images
It's that time of year again: March Madness is officially upon us. For the next two weeks, 68 collegiate basketball teams will be competing for the title of college champs, and there are sure to be plenty of upsets, heartbreaks, and surprises along the way. While the tournament kicked off on Tuesday and your super-fan friends spent the week perfecting their brackets, you may have been wondering what you need to know before you hit the nearest sports bar for this weekend's matchups. For one, you should know how to define a March Madness Cinderella story.
Cinderella stories are serious business, involving a major upset that happens when an underdog rises up out of nowhere to defy expectations and defeat a team that is largely projected to win. While most of us are familiar with the fairy tale, the term started to be used in a sports context in 1950 after two momentous events: the Disney adaptation of Cinderella hit theaters and the City College of New York emerged victorious in the NCAA men's basketball championship.
Since then, the term has been used to define moments of underestimated teams transforming into the princesses of the sports world by pulling off a major win and attracting fans who feel inspired by their perseverance. Since March Madness is a two-week tournament, a team is typically considered a Cinderella story if they break into the Sweet 16, otherwise known as the ACC Invitational. If the team makes it to the Final 4, all hell breaks loose. And if somehow an underdog manages to win the four games required to earn a coveted spot in the championship game, a legend is officially born.
Every March Madness tournament is filled with surprises, and underdog wins fill fans with both hope at the thought of a team overcoming adversity to achieve success, and frustration at the knowledge that their brackets will eternally be screwed. Just last year, Villanova University took down the No. 1 seed, North Carolina, with a heart-wrenching buzzer-beater, and while no one can say for sure what will happen in this year's tournament, there are quite a few teams that are expected to break a few hearts with unlikely wins against top-tier teams.
We can only hope that this year's tournament gives us a few Cinderella stories that remind us that anything is possible. It's what fairy tales are made of. And it's what keeps us on the edge of our seat every year.