Here's Exactly Why Navajo Code Talkers Were Being Honored At The White House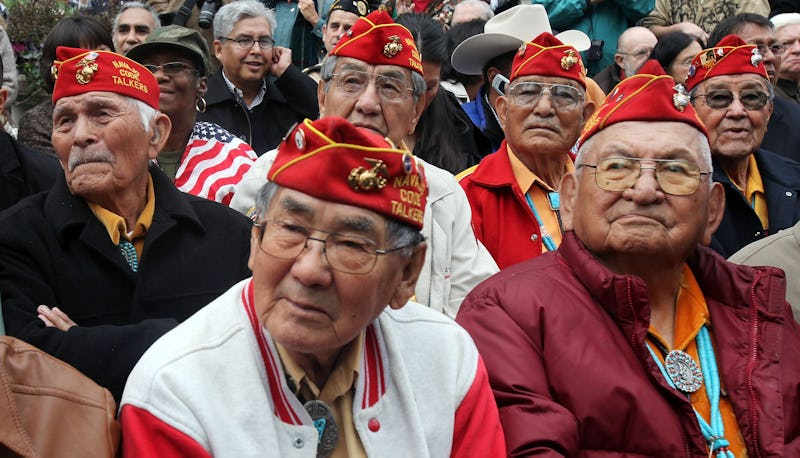 Mario Tama/Getty Images News/Getty Images
On Monday, Donald Trump met with senior Navajo veterans at the White House to honor a special group of men who served in the U.S. military during World War II. But, exactly what is a "Navajo Code Talker"? Native American soldiers were some of the pioneers of a tactical mode of communication during combat.
During World War II, Native American military members would disseminate and decipher sensitive information through code talking. In this mode of communication, coded messages were transmitted by the soldiers based on their own native languages. It was one of the first ways encrypted messaging was used during war. Navajo soldiers would use Navajo words and grammar to create coded missives for each other as a way to shield confidential information from enemies.
According to the National Museum of the American Indian, Choctaw tribe members would send coded messages during World War I, but the move to formally introduce a group of code talkers came later during World War II. Tom Holm, author of Code Talkers and Warriors: Native Americans and World War II, said the first suggestion to include Native Americans in the military as code talkers was made by Los Angeles civil engineer Philip Johnston in the 1940s.
Johnston, who was a non-Navajo World War I veteran, suggested to American military members that Navajo code talking could expedite lengthy military information transmission into quick, efficient, and precise processes with simple code talking among each other. For the first time in American history, 29 Navajos were enlisted by the military to commence indigenous code talking.
The central idea behind code talking was to render a message as succinct as possible. In 2004, veteran John Brown Jr., who was one of the first Native American code talkers during World War II, explained code talking in an interview with National Museum of the American Indian:
The commanding officer, they give you a message that's written. It's just short talking about how much ammunition and certain map area that Marines are getting killed. They need more machine gun ammunition. You translate that as small as you can.
But the intricate and fascinating details about military history, human language, brevity, and encryption were not elaborated upon at the Oval Office event on Monday. Instead, the event garnered swift and quick backlash on media after the president delivered an eyebrow-raising comment.
Trump, while speaking with several veterans, landed in testy waters with an indirect quip presumably about Massachusetts Sen. Elizabeth Warren:
[W]e have a representative in Congress who has been here a long time... longer than you — they call her Pocahontas!
Back in 2016, Trump also tweeted:
Pocahontas is at it again! Goofy Elizabeth Warren, one of the least productive U.S. Senators, has a nasty mouth. Hope she is V.P. choice.
In 2012, during her campaign, The Boston Herald reported that Warren claimed Native American ancestry. In response to the report, the now-senator said that she was informed by relatives of her heritage and mentioned it to find people related to her as opposed to promulgating her own public career. On Monday, Trump presumably made an indirect reference to the Massachusetts senator while speaking with veteran Navajo code talkers.
In response to Trump's comments, Warren told MSNBC on Monday night:
You know, this was supposed to be an event to honor heroes. People who put it all on the line for our country. And people who because of their incredible work saved the lives of countless Americans and our allies. It is deeply unfortunate that the President of the United States cannot even make it through a ceremony honoring these heroes without having to throw out a racial slur.
It appears as if the Oval Office gathering could have been a great opportunity to educate Americans about indigenous Americans and their contributions and sacrifices for the country, but it seemed to have gone downhill with Trump's comments.