Tan France Shared The BEST Throwback Photo Of Pete Davidson Rocking A French Tuck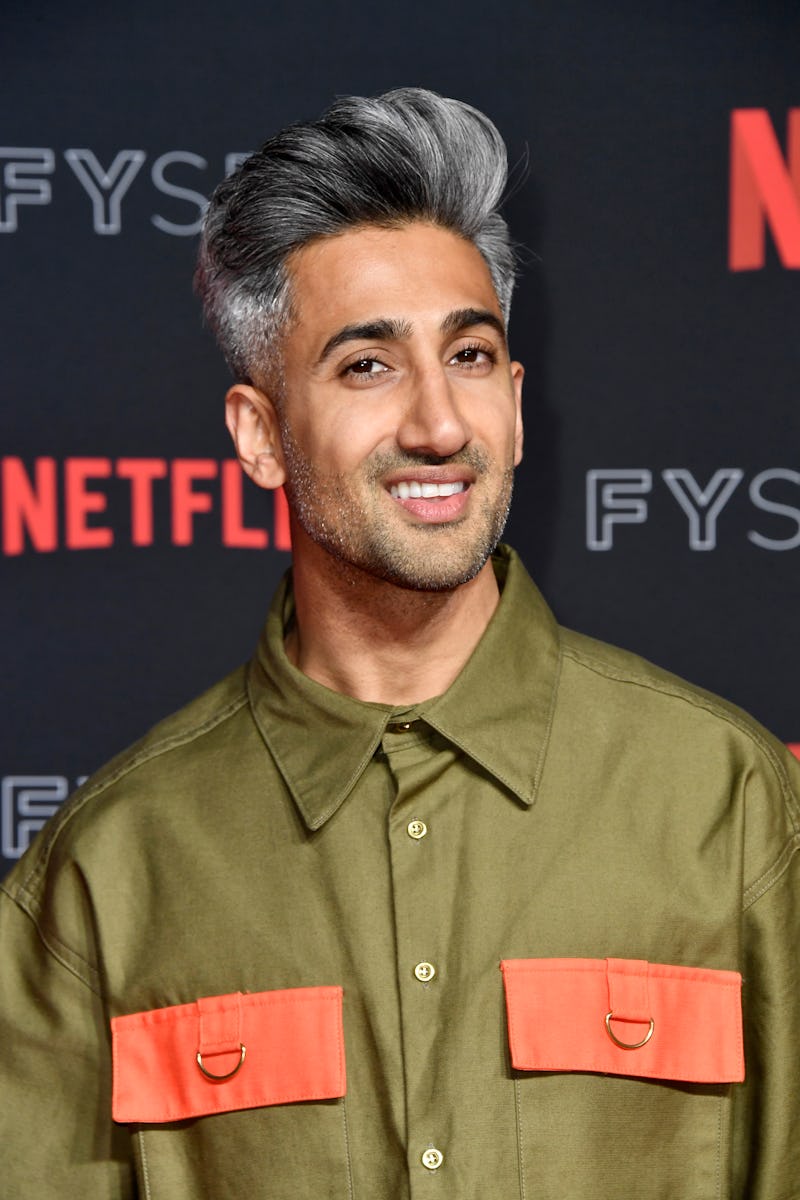 Frazer Harrison/Getty Images Entertainment/Getty Images
Any Queer Eye fan knows that Tan France is the master of style. But sometimes he can talk in fashion language that is a bit confusing. If you're wondering what a French Tuck is, aka Tan France's favorite term, the stylist's throwback photo will clear things up. After hearing the definition, you won't look at your outfit the same.
Let's get right to the point. A French Tuck is when you slightly tuck a portion of your shirt into your pants or skirt. It gives off a laid-back feel to an outfit while also making you look a little taller, according to France's advice in Queer Eye.
"You see how I've tucked in mine? It's called a French tuck — we're just doing it ever so slightly at the front," France says in the series. "It's going to balance your proportions and help you look taller and leaner."
But apparently he's not the first person to do so. France uploaded a throwback photo of Pete Davidson next to himself, showing that he was French Tucking before it was cool.
"OH SHIT, @petedavidson's been doing the French Tuck for time already," the Instagram caption reads. "This bish has been schooling us on swag since he was a tween."
France took Davidson shopping in March 2018, according to a recent Saturday Night Live clip. It must have gone pretty well, because the SNL star more recently asked the stylist's advice on what he should wear for his wedding day. As Us Weekly originally reported, Davidson wants to wear something quirky for the big day, and France is more than happy to help.
"I want it to feel like him," France tells the publication. "I would want him to feel like he's representing who he is and what his style's all about, because he's quirky AF. So, if he wants to continue doing that, I fully support it. I love that he loves to experiment with clothing. I want everyone to experiment with clothing! I love his style."
If this isn't a bromance, then what is? Let's just say that there is a good chance will be French Tucking on his wedding day. No matter what he wears, it's going to be epic, if France is helping him out.
But let's get back to the French Tuck, because it's a simple and easy tip that just about anyone can do. Women can do it, men can do it, and heck, even kids can do it. That's what makes it such an amazing trick. In fact, it's so easy that the styling tip is taking the world by storm.
"I've been to New York many times and I've always noticed that there aren't that many French tucks around," France tells ABC News. "[Now] it's everywhere! And people keep stopping me in the street and saying, 'I'm French tucking for you!' I'm like, great! That feels wonderful!"
The tip is taking the world by storm — quite literally. According to his Instagram post, France has been French Tucking for 15 years. Unfortunately, it took until the second season of Queer Eye for it to catch on. Better late than never, though.
You can French Tuck any top into any outfit, which is what makes this so great. Tan shows dress shirt French Tucked as well as sweatshirts, and it looks great every single time. So next time you're looking to spice up an outfit — or just show how big of a Queer Eye fan you are — give the styling tip a try. Be warned though, the tip will make you the stylish one in the room.