This Super Bowl Team Just Made A "Pick-Six"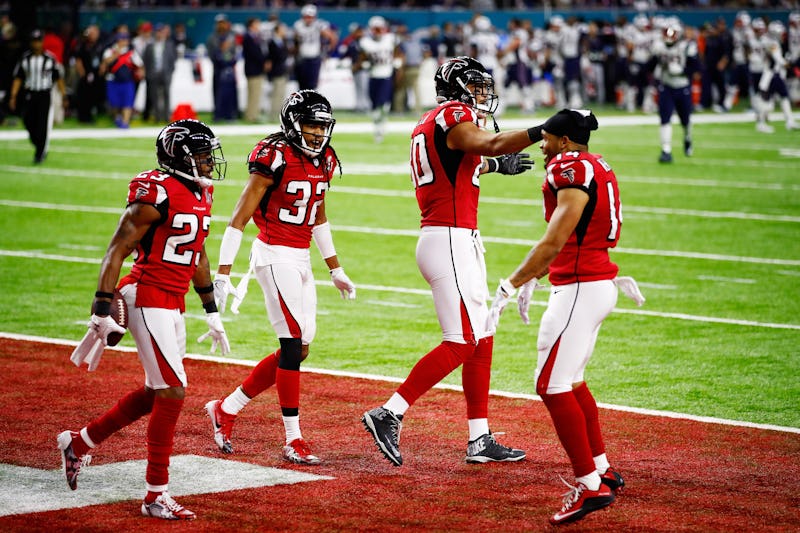 Gregory Shamus/Getty Images Sport/Getty Images
If you're at least a little familiar with American football, you know that teams switch out their players between defensive and offensive plays. But one of the teams playing in the Super Bowl just made a successful offensive move — with their defensive players. So what exactly is a pick-six?
A pick-six is when an interception turns into a touchdown, getting the team that was playing defense six points. "Pick" refers to the interception, while "six" is the number of points a team gets when it makes a touchdown.
Atlanta Falcons cornerback Robert Alford got in front of a pass from New England Patriots quarterback Tom Brady and did just that. Alford took the interception 82 yards, made a touchdown, and upped the Falcons' lead over the Patriots to 21-0. The score so far has been a significant upset for the Patriots — Vegas pros projected a win by the New England team before the game, Forbes reported.
Brady has been under constant pressure throughout the game; he was sacked by the Falcons quite early on — twice. Additionally, the front four on the defense have been able to pressure Brady without needing much outside help. This means that other members of the defense have been able to cover the Patriots' receivers, therefore making it difficult for Brady to complete passes.
On the other hand, the Falcons' defense has been on fire. When Alford jumped in front of a pass meant for Patriots' wide receiver Chris Hogan, he only added to the hope for a win felt by Falcons fans. Atlanta's defense is relatively young; out of the Falcons' secondary, Alford is the only player with more than two years of experience in the NFL, USA Today reported. Alford stepped up to take over the role of the Falcons' starting cornerback, Desmond Trufant, who was unable to play due to an injured pectoral.
The Patriots did manage to put some points on the board by going for a field goal before half-time, bringing the score before Lady Gaga's half-time show to 21-3 in the Falcons' favor. But they'll have to stop Atlanta's quarterback, Matt Ryan, who is the first quarterback to have a perfect passer rating of 158.3 at halftime of the Super Bowl, Sporting News reported. We'll have to stay tuned to see whether President Donald Trump's pre-game prediction that the Patriots would win by eight points comes true.