Acosta's Record On Unions Isn't Hopeless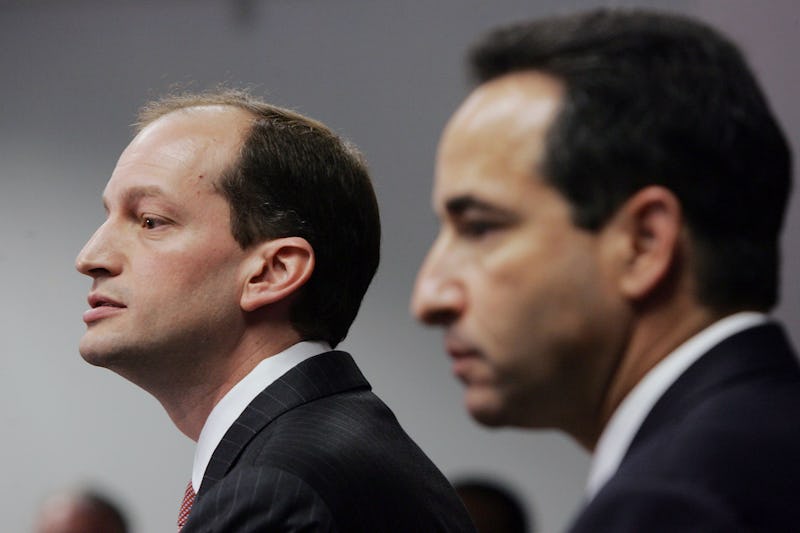 Joe Raedle/Getty Images News/Getty Images
After his initial nominee for secretary of labor, CKE Restaurants CEO Andrew Puzder, withdrew himself from consideration, President Donald Trump on Thursday announced his new pick: Florida International University College of Law Dean, Alexander Acosta. As a former member of the National Labor Relations Board and previous assistant attorney general at the Justice Department's civil rights division under President George W. Bush, he's had some experience in the labor sector. So, given his background in the labor sector, what is Acosta's opinion of labor unions?
While there isn't necessarily a lot known about Acosta's view of labor unions, his involvement in the NLRB from 2002 to 2003 gives us a hint about how he feels about the American worker. The NLRB is generally concerned with labor issues such as collective bargaining and union disputes. According to the NLRB website, the agency works to defend workers' legal rights "to form, join, decertify, or assist a labor organization, and to bargain collectively through representatives of their own choosing, or to refrain from such activities."
Now, by no means does this mean that Acosta is some Norma Rae. However, at least, he appears to be a departure from Trump's previous pick when it comes to labor issues and workers' rights. As CEO of the company that franchises Hardee's and Carl's Jr, Puzder opposed raising the minimum wage, expanding overtime pay, and other worker's protections, which drew criticism from Democrats.
Acosta's legal background is pretty extensive. Along with his appointment at FIU law school and his position at the NLRB, he clerked for Supreme Justice Samuel Alito in the Court of Appeals for the Third Circuit and practiced law at the prestigious firm Kirkland & Ellis in Washington. He was the first Hispanic American to serve as assistant attorney general in the Justice Department's civil rights division, appointed by President George W. Bush.
If confirmed, he would also be the first Hispanic member of President Trump's cabinet. Currently, the cabinet is largely made up of white men, with a few exceptions.
Acosta also has a record of standing up for Muslim Americans. Acosta defended Muslim American rights during a 2011 Senate judiciary hearing, citing religious freedoms in the Constitution, according to The Guardian.
Although Acosta is definitely a conservative, and with that comes conservative views of labor and law, it's encouraging to see someone with a long history of experience in law nominated to Trump's cabinet. Considering he's already been through three Senate confirmations for his various roles and the Senate has a Republican majority, his will likely be a smooth hearing. We'll have to wait to see what issues are brought up before and during Acosta's confirmation hearing to get a full picture of his stances.