Adam Rippon Once Couldn't Afford Groceries, But Olympic Medals Have Changed That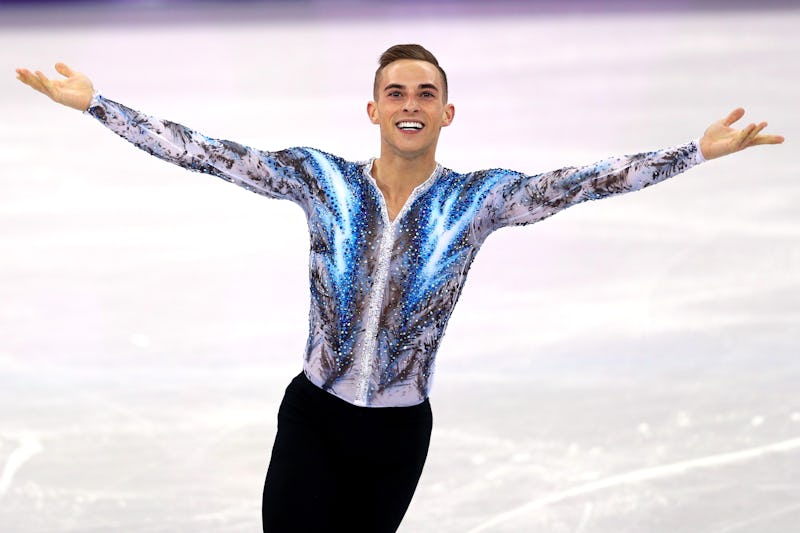 Maddie Meyer/Getty Images Sport/Getty Images
If there's one athlete who is truly stealing the show at the 2018 Olympics, it's figure skater Adam Rippon. Now that Rippon is quickly moving from a place of relative obscurity to becoming a household name, it stands to reason that his financial status will soon reflect that success. But, while fans might be wondering about Adam Rippon's net worth, they should also know his Olympic journey has not been an easy one.
The 28-year-old skater also known for his witty quips to reporters and his unrelenting insistence on being a visible member of the LGBTQIA+ community as the first openly gay athlete on a U.S. Winter Olympic team has come a long way to PyeongChang, and not just literally. While information about Rippon's net worth or current earnings is not available, with one bronze medal already under his belt, we know that his Olympic career is already starting to pay off. According to a report by Forbes, Olympic athletes don't just receive bragging rights when they medal at the Games: they also win cash prizes. The United States Olympic Committee gives out $25,000 to every gold medal winner, $15,000 to all silver medal recipients, and $10,000 to those taking home the bronze. When the U.S. figure skating team won the bronze for the team event, each member received that $10,000 prize, Rippon included.
But athletes don't get paid for participating in the Games, per Business Insider, making the pressure to medal all the more tangible for those athletes who might not have the high-level endorsements of a Shaun White or a Michael Phelps. After all, training to become an Olympic-level athlete is not only time consuming, but costly. Figure skating in particular is an expensive sport, with a recent Money analysis finding that figure skaters spend somewhere between $35,000 and $50,000 annually on training, equipment, traveling expenses, and more.
Rippon is all too familiar with the struggle to make following his Olympic dream financially viable. During an interview with NBC's Andrea Joyce following his Olympic debut, Rippon revealed the enormous sacrifices he made in order to train with skating coach Rafael Arutyunyan. After moving to Los Angeles to work with Arutyunyan, Rippon said he "had no money." He continued, "I lived in [Arutyunyan's] basement. I had enough money to be a member of the gym, so I stole all the apples from the gym because sometimes I couldn't, like, afford groceries. And then, six years later, I'm here. I'm here at the Olympics."
And Rippon is here in a big way. During his free skate routine, performing to the song "O" by Coldplay, Rippon delivered not only a clean skate, but a powerful and beautiful one that earned him a 172.98 point score. Fans were left confused as to why Rippon's seemingly flawless performance only earned him a third place finish, behind two skaters who fell during their routines. Though it comes down to the minutia of figure skating scoring (if you're really interested, Slate breaks it down here), what's not up for debate is that Rippon came to the Olympics to win, and is truly making a name for himself.
With name recognition often comes endorsements. After snowboarder Chloe Kim has exploded onto the scene, and recently clinched a gold medal with an incredible half-pipe performance, a CNN Money report speculates that she will soon be the target of multiple endorsement deals, beyond Burton Snowboards, Nabsico, Visa, Toyota, and Samsung, who were already working with Kim before the Games. With the eyes of the world on him, 246,000 followers on Twitter, and gifs of his snappy one-liners already circulating on the internet, Rippon seems tailor-made for brand sponsorship.
And those endorsement deals will continue to pile up if Rippon takes home gold in the individual men's figure skating event. Wasserman marketing agent Elizabeth Lindsey told CNN Money that brands are anxious to work with gold medal Olympians. "On average, we plan for endorsement deal size for Olympic athletes to double their pre-medal potential once they win gold," she said. With athletes like Michael Phelps racking in endorsement deals after their Olympic successes (Bankrate estimates Phelps' net worth at $55 million), it's clear that winning gold gets athletes more than just bragging rights.
But regardless of whether Rippon be standing at the top of the podium when the Games end, he is sure to have a bright future ahead. Rippon gains more fans every time he sends out a tweet, and every time he steps on the ice — so it's no doubt thatfame will soon translate into financial benefits for the athlete who once couldn't afford groceries.